Episode Title
: "Two For The Road"
Brian's Deeper Meaning Guess
: My first thought of seeing the title was thinking this was some play on the old saying "one for the money, two for the show" – but some quick Internet research (how did people ever find out deeper meanings before the Internet existed?) revealed that "Two For The Road" is actually the title of a 1967 Audrey Hepburn movie.
The movie was considered experimental for its time because the story is told in a non-linear fashion, with scenes from the present juxtaposed with scenes from the beginning of the story. This leaves the viewer to guess what has actually happened during the movie – and sometimes the truth is revealed in later scenes.
Hmmmm – sound familiar? Sounds an awful lot like our favorite "flashback reveal" TV show, Lost. I think we're on to something here.
So what's the deeper meaning? Well, the storyline of the movie goes something like this:
Joanna is in a touring girl's choir and Mark is a struggling architect, meeting on the road in Europe. The film shows (in flashback) their first meeting, memorable moments in their courtship and early wedded life, their travels through Europe, their broken vow never to have children, and their increasing tensions that led to both of them having extra-marital affairs.
So how does this relate to Lost?
Well, this is an Ana-Lucia episode (I know, I know – two episodes for her but only one for Eko / Bernard, and none for Libby? Outrage!), so she would seem to be the female who meets someone on the road – but who? Leave it to the crazy Canadians to ruin it with their commercial for this week's episode!
Potential Spoiler here. Click at your own risk!
Note: this is your
WARNING
. Don't click and then complain that I "ruined the episode for you."
Don't blame me, blame Canada!
http://www.lostlinks.net/videos/canada.wmv
For the sake of those who don't click on it, I won't go into any more detail about it. I ask that you do the same in the Comments section. We'll chat about it post-episode…
But that would just be the literal meaning of the episode title… not the "deeper meaning." I can't help but shake the feeling that "Two for the Road" could also be referring to two people literally ending up on the road – on a pathway, on a journey on the Island.
Next week's episode is the mysteriously titled "?", which I assume refers to the creamy middle of the Island we saw on the Blast Door. I could see Locke set out on his journey for this place this episode… taking someone with him (I don't know, say Mr. Eko?).
But lastly, when I hear "Two for the Road", I have this creeping suspicion that it could be referring to something darker… like two people ending up in the road – as in underground – as in dead. The previews show a struggle between Ana-Lucia and HGI – how shocked would we all be if both ended up dead as a result?
It would accomplish two things:
Keep HGI and his motives secret, keeping our Survivors in the dark. He won't be able to refute Michael's claims, he won't be able to be tortured, he won't be able to spill any information on the Others. Lost writers seem to like this plot device of introducing a character and then getting rid of him before any information can be revealed (see: Goodwin, Ethan, and to some degree Desmond).
Reports claim Michelle Rodriguez is a distraction to the rest of the cast and somewhat of a bad seed on the Island (see: drunk driving, being in the movie BloodRayne) – killing her off would be a nice way to prevent her from distracting the cast (and also allow her to more easily serve her recently received jail time for drunk driving in California).
Plus, the audience might be expecting some deaths this season (logically, in the upcoming "War" promised on the commercials), so killing people off right now would come as a shock – serving as a nice change from the Boone and Shannon deaths we saw coming from a mile away.

Well, now I guess it would just be a surprise to anyone who doesn't read the Blog…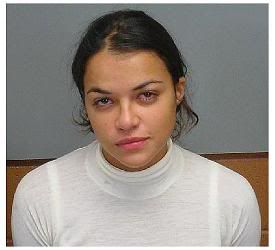 TV Guide Description: Jack and Kate bring an exhausted Michael back to the camp, and with him, news about "The Others." Meanwhile, Ana Lucia attempts to get the prisoner to confess, and Hurley plans a surprise date for Libby.


TV Guide Breakdown: Jack and Kate bringing the newly found Mikey back to camp is the most intriguing part of the episode. I won't rehash it too much here (check the "S.O.S." Review for my full thoughts), but as I said last week, I'd put any amount of money on the fact that Michael has been brainwashed / drugged or is working for the Others at this point. He's leading our Survivors into a trap.

Meanwhile, we have Ana-Lucia giving her best shot at getting HGI to talk. Ummm… excuse me? Didn't she already do this? Remember the episode where she convinced him to draw a map to the balloon? What's changed that makes her want to try and talk to him again now? It seems like a forced way to give Ana-Lucia something to do this episode… and possibly get her killed.

Lastly, we have Hurley planning a surprise date for Libby. Yes, it seems like a throwaway storyline for the episode – but there's always the chance we'll get some more hints of Libby's past (since we're not getting a Libby flashback this season). More than likely, it'll just provide some comic / romantic relief from what should be an otherwise tense episode (just like the token 2 minutes of romance 24 likes to throw in each episode).

Wow – I'm actually really excited for this episode, but after breaking down the TV Guide description, it doesn't sound too exciting does it? I hope this is because the writers are starting to clamp down on the release of information. We've only got three episodes left before the two hour season finale – it's time to get this party started!


Ana-Lucia.

Remember her story? Yeah, me neither – we did see it way back in November. As a refresher, here's her life, in a nutshell:
Born into a police family
Her mom is her boss at the police station
Was in a relationship with "Danny" that didn't work out
Got shot on the job, which made her lose her unborn baby
Person who shot her (Jason McCormick) was brought into police custody, but she refused to ID him
Instead, followed him (to Australia?) and killed him herself, to get her sweet revenge
Much like Rose and Bernard, it just feels like we know her whole story, her motives, and what drives her. I don't see the need for this second flashback, which makes me think even more that she's going to die. The only thing that's missing is for the audience to start liking her (or have her in a romantic relationship) before killing her so that her death has some resonance. You need to have someone who mourns her, who is affected by her death.

(But if you clicked on the Canadian preview above, it looks like we might get that this episode too…)


Lost Reset.
Okay, we're about to start the whirlwind journey to the conclusion of this season of Lost. But with so many repeats and "recap episodes", how can the average viewer keep track of what even happened this year? Well, if you've never seen Lost before, here is the entire season – in one paragraph.

The Hatch is blasted open and we meet Desmond – who introduces the concept of entering the Numbers every 108 minutes and then runs away. We are introduced to the Tailers, who have had a rougher time on the Island than our Survivors. Ana-Lucia accidentally shoots and kills Shannon. Michael runs off in the jungle like a crazy to find Walt. Henry Gale is captured by CFL, interrogated, and seems to be an evil Other. Kate remains hot as ever. Locke sees a mysterious map on a Blast Door in the Hatch. Michael returns.

How did it take us 22 episodes to get to this point? I kid…

But based on this setup, here are the storylines that I think NEED to be resolved this season:

Walt. The forgotten storyline of this season seems to be making a comeback with Michael's re-emergence. Last season's finale seemed to indicate the kidnapping of Walt would be the primary storyline of season two – but that hasn't been the case. At this point, they need to wrap it up for the simple sake that we, as viewers both don't remember and don't care too much about it. To drag it out any farther would just make it carry less and less impact when it finally is revisited. The good news is that the producers promised a few months back that this story will be resolved before the story ends. How? I'm not sure – as I mentioned before, due to the pesky "growing up" of Malcolm David Kelly, showing him again would be weird, given that only a month has passed on the Island. I really can't see the show killing Walt (although that would be the easy way out). They either need to go with a "Dharma Rapid Aging Experiment" or keep him hidden… but if they're keeping him hidden, I don't consider that "wrapping up the storyline." You've got your work cut out, Lost writers.

Numbers. No, I'm not looking for an answer to what the Numbers mean. That's a question I don't think we'll ever get answered. I'm looking for resolution to the Number Entering in the Hatch. We've been teased a few times with non-entry, but each time they've been entered just in time to keep the cycle going (or have they?). When we first learned about the Numbers, I thought for sure the season two finale would end with clock finally striking zero, fade to black, LOST - but at this point, since we've already seen the Egyptian Hieroglyphics and heard HGI's claims that nothing would happen, it would be pretty anti-climatic. I think they need to wrap up the Numbers storyline before the finale and give us something new to ponder over the summer.

Desmond. Actually, I'll take Henry Ian Cusick returning to either Lost or 24. On both shows, he stuck around for a few episodes, was very intriguing, had great chemistry with the cast, and then disappeared. On Lost, he went running off into the Jungle, thinking that the Numbers were going to expire and the world was going to end. Well, it's a month later – shouldn't he realize that the world didn't end? Rather than living by yourself in the Jungle with a backpack full of supplies, shouldn't he want to come back to the Hatch where there are supplies, other people to interact with, and Hot Kate? I know I would. Similar to Walt, the writers need to bring him back before the average viewer forgets about who he is. But how? Well, I think the key lies in the very fact that he hasn't returned. He's obviously somewhere else where he has enough supplies to survive, somewhere he thinks he's safe from the "world ending" – like, say, another Hatch? Assuming that Locke and Eko make a journey to the mystery "?" in the next few episodes, it would neatly tie up the Desmond storyline in a logical way if they stumble upon him there. He seemed to be running through the Jungle with a purpose – a direction – as if he's heading somewhere. Perhaps Desmond knows more about the Island than he let on, and is aware of the other Hatch locations – but was "tied down" by the Numbers, preventing him from ever going to them. Now that our Survivors are manning the Swan, he's finally got his chance. There are rumblings (which some claim are intentional red herrings put out by Lost producers) that the Season Finale will be a Desmond flashback. Sounds fantastic to me.

(PS – as for 24, I'd like to see Desmond team up with Jack next season in Germany – where Jack is helping Desmond out on a mission, since he hosed him earlier this season.)

HGI. There are really two options for HGI – either he escapes, or he gets killed. He won't be sticking around as a prisoner into next season (it almost feels like the storyline is dragging at this point, with Ana-Lucia questioning him… AGAIN). Since he's pure evil (see picture from "S.O.S." post below for confirmation), I don't see him confessing his treachery and living happily among our Survivors. Which leaves us with only escape or death. Either would accomplish the goal of having him not reveal too many secrets about the Island to our Survivors, but based on my reasoning above, I'm anticipating HGI going the way of Goodwin and Ethan – Island Native / Other who dies after revealing only a few nuggets of information.

Airplane. Somewhere around the middle of this season (I think during a podcast), we were told that we would find out how or why the airplane crashed before the season was over. Based on everything we've seen so far this season, the only thing that would make sense to me is if somehow not entering the Numbers in the Hatch resulted in some magnetic energy being released, causing a pulse bomb of sorts that could theoretically knock an airplane out of the sky. Or does this mean that we'll learn why our Survivors magically survived without a scratch while everyone else died? Something tells me that might be giving too much away – but I'd be happy with the simple knowledge of "what made the plane crash."

Storylines I'd like to see explained, but aren't holding my breath for:

Blast Door Map. With the upcoming "?" episode, I think we'll get some answers about the information contained on the Blast Door, but I bet we don't get a full disclosure of who made it and why. Since it revealed a mere three episodes ago, I would be okay with this story bleeding into Season Three (where they could potentially introduce the viewer to the Rebel Dharmite storyline). There's also such a sheer amount of information on the map (references to Flame Hatch, Magnus Hanso, etc.) that I don't think there is time to get to this season. But if they would at least find a way to keep the Blast Door down and the Black Light on (Michael should be able to figure this out… except he's probably one of them now), they could begin analyzing this season.

Dress Up Others. Kate finally revealed to Jack that she found a fake beard and theatrical glue, but now the question is "why?" Will we finally learn that the Others have a very civilized society going on behind the scenes on the Island (perhaps at the mysterious "?") or will we be left to wonder why they're trying to make our Survivors think they are dirty pirates? Since answering this would seemingly "pull back the curtain" on the Wizard of Lost, I bet it's something the writers keep in their back pocket for a while longer – although you can bet if Jack runs into Zeke again, it'll be the first thing he mentions to him.

Healing Powers. So we've now got both Locke and Rose being healed by the Island – will we ever learn how or why? The logical explanation seems to be the magnetic properties surrounding the Swan Hatch – will we once again see Locke lose his ability to walk if he ventures away from it to find the "?"? (that looks weird when you write it). Or will the writers let this detail slide, leaving us to wonder about the magical properties of the Island?
Storylines we don't stand a chance of getting, so don't get your hopes up:
Smokey. What is it? Why is it? How is it? It's the all-seeing, all-knowing, shape-shifting smoke monster on the Island that might hold the key to it all. Don't look for this explanation until season six.

Hanso. Is he on the Island? Did his great-grandfather crash there on the Black Rock? What is the purpose to his madness? Again, look for a confrontation with Hasno himself to be the final scene of the series, if it happens at all. (Note: this is where the Alias connection comes in again. If JJ gives us Rambaldi in the Alias finale, I'd bet we get Hanso in the Lost finale. If not, it's just a pipe dream).

Connections. Why do our Survivors and their family and friends keep appearing in one another's flashbacks? Is there some underlying connection between all of them? Were they all specifically chosen to be on that Island? Or is it just a subtle way of teaching us that all humans are connected on this planet, even though we don't realize it? Revelations about this might slowly be revealed over the next few seasons, but a full reveal – if all our Survivors were specifically chosen – would seem unlikely at this point.

Numbers. What do they mean? Are they just retired Yankees? Are they the key to some mathematical equation that the Dharma folks discovered? Sadly, much like the 47 on Alias, don't look for this to ever be answered.


So there you have it. Plenty of Lost goodness to wrap your mind around this week. Remember to keep the Comments spoiler-free for the sake of our readers with will power!