Episode Title
: "Three Minutes"
Brian's Deeper Meaning Guess
: I've run the gamut on this one. There are a number of situations I've run through my mind where I could see the "three minute" timeframe coming into play…
The length time that HGI left Locke when he was under the Blast Doors. That seemed about how long HGI was gone, didn't it? Now that Eko and Locke have discovered the Pearl Hatch, it's possible HGI's actions can be determined by looking through the logs that Eko collected (I am of the opinion that they can't just "rewind" the video that was showing of the Swan Hatch since recording nonstop for the assumed multiple camera angles would require an ABSURD amount of tapes / data storage - probably not readily available back in 1980). However, since this would "prove" if pushing the button did anything or not, it seems unlikely. It will be much more fun to learn what happens when the button isn't pressed live, after an Eko / Locke struggle, don't you think?
The amount of time you have after the 108 Timer runs out before the serious bad news starts (electro-magnetic pulses shooting into the sky knocking out planes!). I mean, we've seen it get as far as flipping to the hieroglyphics (about 20 seconds), but what happens if you wait longer? It doesn't look like we're going to get resolution on the Numbers before the Season Finale next week (boo), so this probably isn't the case either.
The amount of time the Others gave Michael to decide if he would help them out or not. This is a Michael flashback, from the period he ran off into the jungle with a shotgun to find Walt until the time he stumbled out of the jungle half-dead a few weeks back. During that time, I can picture a scene with the Others marching in with Walt at gunpoint saying "You have three minutes to decide if you want to help us or not" and flipping over a giant hourglass. Michael must make the incredibly difficult decision of saving his son or his fellow Survivors. Heavy.
The amount of time the Others gave Michael with Walt, when attempting to convince him to help them / join them in their plan against the Survivors. This is the most popular theory on the Internet, and I don't know whether people have read spoilers and are now "guessing" this is going to happen, or if really is just the most obvious answer. If it is true, it opens the door for a big-time emotional scene between father and son, weighing the morality of potentially killing a large group of people just to save a single life (Walt). Perhaps it's not quite that drastic, and is more of a "Lead everyone else into the trap and we'll give you your son back.", but even still - it's quite a pickle. WWJBD? Kill Walt, eliminate the variable, and then systematically take out the Others and free himself. But I think Michael is no Jack Bauer.
As I've said before, I think the important thing here is that the deal between Michael and the Others has to include some sort of "out" for him. They're not just going to give him Walt, as he's too important to them. Michael can't just return to the Survivors, since he's murdered two of them and betrayed them all. So there are two options:

Michael becomes an Other.
Michael is killed.
By "becomes an Other", I mean he is assimilated into their society, allowed to live among them (with Walt). This would make Michael happy (gets to be with Walt). This would make the Others happy (get to keep Walt).

By "is killed", I mean he is killed. It's pretty straightforward. The Others use him to lure our Survivors into a trap, he thinks they're going to give him Walt back - but instead they give him a knife / bullet in the back.

There is one other possibility, but requires a few assumptions. That possibility is that the Others have used Walt for whatever they needed him for, and will ship both Michael and Walt off the Island. If you assume that the Dharmites are in some control of everything on the Island and are voluntarily there (with some means of getting off the Island), it would make sense that the easiest way to deal with Michael and Walt, and keep the "experiments" going on is to remove them.

There gets to be a point when they know "too much" and become a variable that would ruin the experiment. This is what I term the "happy ending" to the Michael / Walt situation because it's the only way to keep Michael from becoming a "bad guy" by joining the Others (although, since he's killed two people, maybe that ship has already sailed - and yes, I meant to use the term "ship has sailed" on purpose) or from getting killed.

Lastly, as always, I throw the episode title in Google and see what obscure movie / book references come back - usually it's pretty interesting. This week is no exception. The first two search results?

The First Three Minutes: A Modern View of the Origin of the Universe

The Last Three Minutes: Conjectures About the Ultimate Fate of the Universe


Whoa. Talk about both ends of the spectrum! We've seen there are Dharma experiments working towards creating a "master race", but how about creation of a "master universe"? (Not Masters of the Universe - but that would be awesome too. By the power of Grey Skull...) On the other hand, could the Swan Hatch actually be preventing an "incident" that would bring about the end of the world, like Desmond believed?

Probably not - but it's fun to think about.


TV.com Description: A determined Michael convinces Jack and several castaways to help him rescue Walt from "The Others." With Jack away, Locke is left in charge of the hatch and must decide if he should believe Henry and not push the button, risking everyone's safety. Meanwhile, the events that happened to Michael after he left are finally revealed. Meanwhile, Charlie struggles with Eko's decision to discontinue building the church.


TV.com Breakdown: Last sentence first. As predicted last week, Eko no longer feels the need to build the church. Why? It was something he was doing to have purpose on the Island and to give thanks and praise to God for giving him Yemi back. But now he now has button-pressing, which comes with its own pros (out of the hot sun!) and cons (carpel tunnel syndrome!). This leaves Charlie on the outs. We've seen Charlie's flashbacks – he's a generally religious fellow – and probably thought that building the church was a good deed he could help perform on the Island. It'll be interesting to see if he blindly follows Eko in his new 108 Number ambition, or if this disruption finally forces him to patch things up with Claire and the other Survivors.

Back to the beginning. I doubt Michael had to do much convincing to go after the Others after everything that happened in the Hatch. The interesting thing will be how forceful he is in how the rescue should go down (i.e. – leading them into a trap). From the looks of the commercial, Sayid sees right through his scheme, while everyone else is blindly following. So this is why we're having such problems in Iraq – they're clearly much smarter than us!

With Jack away, Locke is finally in charge of the Hatch and decisions inside (after a precarious "partnership" between he and Jack that often seemed to have Jack making all the decisions). Of course his first decision is going to be to not press the button. The way the preview words it, it truly sounds like not pressing the button would cause some sort of danger – although reason (and analysis of past episodes) tells us this is not the case. Lucky for the Survivors Eko is now on button duty, and could easily overpower Locke and press the button, despite the best of Locke's protests.

Lastly, in what might be the most anticipated flashback this year, we find out what exactly happened to Michael when he was gone. By the looks of it, he made a lot of new friends…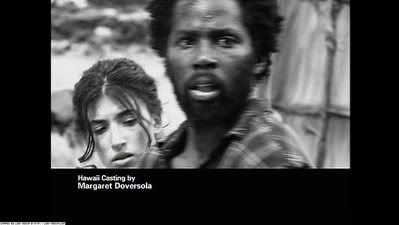 Others. It seems with each passing week, my interpretation of the Others and the power struggle between the Dharmites and Rebel Dharmites changes slightly. Last week was no exception. It all started when I saw this picture in the preview for this week: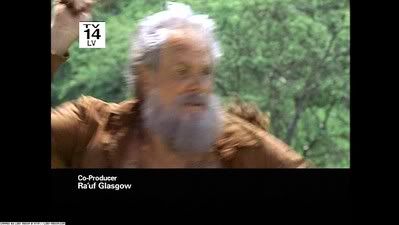 There's our buddy Zeke, sporting the fake full-on beard which Kate found in the Staff Hatch. But that beard looks pretty darn good, doesn't it? Especially in this "action shot?" Which got me thinking - what if that's a real beard?

But wait! We saw him beardless in the Staff only a few weeks ago! Or did we?

Let's recap. So far, we've had mystery twins on Zeke's ship in the Season One Finale and mystery doctors who look awfully similar in the Orientation videos.

What if Zeke is also a twin / clone?

Think about it.

I've struggled with an explanation about the fake beard from the beginning. The best I could ever come up with is "tricking the Survivors into thinking they are weak / disorganized / powerless instead of letting them know they're running the show." But I was never fully happy with that.

How about this. There are two Zekes on the Island. There's the clean cut Khaki Zeke we saw in the Staff Hatch with Ethan. Then there's the rustic Derelict Zeke we saw on the Boat kidnapping Walt / in the Jungle confronting Sawyer / Jack / Locke.

What about the fake beard? It would allow Khaki Zeke to infiltrate the Derelict Others' camp and possibly trick them into actions that benefit the Dharma experiments.

It's just a thought – but this would go a long way in explaining the "Rebel Dharmite" vs. "By The Book Dharmite" division I've long suspected. It's a bit Gattaca, but it would be an interesting development. The "clones" or "genetically engineered Dharmites" are outcasts / rebels, whereas the original Dharmites are the scientists running the show (Fancy Pants Dharmites).

Think about what we saw in the Staff Hatch – clean cut Dharmites in nice clothes, carrying out scientific experiments, seemingly in charge of the show. Compare that to the scenes we see from this week's previews.

There's clearly a class difference going on here. Okay, so I gave you my latest theory (Gattaca Cloning), here's a recap of the other potential breakdown between the groups we've discussed previously:

Experiment Test Subjects vs. Scientists.
Rebel Dharmites Who Have Lost the Faith vs. True Dharma Believers
Survivors of Other Crashes vs. Dharma
Lastly, there is always the possibility that my original lame theory of "tricking them into thinking they're weak" is true – but not even close to as much fun as any of the theories above.

This week should serve to gives us some clues to the nature of this particular group of Others, as we look to get a glimpse of their camp, how they live, and how they act. Speaking of their camp, what's that I see on the door?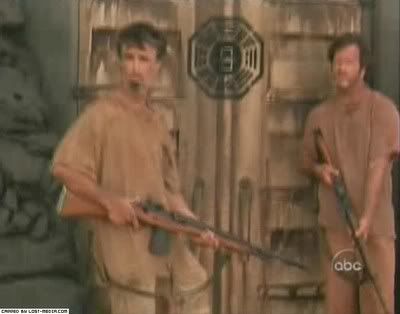 That's right – it's a Dharma Logo with a canister in the middle – just like the canister that Locke put into the bank-drive-through-lane-air-powered-shooting-thingy (scientific name) last episode! Who wants to bet this is where those canisters all ended up? Who wants to bet that no one has ever read a thing that was sent?

Could this be the "C3" from the Blast Door Map, the last of the Six Circular Hatches? (Arrow, Staff, Flame, Swan, Pearl, Bank-Drive-Through-Lane-Air-Powered-Shooting-Thingy). Or is this not a full-fledged "Hatch", but just a storage shed for the Pearl Hatch?



Walt. Remember how I said there is no way we would see Walt again, due to his rapid-aging (as seen on My Name is Earl)? Well, after seeing this week's commercial, I'd like to change my opinion: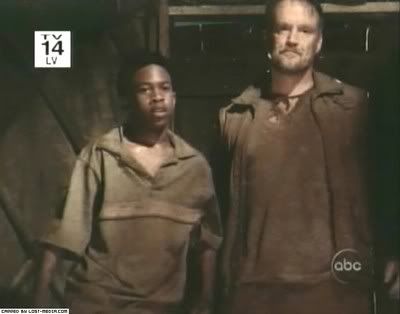 But clearly he looks older – no one grows up that fast in 40 days, even a teenager. Here's a photo from the last time we saw him on the Raft, for reference: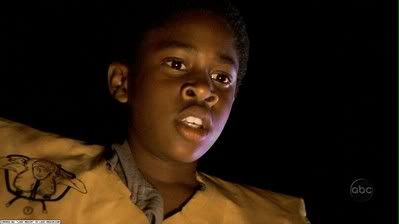 So here's my question – are they going to slide Walt in and hope we don't notice how much older he looks? Or are they going to introduce some sort of "rapid aging Dharma experiment" or perhaps hint at the strange time effects we've seen on the Island already?

My gut tells me this is indeed a "one-time only" appearance – a quick visit before he (and Michael?) are gone forever, and they'll try to gloss over the change in his appearance using dark lighting and far camera shots.

I guess looking at it from a story-telling point of view, you really have to have some closure to the Walt story – and I don't know how you could do it and leave the viewer satisfied without having the big Michael – Walt reunion.

I'll allow it.


Surprise. Finally, in what looks to be the last scene of the episode, we have this shot of the preview: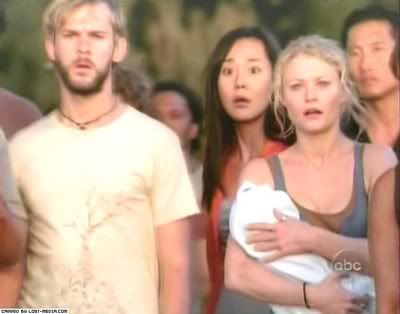 A few things jump out at me. First, they appear to be looking out to the water (since the Jungle is behind them). Second, they all have an expression of shock and awe (but not fear) on their faces. Third, they seem to be facing something that is bright – or they're looking directly into the sun. The lighting is just weird.

So what's going on?

Sea Monster? No, no fear in their eyes.
Second Plane Crash? No, I'm saving that for the Season Finale when they stop pushing the button…
A Boat? Bingo. Not just any boat. But a ferry, as referenced in the Pearl video. But after all these months of secrecy, why would the Others come out and show themselves in broad daylight to the Survivors? I'm thinking that the Others aren't driving the boat, but rather an old friend, who coincidentally is due up for flashbacks in the Season Finale next week…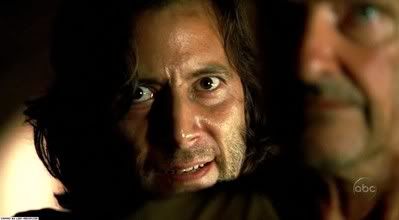 "Hello Brother."

Fade to black.

LOST.

(How? I don't know – Desmond beat up some Others and stole the boat, maybe. Or, maybe his boat wasn't truly destroyed in the crash on the Island, and he's been off this whole time repairing it - I don't really care how, but it would just be the coolest thing ever to see Desmond rolling up at episode end, full of information, a plan, or needing our Survivors' help.)


Happy Viewing.