Well, this episode held true to its title.

Here's the sheer irony: most of what I predicted ending up being pretty accurate… or so I thought. The location of the Hatch, the information inside exposing the experiments, Libby hanging on to life and then dying – all played out the way I saw it in my mind when I wrote my preview post.

But this was one of those episodes that the more you think about; the more you look at what happened, the more puzzling it becomes. There were things on the surface that seemed very simple, but when you look a little deeper, don't add up – which is why I took me a little longer than usual to get my recap together. But, after a second viewing (this time with pen and paper to jot stuff down and draw maps – you laugh but it's true), I'm ready to type away. You'll see how many portions of the episode seem to contradict each other as I go… I anxiously await your comments to help set me straight.

First off, I thought this was a great episode. The storylines definitely advanced, we had another major character death, and the stage is set for what will surely be the final storylines of the season. Also, it was nice to see the flashbacks feel like they fit in with the story, unlike some other recent ones. So why was this episode so hard to write about? Because it touched on some things that are fundamental to the underlying point and purpose of the entire season (and possibly series). Understanding them is tough (note how much I have to type about each episode, week in and week out). But that's also what made the episode so great. It was meaty.

So what happened? Here we go… Be prepared for incoherent gibberish ahead!



Visions. This is one part of the episode that really confused me initially. We've now had multiple visions from the different Survivors on the Island. Are the visions good? Are the visions bad? What causes the visions in the first place?

Let's break down the visions that our Survivors have had thus far:
Jack had visions of his Dad, which led him to the Caves and water, which was needed by the Survivors post-crash. Survey says: Good Vision
Locke had visions of Bloody Boone and the Beechcraft crashing, which led him to Boone's death. Survey says: Bad Vision
Boone had visions of Shannon being eaten by the monster, which turned out to be pretty inconsequential. Survey says: Neutral Vision.
Claire had visions of Locke telling her "You gave your baby away. Everybody pays now" and a Bloody Crib, which led her to be somewhat paranoid about her baby. Survey says: Neutral Vision.
Shannon had visions of Walt, who may have been trying to warn her about the Hatch and the Button, but ended up getting her killed. Survey says: Bad Vision.
Sayid seemed to have the same vision of Walt, but didn't really take any action on it. Survey says: Neutral Vision.
Charlie had the creepy religious vision telling him to protect Aaron, which led to him freaking out and getting outcast from the other Survivors and ruining his chances of hooking up with Claire. Survey says: Bad Vision.
Hurley had visions of Dave from the Mental Institution, who tried to get Hurley to jump off a cliff and kill himself. Survey says: Bad Vision.
Eko had visions telling him to get Locke to find the ? from Dead Ana-Lucia and Yemi, which led to Eko finding the ? Hatch, which gives him faith in pushing the button. Survey says: ?
Locke has visions of Eko falling when he climbed vines, which led to him to the ? Hatch, where he learned the 108 Numbers were the part of one big experiment. Survey says: ?
If you look at that track record, it would seem that more visions have led to bad things than to good things – but look more closely.


It's not fair to classify the visions as being good or bad based solely upon the outcome because there is still the human action involved, the free will to act upon these visions one way or the other. In the case of things like Locke seeing the Bloody Boone, he could have seen that as a warning that bad things were to come, but instead chalked them up to the Island demanding Boone's sacrifice. Walt could have been trying to help Shannon and warn her about danger, even though his appearance unintentionally led to her getting shot. Hurley's vision of Dave isn't really attributable to the Island since he was having them prior to coming to the Island. Once you start looking at the visions from a purely objective point of view, they don't seem so sinister anymore – even though they sometimes show disturbing visions.

So if this is the case, the visions in this episode would seemingly be a good thing. It's a good thing that Locke and Eko found the ? Hatch. It's a good thing that Eko is going to continue pushing the button, as Yemi told him in the vision. But if it's all an experiment, as the Second Orientation Video claims, why?


More on that in a bit.


But what is causing all these visions? A good theory (that a lot of you have brought up) is that they are somehow tied to Smokey, who seems to be able to "read" the people he encounters on the Island (and then pass judgment on if they live or die).

The problem is, Smokey hasn't come face to face with anyone else on the Island besides Eko and Locke (and the Pilot), so it doesn't quite work.

Another good theory is that the kidnapped kids (like Walt) are being plugged into some machine that taps into their innate psychic ability, and the visions are all an attempt to lead the Survivors to where they are being kept, in an attempt to free them.

The problem is, although we've seen Walt having powers – these visions were happening long before he was kidnapped, and I find it hard to believe that every child (the Tail children, Alex, etc.) all have the power to do this.

A variation of that theory is tied to the Dharma Accelerated Remote Viewing Training Experiments, where it's regular people who are "trained" to use these powers. That could explain how these visions were happening almost as soon as Flight 815 crashed.

The problem is, the very definition of "Remote Viewing" sounds like it's about seeing things going on somewhere else or predicting it, rather than drawing out memories from people and projecting them upon them.

What about the easy answer? The visions are simply coming from the tortured souls of our Survivors. We've gone over time and time again how everyone on the Island has a very checkered past with a lot of demons and baggage – it's only natural that one's subconscious would continue to bring up these images until the person comes to terms with them and gains release.

The problem is, our people are sometimes seeing images of things that are in no way from their past (Locke seeing the Beechcraft and Yemi, Eko seeing the ?). As much as I hate to buy into the "collective subconscious" theory that Entertainment Weekly posed (way too "sci-fi"), it would go a long way to explaining these visions.

So you see my dilemma. I can think of all sorts of possible explanations for the visions, but none seem to fit quite right. I almost begin to wonder it the visions are just a technique the writers are using to advance storylines in a "mystical" sort of way, as if the Island itself is causing them.

Let's move on for now.


Numbers. Regardless of what is causing the visions, the end product of them this episode is that Locke has given up on entering the 108 Numbers in the Hatch and Eko is now convinced they need to continue to enter them. So our question mark becomes, is this a good thing or a bad thing? It all goes back to the fundamental question of "What would happen if you didn't enter the Numbers?"

Forget everything we learned this episode and think back to "Lockdown". Locke is trapped under the Blast Doors and the 108 Timer is about to go off. HGI goes through the air duct and the timer resets. He tells Locke that he did nothing. There are only two choices here:

HGI is telling the truth. He did nothing.
HGI is lying. He entered the Numbers.
The problem is, if not entering the Numbers caused something catastrophic to happen ("the incident"), why would HGI lie to Locke about it, seeing as telling Locke this would cause him to stop entering them? If HGI's purpose is to make another incident occur, he could have done it by not entering the Numbers during "Lockdown". If HGI's purpose was to get the Survivors to continue entering the Numbers, why would he tell the biggest believer of entering them (Locke) that entering them does nothing? Doesn't make sense.

The only logical explanation is that entering the Numbers does nothing – it's all part of the experiment. Not entering them causes no "incident", and they just reset. But if this is the case, then the vision that Eko's vision of Yemi is trying to mislead him… but not hurt him (remember, he specifically said "bring your axe", without which Eko would have fallen while climbing the vines)… unless…


Visions (Revisited). Wait a minute – this means the visions must be caused by Dharma – someway, somehow. The purpose is still a little fuzzy, so maybe Dharma doesn't quite have full control over whatever is going on (which would make sense given everything we seemingly know about them and their experiments in the Lost Experience). They're not only giving the Survivors glimpses into the future (perhaps this is an unfortunate side effect they can't control), but they're also keeping them in line with the experiments that wish to carry out (pushing the button). Now the only question is… how? No explanation for this yet, per the reasons we went through above.

Anyone have any fresh suggestions?


Pearl. Here's the other big question mark of the episode for me. According to the map on the Blast Door, there are SIX Hatches surrounding the big question mark is the mysterious middle of them all. Locke's sketch seems to confirm the same. The question mark is not one of them.

Thus, it makes sense that there would be SIX Orientation videos, one for each Hatch, explaining the experiment that needs to be carried on inside. The Swan Orientation Video was labeled "Station 3 of 6". The Pearl Orientation video was labeled "Station 5 of 6". Excuse me? Back up.

If there is an Orientation Video, you are inside one of the Hatches, one of the places that experiments take place. Need proof? How about the fact that there is a camera inside the Pearl, to watch the people who are allegedly watching everyone else. It's all part of another experiment.

Locke and Eko are not inside the ?. They're inside "C4" on the Blast Door Map.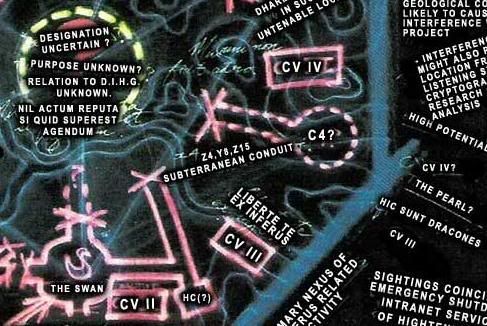 Remember that Eko was following a map that was basically scribbled out based on what Locke saw for under ten seconds. He mentioned that they crossed a wavy line. Check. Note the words "The Pearl" written just to the right of C4 on the map. This stays true to the style of the Map, where "The Swan", "The Flame", and "The Staff" are all written just outside the octagon where they are located in the exact same fashion. Think about the fact that when you're done, you move to a ferry to take you back to the Barracks (more on that later). Wouldn't that mean you would need to be near the beach, not in the middle of the Island? Seems more like C4 than the ?, doesn't it?

When you think about it, tricking Eko and Locke to think they found the ? instead of just another Hatch was as simple as clearing a small circle of plant life and throwing down some salty dirt.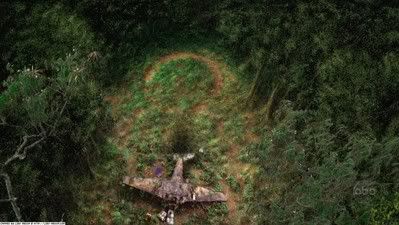 But why trick them? It makes Locke think he has found the key to it all, and give up his search for the real ?.

But how did they know Locke was looking for it in the first place? Given the cameras inside the Pearl, they've been watching (and hearing?) everything going on inside the Swan. I'm assuming the Rebel Dharmites are smart enough to have drawn their map on the back of the Blast Door (away from the camera), but I'm also willing to bet that some camera picked up a shot of Locke drawing his little map with a big ? in the middle. The cigarette but shown on the table inside the Pearl suggests that someone has been there recently – even though it looks like the place has been abandoned for years… just like the Staff Hatch and the beard – interesting…

(I'm so tempted to go back to the theory that there is some weird time-warp stuff going on, but I won't rehash it again here. More important stuff to get to…)

So what's the experiment?

Remember the Orientation Video told them to record everything that they saw. Remember that the Video says Karen Degroot said "Careful observation is the key to awareness". Remember that camera sitting behind the two chairs that is observing them all along.

The experiment seems to be a test to see how close one can pay attention to what is going on. The Video mentions "8 hour shifts". EIGHT hours, as opposed to the months that subjects spend in the Swan Hatch? Seems strange. I'm thinking the Pearl Hatch is used as a testing ground - a place to see how "worthy" the experiment subjects are, how well they do what Karen Degroot thought was such an important trait – carefully observing.

Perhaps a "passing grade" elevates you higher through the Hanso Organization (again, I'm picturing crazy Scientology levels), whereas a "failing grade" dooms you to mediocre Dharma tasks… like restocking the Swan Hatch. A system like this would go a long way in explaining the development of Rebel Dharmites… those who could never advance and got frustrated with the entire Dharma organization.

But here's the other thing – in the video, the viewer is told to carefully monitor the STATION. Singular. Not "stations", just "station". We see that they are clearly monitoring the Swan Hatch:



Is that the only one?

If you think about it, we've seen the inside of The Staff (which seemed to be purely a medical facility with no discernable experiments going on inside) and the Tailers initially set up shop inside The Arrow (pretty desolate in there too). Is it possible that the only remaining experiment on the Island is inside the Swan Hatch? We're getting closer…

Orientation Videos. The Swan Video was on an old film reel, while the Pearl Video was on a VHS tape. What's up with that?

One could surmise that the Pearl Video is newer than the Swan Video – but both feature the same copyright date of 1980. The only reason I can think of presenting the videos in two different formats is to give the impression that the Swan Video is older than it really is. When you think about it, this ties in nicely with the hieroglyphics that displayed on the 108 Timer upon expiration – it all gives the allusion that this "activity" is an ancient one, one that has been going on for a very, very long time – one that is important enough to keep doing in the future.



But wait, there's more. The Swan Orientation Video featured "Dr. Marvin Candle". The Pearl Orientation Video featured a very similar looking "Dr. Mark Wickman." The cute naming similarities (Mark and Marvin, Candle and Wick…man) hint that they're similar, but not quite the same.

I immediately thought of the Season One Finale. Post-episode interviews revealed that the two men cloaked by darkness on the boat with Zeke were identical twins – a fact that the cast was surprised wasn't shown in the televised finale, since it was supposed to have some meaning behind it.

Sounds like we're venturing down the path of some cloning-type experiments going on in the Hanso Foundation as well…

One last thing – Wickman says "the test subjects believe what they are doing is of the utmost importance." Note the word BELIEVE. If pushing button actually was important, I think he simply would have said "the test subjects are doing something of the utmost importance", don't you?

Printout. Back to the Pearl. Remember the "log" that Locke printed out (and Eko kept)? I'm sure we were all expecting to see our favorite numbers there – but instead were treated to these: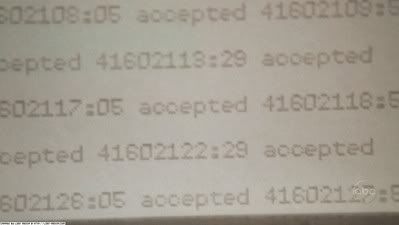 What gives? These aren't displays of what was entered on the computer in the Swan Hatch, but rather when it was entered. By the looks of things, each entry is an increment of one hour and eight minutes. The weird thing is, if you do the math – 401,602,122 hours (as shown on the printout) is roughly 5,000 years. While having the experiment going on for 5,000 years would help explain the Hieroglyphics inside, it doesn't quite mesh with the whole "computer needed to enter the numbers" or "mechanical countdown clock."

Very odd. Again trying to give the impression this experiment has been going for centuries?

The other big question is – will Eko be able to read through the log and see failed entries occurring in the past? Or will they be able to determine if HGI entered the Numbers or not? Figuring out the timeline will be the key.


Psychic. More question marks here. The psychic in Eko's flashback is the same psychic from Claire's flashback, that warned her she must raise her baby. Since that was over a season and a half ago, let's refresh our memories…


Claire and her friend go to see a psychic, thinking it will be fun. The psychic seems legitimate when he asks Claire about her pregnancy, which no one else knows about. However, he refuses to go on with the reading when he sees something blurry in her future. With a look of panic on his face, he asks Claire to leave.

Claire re-visits the psychic, offering him more money and requesting that he continue her reading – and that she's going to give her baby up for adoption. But the psychic tells her that it's crucial she raise this child herself, warning her that great danger will befall her if she gives it up. Claire runs out. But the psychic is persistent and calls her on the phone. He offers her money and a plane ticket to Los Angeles to meet a couple with whom the baby will be safe.

You know the rest.

Compare that with the speech the psychic gave in this week's episode, telling Eko "I'm a fraud, I gather intelligence and exploit miracle seekers. But there are no such things as miracles… at least not in this world."

His actions with Claire seem to contradict this 100%. For one, if you're exploiting people, wouldn't you want to take their money? He refuses Claire's, even when she offers more. If you're just tricking people, would you frantically call them at night, begging them to listen to you as you give them money and a plane ticket? No.

So why did he tell this to Eko? Simple – to get Eko to drop his investigation. Painting himself as an anti-believer paints his wife's actions to try and prove a religious miracle seem more of a personal marital squabble than a true religious matter.

His daughter clearly recognized Eko as soon as he approached, from her "Vision" with Yemi when she was "between places", and was about to talk to him before The Psychic came out and rushed her into the house. Remember, her talk with Eko at the airport was being done "without her father knowing she was there."

Were his intentions to get Eko on Flight 815? Or was that just an unfortunate coincidence? Either way, it's clear The Psychic didn't want his daughter to give her message to Eko… but why?

It's very easy to assume The Psychic is a Dharma / Hanso Employee working off the Island, and his job is to specifically orchestrate getting certain individuals onto that Island – but very hard to logically come up with explanations of how or why.

Michael. I found it interesting that Michael seemed to express both sorrow for what he did and worry that he would get found out when he learned Libby was still alive. They're definitely painting his character as a tortured one, who had to make some tough decisions – rather than a mindless robot sent on a mission from Dharma. I'm leaning towards Michael agreeing to a "free HGI and kill Ana-Lucia (since she killed two of us) and we'll give you Walt" arrangement now much more than any sort of brainwashing / drugging of Michael. I think the shooting of Libby was an unfortunate consequence that he honestly feels sorry for.

Locke. Locke's faith-scale ran the gamut the past few episodes. He went from a man who fully believed his greater purpose was entering the Numbers (and believing he was saving humanity by doing so) to thinking he had no purpose (when HGI told him entering the Numbers did nothing) to finding new purpose (the ? – note how he insisted that he get to enter the alleged ? Hatch first – as if he was "chosen" to find it), to realizing it was all a sham (not wanting to watch the Pearl Video again vs. saying "We're going to need to watch that again" after the Swan Video).

He's back to rock bottom now, as evidenced by his speech that his whole life he's been a nobody. This makes his character extremely dangerous, in that he's due to do something stupid and irrational (like preventing the much bigger and stronger Eko from entering the Numbers, for example?).

Eko. Eko's rationale for continuing to enter the Numbers doesn't make much sense, until you look back at his history. He was a drug-lord who repented for his ways, and took up his brother's path in life of becoming a priest. However, he remained a skeptic when it came to faith – the very reason he was assigned to the "Miracle Resurrection" case. If Eko believed the case, anyone would. After meeting with The Psychic, Eko was convinced it was a hoax, and remained his skeptic self. Then he had the encounter with the Semi-Creepy Looking Girl:



The fact that she knew about Yemi, and told Eko he would see him soon (which he did, even though Yemi was dead) clearly gave Eko his faith back. He went from being a skeptic to being someone who blindly follows the visions he sees in his dreams.

So why continue to push the button? Well, I think it touches on his religious side. He says "It is work. We are being tested. You shouldn't do it because you are told to do it, but because you believe in it." Eko sees this as a test from God. God gave him his brother back on the other side of the world after two plane crashes (a miracle?), and in return, he is going to do his penance by pushing the button.

This is why Eko was building the church. Not because he felt the Island needed a place to get married and score some free wine, but because it was work that he could do as a way to pay back the Island (and God) for giving him his brother. Well, look for that building of the church to stop – Eko has new work to do.

"I believe the work being done in the hatch is more important than anything," he told Locke. "If you will not continue to push the button, I will."

His life on the Island now has meaning and purpose, even if it is just as a pawn in a 5,000 year old experiment…


Ending. I think the last thirty seconds of the episode were quite symbolic of what's coming up in the next two episodes. The two major storylines, beautifully shot and edited together.
Michael, standing alone in the Hatch with the beeping of the 108 Timer going on.

Both will be resolved in the next two weeks.