Episode Title
: ?
Brian's Deeper Meaning Guess
: Originally this episode was to be directed by Darren Aronofsky, the trippy guy who made the film "π" (Pi) back in 1998. That film was about a mathematical prodigy who believed everything in nature could be understood through numbers. He thinks he has found the key to understanding the universe, but begins to have paranoid hallucinations the closer he gets.
Sound familiar? We've got mysterious numbers that seem to be everywhere (4-8-15-16-23-42). We've got an organization named "Dharma" which literally means "the sum of everything". We've got characters having hallucinations all over the Island. Pretty much like "Lost: The Movie", right?
Unfortunately, Darren dropped out of the episode since his pregnant wife (Oscar Winner Rachel Weiss) was about to have their baby. Lame excuse, I know.
So what does any of this have to do with the deeper meaning? Well, it's clear the episode was titled "?" in honor of Darren's film titled "π", so that's one side of it – a single character title.
But when you think about it, doesn't "?" pretty much sum up this whole show so far? Think about how many questions we've had – from the smallest details (where is Claire getting all this eye makeup?!) to the largest fundamental questions about the purpose and direction of the show (why did the plane crash?) – each week the list seems to grow and grow.
Ever since we learned of this episode title, I (along with most of the Lost-watching community) assumed it was going to be about the "?" displayed at the center of the Blast Door Locke saw, and this still looks to be the case – with the previews showing Locke and Eko setting out on a journey to find this mystery center of the map.
Back when Darren was going to direct the episode, the rumor was this was going to be an "Island Flashback" episode – which sounded like the coolest thing ever (and hopefully Darren will come back in Season 3 to direct just such an episode), but now it's looking like an Eko flashback episode. But even if that aspect of the episode changed, wouldn't the fundamental purpose of the episode have to remain the same in order to have the season-long arc make sense?
That's what I'm thinking.
Since an Island Flashback would theoretically give a lot of answers about the nature and origin of the Island, I think this episode would have to do something similar.
So here's my thought – in a big dose of irony, the "?" is finally a place where some answers are revealed.
If I'm interpreting the Blast Door map correctly, the "?" Hatch is at the center of it all, and it's what all the other Hatches have been trying to get to (seemingly unsuccessfully). There must be something good there! But what? Here are my top 3 guesses:
Documents explaining the experiments going on at each Hatch and what the purpose of each is. This would explain why the experiment subjects in each Hatch would want to get there, and why it would be so important for Dharma to keep them out of there – since it would in effect "ruin" the experiment.
Files full of information about all the individuals on the Island. (Remember? This was my prediction for what the Swan Hatch would hold at the end of Season 1). This would finally prove that they were all brought there for a purpose – that it wasn't just chance, and would go a long way in explaining the connectivity in all the character flashbacks without fully explaining it.
Desmond… and with Desmond come answers. You have to assume there is a wealth of information inside Desmond that he hasn't shared yet, if he's spent so much time on the Island. Even if he truly has no idea about the master plan and is just a pawn in the Dharma Skinner Box experiment, he would be able to tell them how the Supply Drops worked in the past, if he's ever seen the Blast Door Map, and if he was one of the ones attempting to get to the "?"
The only thing I'm worried about is that in algebraic chess notation, "?" denotes a bad move (don't worry, I'm not the world's biggest nerd – I just learned this today too. Also, it will be the only time in the history of mankind someone will ever write the phrase "I'm worried about the algebraic chess notation"). The previews showed Eko seemingly falling to his doom. Would the producers be so crazy to kill off three Tailers in two consecutive weeks? This is, after all, a "second flashback" for Eko – the kiss of death for Shannon and Ana-Lucia!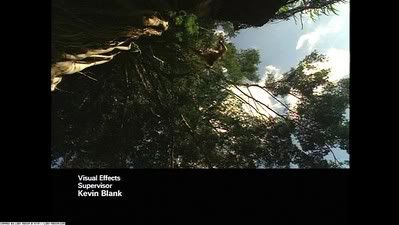 Nah – there was big talk earlier this year about how excited the producers were for Locke and Eko to finally meet due to the journey that lied ahead for the two of them. Although they're going on a literal journey this episode, their symbolic faith journey seems to just be beginning.

My guess? This is a Locke vision of Eko dying – but unlike his earlier visions of dead Boone, he takes action to prevent it this time.

Let's just hope this episode doesn't leave us with a big "?" over our heads, a la cartoon characters. I want answers!
TV.com Description: Mr. Eko seeks Locke's help in finding a secret location he believes holds the key to the island's mysteries; Jack and the other survivors grapple with the horrific situation in the hatch.


TV.com Breakdown: Let's tackle the easier part of the description first – Jack and Co. dealing with the situation in the Hatch.

I think we're all in agreement that Ana-Lucia is gone, going, gone (Jack Johnson style). That's pretty horrific in and of itself, so it doesn't necessarily mean that Libby is also dead. I also think we're all in agreement that even if Libby is somehow alive – she won't be alive for long.

My problem is that if the writers go this route, it's just like the Boone situation from last year – a character fatally injured at the hand of another Survivor, who will rat them out just before they slip away. But this would allow Michael to set his trap for the Survivors (forcing the confrontation with the Others) without allowing it to come to fruition (by Libby talking at the last minute) – which would potentially save all our Survivors from being captured.

The problem with having Libby be dead, as I mentioned last week, leaves her backstory a mystery – which seems pretty uncharacteristic for the writers who have thus far done everything with a purpose (again, unless she appears in another character's flashbacks a la Jack's Dad – who we surprisingly know a ton about even though he's never had a flashback of his own).

Official Prediction: The Horrific Situation is the following:
- Dead Ana-Lucia
- Barely alive (not able to speak) Libby
- Shot Michael
- Gone HGI
That sounds horrific enough to me, don't you think?

How will they deal with it? Jack will treat Michael and try to treat Libby (unsuccessfully). Ana-Lucia will be buried. They'll toy around with the notion of searching for HGI, but give up to regroup a full on attack of the Others per Michael's recommendation. It should make for good, emotional, sweeps-worthy TV.

But that won't even be the good part of the episode. Back to the first sentence:

Locke seems to have found his new raison d'etre on the Island. It's not entering in the Numbers, it's finding the "?", which he thinks holds the key to all his questions about the Island. How he inferred this from the brief look he got at the Blast Door Map? I'm not sure - but John Locke is all about taking leaps of faith and wanting to believe in the greater purpose of things, so it makes sense.

Enter Mr. Eko. He's truly the one on the Island with the most faith in a traditional sense, so he provides a perfect foil to Locke. Both seem to think that there is something bigger happening (remember Eko's "Do not confuse coincidence with fate" line when they first met?), but Locke is approaching it from a more "I want to be important" point of view, whereas Eko is approaching it as more of a skeptic / rational point of view.

Eko is going on this journey to try and provide hope to a group of people whose lives have been shaken by the Hatch tragedy. Locke is going to try and find purpose for his life. But where are they going? Back to the one place on the Island that the two have in common – the Beechcraft Plane.

That's right, the "?" is buried beneath the Beechcraft Plane. Check the picture from this week's preview:
Think about all the crazy happenings that have gone on in this area. First, Locke finds the Plane based on a crazy vision (sent telepathically from some experiment subject, as a cry for help?) He then loses his ability to walk (because he's too far away from the magnetic mojo of the Swan Hatch?). Boone makes first contact with the Tailers, then dies due to Locke keeping the place secret (another sign of Locke's betrayal – see my Locke Manifesto). The fact that the Plane is the same one from Eko's past, containing his dead brother (no idea here).

The real question is, is the "?" here because of all the wacky stuff that has happened there, or has all the wacky stuff happened there because the "?" is there?

(Put another way, is the "?" Hatch kicking off crazy vibes that makes all this stuff happen there? Or did they put the "?" Hatch in that location because there were crazy vibes there it could use for experiments?)
The Lost Experience So Far:

Okay, for those of you who have lives out there and didn't spend countless hours hunting for clues and deciphering parts of The Lost Experience here are your Cliff Notes:

Persephone is our protagonist, our link to the inside, seemingly a Rebel Dharmite who's trying to take the place down from the inside. She's clearly some sort of computer hack who gets information out to us through The Hanso Foundation website when she can.

Recently the game has started to question what happened to Alvar Hanso? Check it out: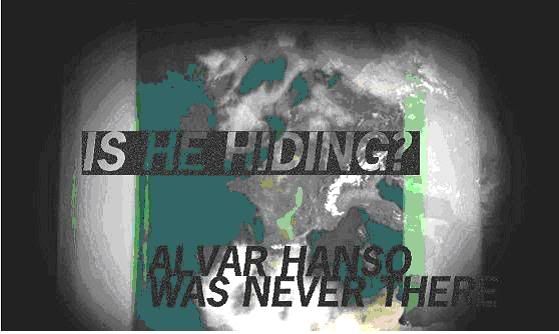 I see two potential options:
Hostile takeover (literally) – where Hanso was murdered by his fellow Board of Directors because he was standing in the way of something.
On the Island – he's been gone for a few years, and people are beginning to question where he is. Wouldn't it be great if he was living the life on the Island all along?
In the meantime, it looks as though Dr. Thomas Vernon Mittelwerk (SVP, COO, CTO) is in charge – but will be unreachable for three weeks. That puts his return the night of the Lost Season Finale here in America. Coincidence?

Before that, Hugh MacIntyre (VP, Director) will be returning in two weeks (which is next Wednesday). Look for more information available at that time.

Lastly, there is hot-head Peter Thompson (Legal) who is taking action against Persephone on the website for her hacking, covering up employee reports of misconduct, and even attacking fictional writers! Check out the newest piece of the Alternate Reality Game. This ad ran in newspapers nationwide this week: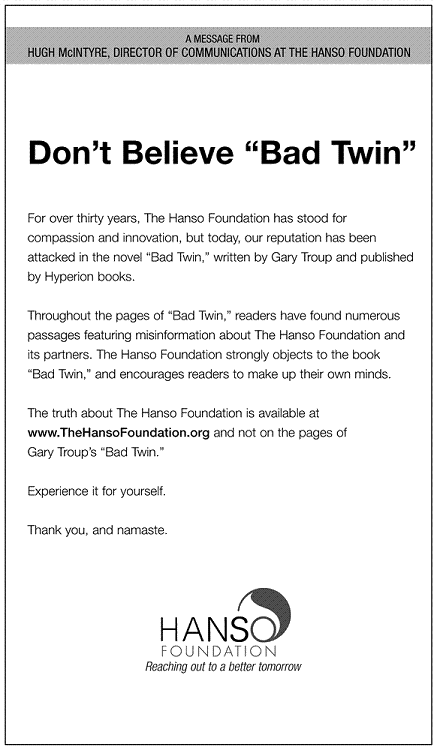 (Man, I really need to get reading "Bad Twin"!)
So what does it all mean? The Hanso Foundation was clearly doing some questionable experiments and some employees took moral or ethical exception to them. However, once they reported them to the appropriate authorities, they seem to retract their statements soon after and then disappear. I'm thinking the disappearance of Alvar Hanso is a similar situation.
Viewer Mailbag. I've been pretty bad at getting back to you guys in the Comments section (I'm such a bad host), so I figure I'll take some time and answer some of the more pressing questions from my discussion of "Two For The Road".

Maria Said: in the preview it looked like micheal was in the armory thing. is that just abc being misleading or did they figure out micheal did it and lock him in there?

My bet? As an Engineer, he's in there trying to "figure out how HGI could have escaped". Note that he isn't chained down at all, as HGI was. Also note that HGI is not there, confirming that he indeed escaped.

Bridget Said: Also, "tom" was kate's childhood sweetheart and "sarah" was jack's ex wife. i guess they are pretty common names, but what do you think?

Good catch! Since Ana-Lucia had no previous knowledge about Jack's "Sarah" and Jack's Dad had no knowledge about Kate's "Tom", I'd chalk this up to lazy writers who couldn't think of new names – or something else they threw in, attempting to make us over-analyze :)

Anonymous Said: what about Jack being unwraveled at the airport ticket counter? Any signifance to that given Jack's typically cool persona?

Dude, his dad just died – cut him some slack.

Cirrus Said: Hey, great entry! This is the Brian we remember! =)

Wait, is that your way of saying I've sucked lately? Like that time last year people started telling me how skinny I looked and I was like "Whoa whoa whoa - when was I fat?!"

Ben Said: My memory's a little shakey, but wasn't Eko also a "good one?" I mean, they tried to kidnap him. Did they try to kidnap Ana Lucia? I can't remember, but if not, then maybe "Henry Gale" did not fear attacking her because for whatever reason, she is not valuable to the Others.

Eko indeed was a "good one". He took out the two "Others" who tried to take him away with a rock, killing them both. Perhaps this switched him over to the "not so good" side… They did not try to kidnap Ana-Lucia, she was awoken by the commotion of them going after other Tailers.

Ethan Said: Who is a "good person", I think we may be going down the wrong path by thinking of this in moralistic terms. Perhaps the "good ones" speak the binary language of moisture vaporators? I can see why the others would desire that skill, as well as speaking Bocce. I forget, did anyone speak Bocce before they were abducted?


Um – come again? Moisture Vaporators? Bocce? Does this mean anything to anyone out there? Am I missing some sort of hip slang that's popular with the kids these days?

Sinking Deeper Said: Could Libby have something wrapped up in the blanket...through my shock during the episode, I don't remember?

Entirely possible. She told Hurley she was going to get the blankets (and he should go get the wine), but you never know what else she could have grabbed. But I'm sticking with my original thoughts. Shot, and dying (if not dead).

Cas Said: It's been a while and my memory is patchy... I only remember there being one "other" that Anna Lucia killed (Goodwin, right?). Who was the other one?

Remember "Nathan"? He was the one who seemed to be the Other initially, so Ana-Lucia dug a hole and threw him inside (the same hole Michael, Jin, and Sawyer ended up in) Goodwin helped him escape in the middle of the night only to kill him. If they were both on the same side, Nathan must have said too much or did something wrong.

Trixie Said: Also... I think I might have a crush on the Nerd God who is Brian... :)

Um – who's a Nerd God? I'm cool in real life, I just pretend to be a nerd on the Blog so that people think I'm smarter than I really am. Sorry to break your heart Trixie, but I'm going to break Boy Band Rule #1 and confess that I have a smoking hot girlfriend who is much better than I deserve.

Lost in Chicago 2 Said: How do you know so much? is it possible you have an acquaintance with someone at ABC?

I guess I attribute my knowledge to watching a lot of TV as a kid. No connections at ABC (or any other network for that matter) – although now that I found out I have a reader who actually works on Lost, I'm one step closer.

Anonymous Said: Libby and Hurly were patients at a mental hospital. Is it possible that the hospital belonged to the Hanso Foundation?

Entirely possible – especially when you think that they had the only two people who knew the Numbers locked up in there (Lenny and Hurley). Perhaps it was their way of "containing" the sickness that the Numbers bring.

Amy Said: And, hey, where has that Puffy Black Cloud been these days anyway?

Amen to that. Just like it seemingly disappeared for most of the first season, the Smoke Monster has gone AWOL since Eko's encounter with it earlier this year. If you remember last year, Smokey came back during the Season Finale – maybe we'll be as lucky this year (or, how about this week, it's another Eko episode, after all…)

Great1 Said: Eko was a drug dealer, and a thug. Definitely not a "good" guy. The smoke monster really i think is protecting something. One thing, if the others have this thing protecting them, how do they control the smoke monster?

Eko might have a sketchy past, but he's clearly turned his life around. Without getting too philosophical or religious on you, I think there's a good chance he redeemed himself prior to his encounter with Smokey. As for controlling him, perhaps that's part of the point – they created this Monster, and now cannot control it (a little Frankenstein-esque). That might be why the Island (and their experiments) seem to be in shambles…




That's all for this week! I've got to say, last week's Lost was one I wasn't really that pumped for – but ended up being one of the top two episodes of the year so far. On the other hand, I've had this episode circled on my calendar (not literally) for the past three weeks. I'm expecting big things – here's hoping I don't get let down!