(I'm back! Don't worry, I saved my craziest predictions of the year for the Season Finale!)
Episode Title
: "Live Together, Die Alone"
Brian's Deeper Meaning Guess
: This is it. The last time I'll have deep thoughts until the fall. So I guess it's good to see the Lost creators gave me such a meaty episode title for the last one of the season. This one could be as small as describing a single character, as large as describing everyone on the Island, or as heady as describing mankind in general. Let's start small and work big…
Desmond is back.
I don't know when I became Henry Ian Cusick's #1 Fan, but I'm wanting him to join both "Lost" and "24" as a series regular next season. His appearance on Lost single-handedly turned the entire premise of the show on its head. His disappearance left us with more questions than ever about the nature of the Hatch, the experiments, his connection to our Survivors, and the entire state of the world.
Remember, when we last saw him he was running through the Jungle with a backpack full of 4815162342 Medicine, sure that another "Incident" was about to occur due to the 108 Computer being damaged.
So why is he now back?
Because he realized that you either "Live Together" or "Die Alone".
Perhaps he doesn't realize it – maybe he's looking at it from a strict survival point of view. I'm sure whatever supplies he had in his backpack have run out in the month he's gone, and needs to return to our Survivors to restock on supplies. Maybe he's encountered some of the dangers on the Island (Smokey, Others, CFL) and realized the strength that lies in numbers (no, not those Numbers…). Maybe he's formulated a plan to overtake the Others and now needs some help to carry it out. The point remains the same – he needs our Survivors.
Keep in mind this is also a Desmond flashback episode (which, by the way, is second only to an "Island flashback" on the "Flashbacks I Want Most" list… that and a "Vincent Flashback", of course). Think back to what we know about his past – he crashed on the Island all alone and met Kelvin. On a strange Island by yourself, you join the only other person there and hope you survive... even if they convince you to enter a series of Numbers on a computer every 108 Minutes to save the world.
Desmond has decided to "Live Together".
Unfortunately, Michael seems to be headed in the opposite direction of Desmond. As I briefly mentioned before, finding out that there was no edict from the Others to kill Ana-Lucia or Libby makes his murder of them even more inexcusable. It might have been difficult, but there could have been some other way to get HGI free that wouldn't involve killing. Once the Survivors find out about what he did (which they will, since Sayid is already suspecting him of being shady - just wait until he walks Jack, Kate, Sawyer, and Hurley into a trap!) there is no chance of him returning to the Survivor Camp.
Michael made a decision - he could have told the Survivors about the ultimatum the Others gave him and worked with them to find a solution that would get Walt back. But as we've seen before, he's liable to get a little crazy when it comes to saving Walt (PS - I totally forgot about how he knocked Locke out to steal the gun when he initially went out in the Jungle after Walt - why in the world did ANYONE trust him the second time around???). He has effectively said "Walt is more important than any of the rest of you", which isn't a good example of "Living Together" if you ask me.
So is he destined to "Die Alone"? Perhaps. I still haven't come to a firm conclusion on how the Michael-Walt saga is going to end, but I definitely have it narrowed down to two choices:
Michael is going to be killed. The Others used Michael to free HGI and bring the Flight 815 Four (Jack, Kate, Sawyer, and Hurley) to them, and his usefulness is used up. He becomes a liability and is killed. This would be known as the "sad ending".
Michael and Walt are going to be sent off the Island. The Others are people of their word, and upon capturing the Fantastic Four they give Michael the boat he wanted all along. Michael takes Walt and hops on board and the two sail away (David Gray style). As a viewer, we are left to wonder what will happen to them. This would be known as the "mystery ending".
What happened to the "Michael becomes an Other and starts living with them" choice? Well, after reading this episode's title, I decided it would be impossible.

Why?

Because I think our Survivors are going to band together with the "Others".

Shocking you say? I agree. But the more I thought about the episode title, the more I thought about everything that's happened so far - it makes sense to me. Check out this quote from Damon Lindelhof about the main theme of next season: "Us versus Them. But who's the 'us' and who's the 'them'?"

If I was writing this show, the 'Us' becomes our Survivors and the Rebel Dharmites. The 'Them' are the Clean-Cut Dharmites we saw in the Staff Hatch earlier this season. Throw out your favorite theory about what separates these two groups (cloning, test subjects vs. scientists, other crash survivors vs. Dharmites), but I am more sure than ever that there is a clear distinction between the Others, and that there has been a "battle" between the two of them going on long before Flight 815 crashed on the Island.

The "good guys" in this battle are the Rebel Dharmites (Zeke and Co., living in huts and wearing rags).

The "bad guys" in this battle are the Clean-Cut Dharmites (Beardless Zeke, Ethan, etc. living in some more-developed area on this Island wearing khaki pants and collared shirts).

Our Survivors are going to be faced with a decision – merge with the Rebel Dharmites to rage against the Clean-Cut Dharma machine, or try to go it alone.

Once again, we're looking at a "Live Together" or "Die Alone" situation. I think our Survivors will be smart enough to chose "Live Together".

More on this later…

Back to Michael, to finish up that thought. If the Survivors join the Rebel Dharmites, there is no way that Michael could still be around. Hurley or Sawyer would kill him. If Michael is to survive the finale, it will be on a boat, leaving the Island.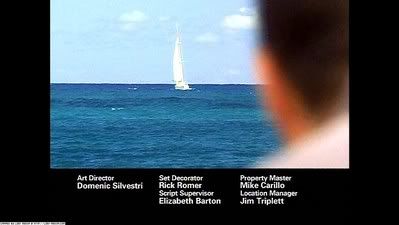 TV.com Description: After discovering something odd just offshore, Jack and Sayid come up with a plan to confront "The Others" and hopefully get Walt back. Meanwhile, Eko and Locke come to blows as Locke makes a potentially cataclysmic decision regarding the "button" and the hatch. Lastly, Desmond returns and he sheds some more light on his experience on the island in the three years prior to when Locke came down into that hatch.


TV.com Breakdown: The "something odd" just offshore is clearly the boat we saw at the end of last episode (sorry to break the hearts of the "Underwater Hatch" people). The real question is whether Desmond is actually on this boat or if the boat is abandoned. If Desmond is on the boat, it reasons that this is his boat he was using on his race around the world - somehow repaired from his crash into the Island. If the boat is abandoned, it reasons that this is the boat Michael requested in return for freeing HGI and delivering the Flight 815 Four. It would serve as a sign to Michael of "Hey, we're serious about our promise to you… if you carry out your half of the bargain."

The bad news for Mikey is that Sayid seems to be on to his hijinx, and has probably convinced Jack of a way to play along with Michael's plan until the last minute - and then turn the tables. How? I'm not sure – maybe let Michael lead you to the Others, then at the last minute turn on him - possibly having Sayid trailing a few hundred yards behind you with some sort of cavalry.

Meanwhile, the other big storyline is Locke vs. Eko in the battle for the Hatch. It's so ironic how this storyline has turned both characters completely 180 degrees from where they started. The whole 108 Computer started as a "greater purpose" for Locke on the Island, but has now turned into a matter of faith for Eko. When we last saw Locke, he was walking away by himself on the beach. Did he go off soul-searching? Was he simply heading back to the Hatch? Unclear – but by the looks of things, John Locke has made his decision – that it's time to take an axe to the 108 Computer.


Will he succeed? No. Eko is far too strong and dedicated to let the weaker Locke destroy his mission. But will the timer run out this episode? Absolutely. We're going to have some scene of Eko, Locke, and Desmond (and possibly Charlie) inside the Swan Hatch debating whether or not to push the button. I'm betting that Locke finds a way to lower the Blast Doors (possibly from Desmond), trapping Eko away from the 108 Computer. This sets the stage for a dramatic scene with Eko imploring with Locke to press the button as the clock continues to tick down.

Then what happens? As I've said before, logically nothing should happen. But even though all the evidence says the 108 Timer is one big Skinner Box Experiment, every fiber of my being tells me that when the timer goes off, something happens that causes another plane to crash. Why?

We've been told that we would learn a few things in this episode:

What happens when the button isn't pressed.
What caused Flight 815 to crash.
Resolution to the Michael / Walt storyline.
It's not like the Lost writers to give away a bunch of answers, even over the course of a two-hour episode. I'm thinking the first two are tied together. How else could we possibly learn why Flight 815 crashed? There are only a few possibilities:

The Rebel Dharmites divulge the information (but could we trust it?)
The Pearl Hatch contains video showing the plane crashing (doubtful since all the cameras seemed to be inside Hatches)
Desmond tells them he saw the plane crash (possibly in flashback form – but it's doubtful, remember the whole "Quarantine" thing Desmond seemed to believe in? Also – what could possibly cause a plane to crash other than Smokey or some sort of laser-y pulse beam?)
Our Survivors do something to cause another plane to crash, like not pushing the button and Desmond reveals he didn't push the button once a few months ago.
Bingo.

More reasoning? Damon said the season finale is "a battle between faith and reason on the same playing field where it all began."

Where did it all begin? On a plane.
What does reason tell us? Not pushing a button can't cause a plane to crash
What does faith tell us? Even though we can't explain it, the button didn't get pressed twice – and twice planes crashed.

There's also this picture from the preview: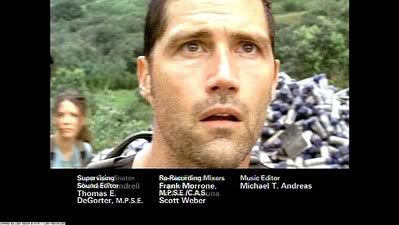 (PS - note the pile of Pearl Hatch tubes in the background! They go nowhere!)

In my mind, this can be one of three things.

Jack looking to the sky in horror as another plane crashes.
Jack looking up at a developed city area, home of the Clean-Cut Dharmites.
Jack looking up at Smokey.
The first seems the most likely to me, especially coupled with this picture from Entertainment Weekly this week: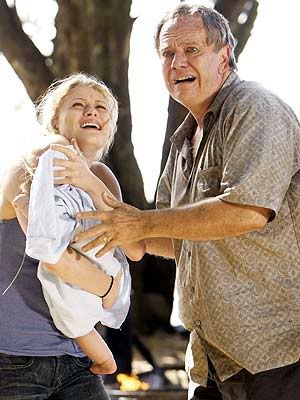 Claire covering Aaron with Bernard looking to the sky in horror? Yeah, that seems to indicate debris falling from a plane exploding, don't you think?

Lastly we have Desmond returning, providing us with the details of the three years he spent on the Island pre-Season One Finale. Here's hoping for a healthy dose of Kelvin, some revelations about the Supply Drop, and Blast Doors! But I worry that Desmond is as much a pawn in this game as our Survivors, and may be asking the same questions himself…


The Flight 815 Four. For the life of me, I can't come up with a unifying factor between Jack, Kate, Sawyer, and Hurley.

Jack, Kate, and Hurley all had "visions" - but Sawyer didn't (and what about Locke, Eko, etc.?)
Jack, Kate, and Sawyer might be genetically "chosen" based on their physiques - but not Hurley (and what about Sayid, Jin, etc.?)
Jack, Kate, and Sawyer all had "Daddy Issues" - but Hurley didn't (and what about Sun, Jin, etc.?)
Jack, Kate, and Sawyer might be seen as "leaders" - but not Hurley (and what about Sayid, Locke, etc.?)
Jack, Kate, and Sawyer all met "Zeke" - but Hurley didn't (and Locke did)
Jack, Kate, and Hurley all went to the "Black Rock" - but Sawyer didn't (and Locke did)

Ms. Klugh was very specific about these four, and these four only - but why?

It seems to indicate that the whole reason for the crash of Flight 815 was to bring these four individuals to the Island. Is everyone else just along for the ride? People who luckily survived the crash? Or was the point to bring a group of people to the Island and then pick out the four "best" ones for whatever experiments are being carried out?

With all the flashback connections we've seen, there have been some among the Flight 815 Four, but nothing significant…

Jack --> Jack's Dad --> Sawyer --> Kate's Mom --> Kate

…and I can't connect it to Hurley, no matter how hard I try - unless Libby or Desmond somehow provides the missing link between these four individuals.

The other really intriguing thing is that if the Rebel Dharmites are good, they aren't leading The Flight 815 Four into a trap at all – so why did they only need these four? They must possess some sort of traits (Hurley's seeming-invincibility, Jack's medical knowledge, Kate's hot body, Sawyer's hilarity?) that the Rebel Dharmites value, or be somehow more trustworthy of learning the secrets than the other Survivors.

The intriguing (and frustrating) thing is that this detail could possibly blow my whole "merge theory" out of the water, even though all other signs seem to be pointing that way.


The Key. What in the world is this?!?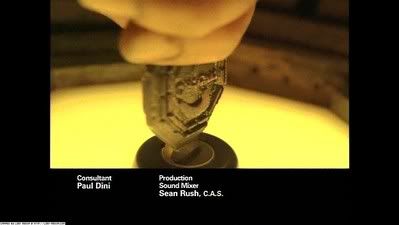 I can't think of anywhere on the Island where there is a glowing orange pedestal. I also can't imagine where the Survivors would get a Goonies-style magic key (From Desmond? From the Rebel Dharmites?) – but something tells me it reveals something big. A passageway to the Clean-Cut Dharmites' lair? A doorway to the mechanical underbelly of the Island? The ignition to the super-boat that will lead Michael and Walt off the Island? No idea – but it excites me.


The Hatch. Season Two opened with discovering the Hatch. My bet is that Season Two ends with destroying the Hatch. If you think about it, The Swan Hatch makes life too easy. Running water, showers, a seeming endless supply of Dharma-approved food and drink, shelter from Smokey – it's like the Real World House in the middle of Survivor!

It will also serve as a cleansing of sorts – for the deaths of Ana-Lucia and Libby, for the Skinner Box Experiment they were all slaves to, and the symbolic freedom for Desmond to escape the Hatch and start living above ground, unafraid of the "sickness." It also lends some necessity to the merge with the Rebel Dharmites – from a strict survival perspective, rather than just a strategic perspective.

Did the preview hint at this destruction here?





Boats. Here's another puzzle – if the Rebel Dharmites have a boat (or multiple boats, counting the boat that appeared at the end of last episode, the tug boat that kidnapped Walt last season, and the ferry referenced in the Pearl Orientation video), why aren't they off the Island? There are two possible explanations:

They want to be on the Island.
They know they can't get off the Island.
Why would anyone want to be on the Island? Perhaps they're in the same boat (pun intended) as Desmond, thinking that the rest of the world has been destroyed, and this Island is the only place left. Perhaps they think that the genetic experiments the Hanso Foundation was carrying out led to a worldwide genocide, and the Island is the last "clean place" on Earth (which might explain why Alvar Hanso would go there to hide). Or maybe they just like the climate and laid-back lifestyle.

On the other hand, maybe they have these boats, but know that they can't get anywhere with them. Perhaps there is some sort of magnetic force that prevents you from getting too far away. Perhaps Smokey launches out of the water and eats you when you get a certain distance away from the Island. Or maybe they know you would just hit a wall, a la "The Truman Show".

If they are indeed giving Michael a boat as he requested, they must be certain that he'll either return to the rest of the world and find it a wasteland, or that he'll perish in his journey. Either way, it eliminates him from being a potential problem in the future.

But what about Walt?

Are we really to believe that they would give up Walt after they were so steadfast about kidnapping him? It's clear that they've been doing some experiments on him (the creepy "room" Ms. Klugh referenced that shut Walt up right away), but perhaps they found that he wasn't the prodigal son they were looking for after all. Maybe they've "drained" whatever magic juice Walt had and now he's just a shell of his former self. Or maybe they were just lying to Michael all along and have no intentions of releasing Walt. But that would leave the writers with the pesky situation of Walt growing up way too fast for the show's measured pace.


Prediction Time. Enough blabbering. So what do I think is going to happen?

The Flight 815 Four will seemingly be "captured" by "The Others", only to learn that they are "Rebel Dharmites" and are actually the "good guys". They decide to band together in attempt to take down the Clean-Cut Dharmites and get off the Island.

Locke will be alone in the Hatch, secured by Blast Doors all around, watching the 108 Numbers expire as Eko pleads with him to reconsider.

A second plane will crash. This time, there will be no survivors (because it would feel like a rehash of this season's Tailers storyline).

Michael and Walt will sail off into the sunset, their fates left up in the air.


I have to say, I'm pretty excited for this finale. Part of me hopes all my predictions are wrong and I can joyfully enjoy the twists and turns of the finale I never saw coming (and that way I didn't just ruin it for all you readers out there). But another part of me hopes they're all right, because I think it would make a freaking sweet finale and set the stage for an unbelievable third season.

Enjoy the show.