I know I was a little hard on this episode in my Instant Reactions, but I've come to realize that there was nothing terribly "wrong" with this episode – it's just that stacked against to the other mega-awesome episodes this season, there really wasn't anything terribly "fantastic" about it either – besides the gratuitous scenes of Juliet in a bikini, of course.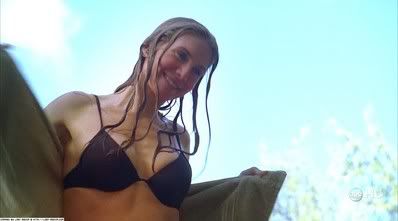 Still, even the most mediocre of Lost episodes leaves us with much to ponder, so let's get it at!
Harper
. We were finally introduced to another Other this week, which is long overdue when you consider that aside from Richard Alpert, all the other Others we actually knew by name - Tom, Ethan, and Goodwin - are all dead.
On the other hand, the first question we should ask about Harper is – is she actually still alive? The way that she magically appeared in the jungle following a whisper-fest, and then just as quickly disappeared accompanied by the same whispers brings into question whether she was actually there in person, or was some Walt-like projection (both were wet!), or even could have been a manifestation of Smokey / Jacob designed to trick Juliet into doing the Island's bidding.
Evidence seems to point to there being at least something a little "special" about her visit, aside from her Houdini-like appearance and disappearance. For one, she mentioned carrying a message from Ben… who has been Locked up (pun) for the past few days in the Barracks, seemingly without a way to communicate with the outside world. Secondly, she knew the intentions of Faraday and Charlotte, which Ben would not have known even if he did have a secret telephone to the Others' Temple in his basement cell. Unless there are secret cameras and microphones all over the jungle, and Faraday and Charlotte happened to walk by one while discussing their game plan, there's no way anyone outside of the two of them would know what they were doing. Factor in the somewhat cryptic message of "Ben is exactly where he wants to be", and I'm leaning towards Harper's appearance being a product of the Island Spirit.
Assuming that the Island Spirit is some all-knowing being about everyone and everything happening on the Island, it would make sense that it would choose to appear to Juliet (who had a gun, and theoretically the ability to stop Faraday and Charlotte – as opposed to the Others at the Temple, which might be quite far away). It would make sense that it would appear as Harper (a person familiar to Juliet – but more importantly, a person who Juliet somewhat fears, and somewhat owes a favor to for the whole "stealing her husband" deal).
Does this necessarily mean that Harper is dead? No – although most of the "projections" or "Island Spirit" appearances in the past have been dead people (Yemi, Ben's Mom), we've also seen Walt, who was still very much alive at the time. In fact, I think we're more than likely to see her again in future for the simple reason that we need other Others to care about. We might as well have one with a built-in conflict laden back story with Juliet to help make the future interactions all the more spicy.
As for the character of Harper herself, she appears to be the second confirmed survivor of Ben's Dharma purge. If you look closely in the background of her office at the start of the episode, you'll see that there is a certificate with her name presented by the Hanso Foundation. It also seems that having a therapist is a much more Dharma thing to do (crazy cult) than the true Island Originals, who are more crazy hippies. When you think about it, it does make sense that Ben would want to keep Harper around post-purge.
Dharma probably started requiring mandatory visits to a therapist in an effort to help deal with the change in life on the Island – but for Ben, keeping it around post-purge was a way for him to gain information about every member of the Island… information he could later use to his advantage. Based on this, Harper could be just as dangerous a person as Ben (she did seem pretty evil, even in this episode).
Of course, the bad news about this is that it means yet another "Other" we meet isn't truly an Island original, so Harper will not bring us any closer to understanding things like why the Others don't age, why they can't have babies, or how they got to the Island in the first place. Richard Alpert, hurry back to Lost and get an episode of your own!
Widmore
. "The Other Woman" also provided the first concrete evidence of Widmore's connection to the Freightors… and that fresh VHS tapes are at a premium for Others.
While it's always possible that Ben was totally lying about Widmore being the man behind the Freightors, from a story telling perspective, that wouldn't make much sense. Last week's episode seemed to set this week's up – with Charles Widmore buying the Black Rock Journal, which would eventually lead him to the Island, through the Freightors. Unless the writers are going out of their way to introduce a red herring (which wouldn't make a ton of sense, given that there are only 42 episodes of Lost left to wrap up all the storylines - and also, out of all the people in the world, why would Ben pick Widmore, someone who meant nothing to John Locke in the first place? Just a big coincidence?), I think that part of Ben's story is accurate.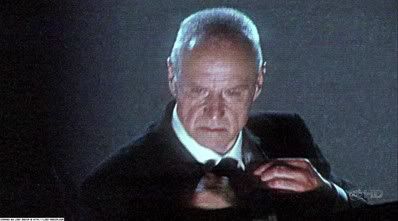 I also think Ben's symbolism as to why Widmore poses such a threat is dead accurate… mostly because it's the same explanation for the Freightors many of us have had since they arrived – they're looking to exploit the Island's unique properties for profit / power. Unfortunately, doing this will pretty much destroy the Others' current way of life and intimate relationship with the Island, so it's a threat worthy of doing everything in their power to prevent… even if that means killing innocent people (like Naomi).
The one part of his story that didn't make sense was that Widmore captured an Other Spy, beat him up, and killed him. For me, Charles Widmore always struck me as more Gates than Godfather – someone who may be ruthless to competitors and a shrewd businessman, but not someone who would dirty their hands with something as violent as murder. It's hard to argue with the tape, since it's clear Widmore was at least a part of dealing with someone blindfolded and kidnapped, but this would mean that Ben was telling Locke the total truth, which can't actually happen, can it?
I'm curious to see how much more of Widmore we see this season. My gut feeling is that we may get some more confirmation of his involvement with the Freightors this season, but that he will come to the forefront as the action shifts more to the post-Island life of the Oceanic Six. Even if he isn't The Economist (although it would be much cleaner if he was), his presence would provide a great counter to Ben's – giving our Survivors (and the audience) two opposing points of view of "right" or "wrong" concerning returning to the Island and picking sides in the battle for control of it – and keeping the Lost tradition of blurring the line between good and evil.
Tempest
. Speaking of evil, it seems that the Tempest was designed to serve one purpose… to kill every person on the Island who wasn't wearing a gas mask. The creepy thing is that this was clearly designed by the Dharma Initiative (since Ben used it against them – irony!). Why would Dharma equip the Island with such a thing? Since it was originally developed by Dharma, it was likely some form of defense – a last ditch effort they could employ in case of an attack by Others. Some warning would sound, every member of the Dharma Initiative would pull a gas mask out from under their bed / desk / chair, and calmly watch as all the Others dropped like flies around them.
However, since Ben continued to keep the Tempest functional post-purge, the purpose seems to have shifted towards protection from outsiders – something that Ben and the Others could use in case of an attack. But if this were the case, why didn't Ben just use it right after the crash of Oceanic Flight 815? Wouldn't that have saved the Others a lot of time and effort, ensured that no Others died at the hands of our Survivors, and ultimately kept the Island secret from the outside world? Furthermore, if Ben really did have the ability to set off the Tempest at any time, why fear the Freightors? Let them all come to the Island, unleash the fury, and continue to fill up the hole of dead purge bodies in the middle of the jungle – nothing to worry about. Lastly, we learned that Ben was keeping the Tempest secret from the other Others – note Goodwin lying about working in a "power station". So how in the world did the Freightors know that it existed at all, let alone where on the Island it was located?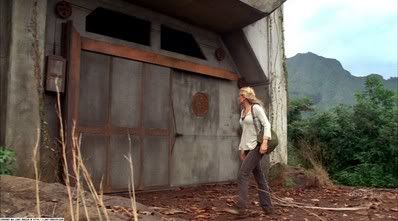 Therein lies my problem with the Tempest. While it does serve some purpose (explaining how the Dharma Purge was carried out), it doesn't make sense in fitting with the rest of the ongoing storylines. The fact that it wasn't included on the Blast Door Map, or mentioned in any earlier episodes, really makes it feel like nothing more than a plot device introduced for this single episode… and resolved this episode, meaning we'll never hear about it again.
The List
. On the other hand, it was nice to see "the list" get some long overdue attention again this episode. If you recall, these lists seem to have been created by Jacob – indicating which Survivors were "worthy" of becoming Others, and which were not. Apparently Zack and Emma were on the list (which makes sense given the Others' penchant for freaky experiments on kids), but most of our Survivors – who admittedly have pretty sketchy pasts – were not.
The weird thing is how Juliet seems to have bought into the logic behind these lists during her conversation with Ben this episode. From everything we've seen, it seems pretty obvious that Ben is the true mastermind behind who was and wasn't on these lists (although I'm sure he would claim that Jacob told him who to write down) – but if the all-powerful Jacob was really creating them, why would he need Goodwin and Ethan to gather intel on our Survivors before creating them? No, it seems as though the lists were simply a way for Ben to justify who he wanted to invite to his exclusive club, and who he didn't.
Juliet's lack of questioning about these lists makes it appear that she buys in to the whole concept of Jacob – something I find hard to believe given her character's logical and questioning nature. Remember, when the plane crashed, she was the one having a book club with "outlawed books", questioning if free will still existed on the Island. Suddenly, a month later she is calmly discussing the kidnapped children from Oceanic Flight 815 because they appeared on some list?
It doesn't add up for me. Unless we missed a crucial scene in her flashbacks that shows her being brainwashed in Krazy Karl's Rave Room, this scene felt out of place for her character. But it's still nice to know the writers haven't forgotten about Zack and Emma. Here's hoping we get some resolution to what happened to them before the series runs out.
Ben
. Based on the Island timeline, it took Ben exactly four days to go from being an inch away from being beaten to death as a captive of our Survivors, to living freely in the Barracks, acting as co-leader of Team Island. This guy is good. No wonder Harper (or Projected Image of Harper) told Juliet he was exactly where he wanted to be.
It's a little bit strange that Ben chose to use the same phrase as Miles did when both were in captivity. For Miles, that place seemed to simply be where he could strike an outside bargain with Ben and profit on lying about him being alive… but for Ben, it was being in a place where he could work his way back into power – and maybe back into the good graces of the Island Spirit / Jacob – by helping Team Island defeat the Freightors.
I'm still not sure why the Island Spirit has stopped communicating with Locke (he hasn't done anything wrong as far as I can tell since he seemed to become BFF with the Island during last season's finale), but it's looking like we're going to have to rely on Ben to get the Team Island storyline jumpstarted beyond everyone hanging out at the Barracks. Please go visit the Temple and reunite with the Others!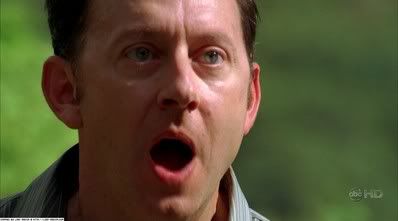 "The Other Woman" also provided the background to some of the tension we've seen between Juliet and Ben in the past. Apparently Ben was smitten with Juliet because she looked just like "her" (most likely former flame Annie, but a lot of the Oedipus fans out there are saying Ben's mom), but Juliet had eyes for Goodwin… which actually lead to him being killed (another terribly illogical plot point, by the way – how would Ben know that Ana-Lucia would accidentally kill Goodwin? Does this mean that Ethan also wronged Ben in some way and he knew that Ethan would die?)
In the end, supposedly this means that Jack is in big trouble after Ben takes care of the Freightors, since he's currently smooching Juliet – but we all know that Jack makes it off the Island alive, so it must not be an immediate threat.
Boatman
. Lastly, we come to everyone's favorite topic of debate from the past episode – who is Ben's man on the boat? Based on Ben asking Locke to sit down before hearing the identity, it means Ben's Man must be someone that Locke knows (Michael, Walt) or someone who is supposedly dead that Locke knows (Anthony Cooper, Tom), or someone totally puzzling outrageous (Ben himself, Jacob).
While you could argue for either of the later two points, the first seems to be by far the most likely. A lot of people have been hoping for Walt to end up being Ben's inside man just to offer some surprise to otherwise blatant signs pointing towards Michael… but I'm still not buying it. For me, the most logical (and actually genius) way to handle the dangling storylines of Michael and Walt is as follows:
Show Walt in flashforwards this season, where the actor's aging works in favor of the storytelling, making him look precisely as old as he should – then involve him in the forthcoming "return to the Island" storyline in later seasons where we can get some answers about his "powers" and connection to the Island.
Have Michael be Ben's Boatman, giving him the opportunity for redemption (by saving our Survivors from the Freightors) for his past crimes, and a way to easily arrive back on the Island. How do we get to this point?
Show a flashback where Patchy learns of the Freightors' approach to the Island. Have Ben work out a deal with Michael where he sends him off the Island (and guarantees Walt's safe return home) and offers him a chance to redeem himself by saving his friends by gathering information about the Freightors and funneling it to him. Send Michael on bearings to intersect with the Freighter.
Pretty easy right? Well, not quite.
There's still this pesky issue – what happened to Walt? If Michael is on the boat, wouldn't Walt also be on the boat? If the Freightors arranged to send Walt back to the real world, why would they allow Michael to stick around on the boat, rather than also sending him back to the real world?
One word – information.
Michael offers the Freightors information about the Island and the Others – everything he's learned during his time there, and offers to help them reach the Island. This could open up a pretty interesting Alias-esque double cross where we aren't sure if Michael is actually working for Ben, or actually working with the Freightors to take down Ben – but either way, his end mission could be to help our Survivors get off the Island, which he views as a way to partially redeem himself for killing Ana-Lucia and Libby.
It's pretty neat and logical, but still offers some potential exciting twists and turns, which I like. The only part I don't like is how obvious the writers have made Michael's return to the viewers. Of course, there's always the chance that I'm way off and Ben's Boatman will turn out to be Vincent… which would also be awesome.
Okay – that's all for this week. Get commenting!
http://facethewoods.com/lost/index.php?topic=277.0