Home ownership is the enemy of the Blogger.
I'll start out this week by apologizing for the delay in getting this post up. You see, last week I became a grownup and bought my first house – unaware that it would result in occupying every waking moment for the past three days to repaint the entire upstairs. The good news is that it gave me plenty of time to think about the beauty that was "The Constant" and come up with some good analysis... and kinda felt like Desmond in "Flashes Before Your Eyes":
(except we weren't painting any rooms red - instead they were fancy sounding colors like "Gobi Desert" and "Mystic River")
The bad news is that I didn't have any time to sit down and type it out (also, every muscle on my body hurts from all that painting). But now that I'm done and high on paint fumes, it's about damn time to get to analyzing!
Time
. One of the trickiest aspects of this week's episode was time. Heck, it was even so tricky that it seems to have thrown Lostpedia's logically airtight Timeline (at least up until now) into complete disarray. Here's how I interpreted the passage of time this episode:
- Desmond, Sayid, and Frank left the Island at dusk.
- The helicopter flight to the Freighter took about 20 minutes to them.
- Desmond, Sayid, and Frank arrive at the Freighter in the middle of the day on December 24th.
- Sayid and Jack talk in real-time via satellite phone.
Since the Lostpedia timeline seems funky to me now (funky time!), I'm not sure if the helicopter left on December 22nd or 23rd – the only real evidence we have is Jack's comment that they had been gone for "over a day now" which makes me think it's the 22nd - but that's not really important. The important thing is that this seems to confirm that a day was "lost" in traveling from the Island to the Freightor, but that it wasn't noticeable to any of the people involved. Only the people on the Island had the perception of the journey taking longer than 20 minutes.
So what happened?
It seems like this confirms the "Time Bubble" theory we discussed a few weeks ago – where the day and time are the same on either side of the Bubble, but to pass through the Bubble puts you through some funky time. We've now seen a payload take much longer than it should to travel from the Freighter to the Island and a helicopter take much longer than it should to travel from the Island to the Freighter. Based on these two experiments, it's not as though you go "back in time" coming to the Island or "forward in time" leaving the Island (otherwise one journey would actually be much quicker than expected) – it's just takes you a really long time to make the journey.
This would seem to eliminate some of the earlier theories that the Island actually moves slower, or that Ben could use this time-shift to bet on the future and accumulate wealth (a la Back to the Future Part II).
This also helps explains why the jamming signal streaming out of the Looking Glass was so important – since we now see that although the "Bubble" may be creating a permanent thunderstorm around the Island, it doesn't prevent a satellite phone signal from traveling through it, it just hides the Island visually. However, by adding the jamming signal to radio communication, it would hide the Island electromagnetically. But since it doesn't seem like Ben started using the jamming signal until after the Hatch implosion, did that mean the Island was electromagnetically visible up until that point? Doesn't that mean any schmuck with a boat and radar could have stumbled upon it? Or did the Swan Hatch's slow release of electromagnetism somehow provide a similar jamming effect? Questions for another day…
But while we're talking about time, there's one other point that I found pretty shocking. Minkowski mentions that all the communications equipment on the Freighter was trashed two days ago – or December 22nd. Do you realize that according to the timeline, December 22nd was the day that Ben shot Locke in "The Man Behind the Curtain"? Doesn't that seem like it was years ago? For as much as people have complained about Lost moving too slow, when you stop and look at the timeline, it's actually moving ridiculously fast. Look at how much has happened in those two days!
It also goes to show that Ben's man on the boat would have had plenty of time to feed Ben all the information about the Freightors before Ben was taken hostage by our Survivors… but not to warn him about Naomi's satellite phone activity with our Survivors.
I'll also say that it seems like the show's writers are hitting us over the head with hints that this "man on the boat" is going to be Michael. From introducing Harold on the panel at Comic-Con this summer, to including him in the credits since the season began, to Minkowski's comment this week of "you must have a friend on the boat", it's almost being too obvious – to the point where I'm hoping it's not Michael, even though that would make the most logical sense.
Widmore
. After "The Constant", I'm ready to officially declare the Freightors are working for Charles Widmore. Why? Once again, one of Minkowski's comments leads us down a very logical path that confirms our longtime suspicions. Upon meeting Desmond, Minkowski says "You're Desmond?" and then explains about how he was the communications officer, blah blah blah, they would frequently get calls that he wasn't supposed to answer, blah blah blah, and THEY WERE FROM HIS GIRLFRIEND, PENNY WIDMORE.
I haven't seen many people talking about this – but it's pretty huge. If the Freightors were sent by anyone EXCEPT Widmore, how would they know that Penny was Desmond's girlfriend? After all, the two hadn't really dated for like eight years. Furthermore, why would anyone EXCEPT Widmore tell them not to answer the phone? Factor in the scene of Widmore buying the Black Rock Journal and the following story starts to develop (warning: lengthy Brian storytelling below – none of which may turn out to be remotely true):
Widmore, always the businessman and entrepreneur when it comes to "developing industries" (like the Economist!) somehow hears rumors among his stuff rich white guy circles about this "magical Island" that could have all sorts of special properties that would make it valuable to people (like curing cancer, for one). However, Alvar Hanso refuses to sell out where the Island is located, no matter what the price. Unfortunately, Alvar gets old and dies, taking the secret of the Island to his grave with him. Eventually, his descendents fall upon some hard times, and are forced to start selling off the estate… including the Black Rock Journal.
Although many entrepreneurs attempt to bid outrageous prices for this Journal, Widmore wins out – and with it, gets some hints as to the location of the Island. Widmore spends the next few years searching for the Island, knowing it must be in some sort of "Bermuda Triangle" space due to the Journal, but is unable to find it. He even sets up different "races around the world" that crisscross different sections of the ocean in hopes that some contestant will inadvertently stumble upon it (see: Henry Gale in his hot air balloon, Desmond Hume in his sailboat).
Three years ago it finally happens – a contestant in one of his races turns up missing, and using the last known coordinates of this contestant, they are able to narrow down the possible location of the Island. But here's the super ironic part – that contestant happens to be the man Widmore hates the most – Desmond.
No, I don't think that Desmond ending up on the Island was part of some scheme by Widmore to get rid of him. Instead, I think it's just a cruel twist of fate for both Desmond and Widmore. Desmond ends up in the one place that Widmore wants to find, but can't get off to get to the one thing that he wants – Penny Widmore.
Once Desmond goes missing, Penny starts to question his visit from eight years ago, and in talking to his friend Donovan, finds that Desmond also visited him years prior, talking about his experiences of crashing on an Island and other equally insane thoughts like time travel. As she mentioned on her phone call to Desmond this week, she knows about the Island and has been researching it… just like dear old dad.
So now you have two people, both with a huge amount of resources, searching for the Island for two very different reasons. Penny employs the snowy listening station and makes repeat phone calls to anyone who will listen in that area of the ocean, whereas Charles employs the Freightors, hand selecting each individual for their ability to not only find – but then establish safety on the Island for him to begin his moneymaking schemes… most likely through picking up where the Dharma research on the Island left off.
Why did Naomi have a picture of Desmond? Because if she found Desmond, she knew that she would find the Island. Why did Miles have a picture of Ben? Because Charles knew that Ben would have the answers he needed about the Island and the experiments there, since he was the last surviving Dharmite. Why send Faraday and Charlotte? Because they would be the ones to figure out the funkiness of the Island and start back up the experiments.
It's pretty out there, but I absolutely love the father vs. daughter dynamic in the fight for the Island. I love that it makes the Desmond-Penny love story the central story for the entire series of Lost – something that could provide the way off of the Island for our Survivors, prove that nothing can keep true love apart, and provides some very plausible explanations a lot of the strange variables we've seen thus far regarding the "off Island" stuff. It also solidifies Desmond as the most important character on the show.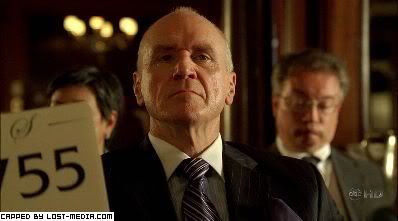 Desmond
. In researching this episode, I went back and reviewed "Catch-22", the Desmond-centric episode that aired last year during the "Control the Blog" weeks while I was gallivanting around Europe. One major thing from that episode suddenly had new meaning, something I'm sure I would have mentioned – but had no good explanation for last April – Brother Campbell had a picture on his desk of himself and Mrs. Hawking.
For those who don't remember, "Catch-22" featured Desmond flashbacks pre-Penny – when he spent a short time in a religious order… before getting kicked out by Brother Campbell who told him "this is not where you are supposed to be." On the other hand, "Flashes Before Your Eyes" featured Mrs. Hawking, who flat out told Desmond it was his fate to not marry Penny, end up on the Island, and push the button to save the world.
When you look at them, they're really two different approaches to the same concept – Desmond's fate was to end up on the Island. Knowing all we do now, it's reasonable to think that both Mrs. Hawking and Brother Campbell are people who also became "unstuck in time" – or are in cahoots with someone who did. Much like Desmond was aware of his future in 1996 of this episode, these people are aware of Desmond's future, and are working to ensure that he doesn't mess it up and accidentally destroy the world. Campbell indirectly led him to Penny, who indirectly led him to the boat race, which indirectly brought him to the Swan Hatch – you know the rest.
Who are these people that act as "guides" for Desmond's life? If you follow the possibilities of this week's episode, they might be Dharmites who figured out how to control being "unstuck in time" and can now freely travel from any point in their life to another, keeping knowledge of the entire timeline of their existence. Or they could just be figments of Desmond's imagination.
Once again this week, we were reminded of their central theme – you can't change fate or the future – this time by a hippie looking Faraday in 1996. Unfortunately, this might mean one very important thing:
Desmond is going to die
.
If you believe that Desmond's fate was to implode the Swan Hatch to prevent the entire world from imploding, he's done it. If you then say that his fate was to become unstuck in time to help lead to the rescue of our Survivors (TBD), he's done it. However, it seems as though a nasty side effect of getting unstuck in time is that you die. One could argue that Desmond "cheated" death this week by calling Penny – but as we saw with his countless attempts to save Charlie, as Mrs. Hawking put it – "the universe has a way of course correcting itself".
Now, this isn't to say that it was actually Desmond's "fate" to die after getting unstuck – that was an assumption on my part. And if I've proved nothing else over the years of writing this Blog, it's that I'm a sappy sucker for a good romantic happy ending, so I'm really hoping I'm wrong… but if the logic is correct, and those who "cheat" death only do it temporarily before death catches up, it might spell bad news Brotha Desmond.
Faraday
. On a happier note, I've backed off my "Daniel Faraday is evil" theory from my "Instant Reactions" (this is why it's good to think about an episode for a few days before analyzing it). I hinted that Daniel Faraday might have just found his Constant (in Desmond), which would allow him to fully regain his memory and make him more dangerous... but that assumes that he started out dangerous, which I don't really see.
The more I think about everything we've seen about Faraday, the more I think he's in it for the scientific reasons, and nothing more. I remember the random comments he made in earlier episodes about "the light not scattering right" and the honest concern he had when the payload didn't arrive on time – he's actually the Freightor most likely to give up information, and the other Freightors have to keep reminding him of what to not say or do.
On the other hand, one has to question why he didn't simply tell Desmond that he needed to find a Constant right away when talking to him on the Satellite Phone, rather than sending him to meet 1996 Faraday who tells him the same thing. Faraday might not be evil, but he's definitely looking out for his own well-being. After all his experiments and studying of the Island, it seems that Faraday learned of the potential to become unstuck in time when traveling to or from the Island. Once he arrived, he seemed to confirm his worst suspicions through his experiments – that something very funky was going on with the electromagnetism on the Island.
When he hears about Desmond experiencing side effects similar to Minkowski, he realizes there is a risk that he will suffer the same fate – so he sends Desmond to meet 1996 Faraday, giving him the Constant he will need to prevent his brain from exploding.
So why couldn't Faraday have simply been the Constant for Desmond, eliminating the trouble (and dramatic tension) from the episode in finding Penny? Because, as Faraday mentions, the Constant has to be something you care about. Desmond could care less about Faraday. On the other hand, it's thanks to Desmond that Faraday discovered the proper settings for his wacky electromagnetic machine – making him very important to Faraday.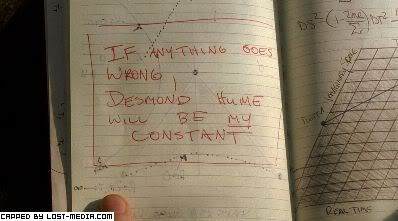 But what could possibly go wrong?
Mission
. I think it's all leading up to the Freightors' master game plan. When Frank arrived back at the ship, the first thing they said to him was "why are you back?", which means that they weren't expecting them to return. So why are they still anchored off the shore, boring the crew to death (see: Brandon, Minkowski)? They're waiting for Miles, Faraday, and Charlotte to complete their mission, at which time they will be joining them on the Island – not vice versa.
If this is the case, then the mission must have something to do with finding a way to allow the Freighter to safely reach the Island. It might also have something to do with the gas masks that were being carried along on the helicopter. If you add up everything, it's looking like their mission is to secure Ben (and his knowledge of how to safely get a ship to the Island), kill everyone else on the Island, and make way for Widmore to start turning a profit on all the funkiness.
Ben was right – every living person on the Island is in big trouble.
Phew.
This is what happens when you breathe in paint fumes for two straight days while thinking about Lost. The theories just keep getting wackier.
Okay, hurry up and discuss before I have to put up my episode preview for this week. Go go go!
http://facethewoods.com/lost/index.php?topic=270.0