Episode Title
: Meet Kevin Johnson
Brian's Deeper Meaning Guess
: You know, if it wasn't for last week's reveal of Michael working on the Freighter under the alias of "Kevin Johnson", this episode title would have been a much tougher mystery to solve. We would have been debating about who this new character would be, if they were in a flashback or not, or if it was some code phrase between the Freighters a la "tell my sister I love her". But instead, it's thankfully a pretty easy one.
This week's episode offers the chance for the viewers, as well as Sayid and Desmond, to "meet" Kevin Johnson. We all knew Michael, but we have no idea what happened to him since he left the Island (way back in the Season Two finale!) or how he came to be known as "Kevin Johnson" and end up on the Freighter. Last week, I gave my quick theory about how this all could have happened, but I might as well expand upon it a bit here, since I think this will be the underlying story of the episode.
Since the Freightors, who seem to know an awful lot about Oceanic Flight 815, have no problem with "Kevin Johnson" working among them even as things on the ship get sabotaged, it seems impossible that they simply "ran into and picked up" Michael and Walt as they boated away from the Island at the conclusion of Season Two. However, since only about a month has passed since Michael and Walt left the Island until present day, it doesn't seem like enough time for Michael to return to the "real world", become persuaded to join the Freightors, and return to just offshore of the Island, especially when you consider that based on the Freightors' comments, they've been sitting in the same place for quite some time - long enough for people to start going crazy and killing themselves.
The only possible explanation for these two seemingly incongruous facts is that there is some sort of warp going on. Recall that Ben told Michael to sail towards bearing 325 exactly. I'm thinking that the Others have figured out that depending on where you "burst the bubble" around the Island, it can warp you to various places around the world. Sending Michael to bearing 325 warped him to somewhere in the Atlantic Ocean, a lot closer to America than he was seconds earlier. It sounds outrageous, but it seems to tie a lot of things on the show together, and I can also totally picture it playing out in my mind. Michael and Walt enter some sort of storm… suddenly it clears up… and they're looking at the Statue of Liberty thinking "huh?"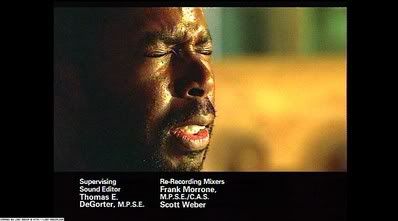 It's a tad science fiction-y for my tastes, but we've had hints of this for quite some time. From the Others' ability to show up all over the world quite quickly to the Dharma Polar Bear showing up in Tunisia (an unfortunate accidental warp, or some intentional experiment?), Eko's drug plane ending up on the Island, and maybe even the Black Rock itself - there are things on the Island that indicate they came from far, far away and there are things from the Island that end up far, far away. Heck, we've even learned that the Others think that "only fools are enslaved by time and space" which seems to indicate to me they have figured out a way around time and space through these warps.
If you want to get really crazy, you could throw time into the mix - which provides an easy explanation for how Ben has so much knowledge about everyone and everything, and has the stacks of money to prove he's seen Back to the Future Part II… but I'm not to that point yet. Adding time travel into the mix of craziness that we already have on Lost would be too much - heads would start exploding around the concept, and it would give us a far too easy "cheat" to undo all the death and bad things that have happened thus far.
But - if we move forward with the possibility of a Warp Zone / Funky Space - then we've got a plausible explanation for Kevin Johnson's appearance on the Freighter.
Michael returns back to the real world, stricken with guilt over murdering two of his friends for the sake of saving Walt, when he is approached by Ben / Alpert / Tom with the chance for redemption - by joining the crew of the Freightors and sabotaging their mission, Michael can save the lives of all the rest of the Survivors (although, how would they know the plan of the Freightors unless there was some funky time going on? Damn - I really don't like Funky Time… let's just go with "Jacob is omniscient and told Ben so"). Michael finds the classified ad for a sweet gig as a Janitor on a Freighter, joins the crew under the name "Kevin Johnson" and the rest is history.
This scenario could keep the ever-aging Walt in the flashforwardy future where his older appearance would totally make sense (and out of the "present", where it doesn't), and give Michael the chance for redemption that the writers have promised since he left. It has its issues (the timeline is still really tight, even with the Warp Zone), but I think it's still the most likely explanation for what Kevin Johnson has been up to since he retired from the NBA.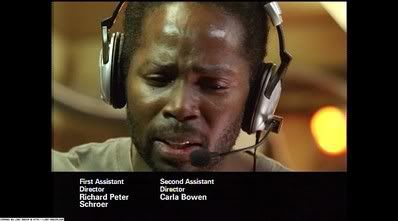 Episode Description
: Sayid confronts Ben's spy on the freighter, and Ben urges daughter Alex to flee Locke's camp in order to survive an impending attack. Guest starring are Cynthia Watros as Libby, M.C. Gainey as Mr. Friendly/Tom, Mira Furlan as Danielle Rousseau, Tania Raymonde as Alex, Blake Bashoff as Karl, Marsha Thomason as Naomi Dorrit, Ken Leung as Miles Straume, Jeff Fahey as Frank Lapidus, Kevin Durand as Keamy, Anthony Azizi as Omar, Fisher Stevens as George Minkowski, Grant Bowler as Captain Gault, Jill Kuramoto as female anchor, Galyn Gorg as nurse, Starletta DuPois as mom, William P. Ogilivie as Gus, Francesco Simone as Arturo and James Locke as mechanic.
Guest Stars
. Holy guest star madness. Libby and Tom are back! As I'm expecting the flashbacks to cover the time that Michael left the Island to present day, Tom's inclusion makes sense - since he was totally alive for the first few weeks after Michael left the Island. However, the inclusion of Libby (but not Ana-Lucia) is quite curious. You would think if we were flashing all the way back to Michael's murder of Ana-Lucia and Libby while rescuing Ben, both would be included. But if we're not, I can only come up with one explanation for how Libby shows up… as a freaky ghost Island Spirit - just like Charlie showed up to Hurley earlier this season. In fact, this might even provide a better explanation for why Michael would join the Freightors - sucks to redemption, maybe he's just doing it to stop being haunted by Libby!
I'm hoping the inclusion of Miles means that we'll get some progression on his storyline (and find out that he hasn't really been biting down on a grenade for two days), but since he's included in the same breath as Naomi, there's a chance he merely appears on the Freighter during a flashback, and we'll have to wait for his on-Island story until after the hiatus.
Lastly, the inclusion of the Newscaster who reported on the crash of Oceanic Flight 815 in "Confirmed Dead" (Jill Kuramoto) probably means we'll get to view that story from a different perspective - which I can only assume will be Michael's. Even though the timeline seems a bit off, if he's watching the news story at the same time as we saw Faraday, Frank, Miles, and Charlotte - it's entirely logical that he could end up on the Freighter with them, since there was clearly enough time to "recruit" each of them.
Episode Breakdown
: Pretty straight-forward stuff, actually. Clearly Sayid is looking for answers (and maybe some revenge) against Michael for killing two people and selling out Kate, Jack, and Sawyer to the Others. It'll be interesting to see if Michael is open and honest, or if he talks cryptically leaving the audience wondering what really happened. Logically, there's no reason for Michael to hide the truth - but logically, there's no reason for Juliet to hide the truth either, yet she continues to do so. I'll keep my fingers crossed.
The second portion of the episode returns us to the Ben / CFL / Alex / Karl storyline which has been on the way back burner this season, but could actually be decent. Ben must not have faith in Michael, because he seems to think that danger is imminent, and he's looking out for his daughter's protection by sending her away (hopefully to the Temple to rejoin the other Others? Please?)
Not a lot to go on. Clearly, the chocolaty goodness of this episode is going to center around the Michael flashbacks (wow - that came across unintentionally racist), but I'm hopeful that we get some solid on-Island storyline progression as well.
Before we wrap up this week, I have to give some attention to the episode preview, which ominously promises us "SOMEONE. WILL. DIE. MWA HA HA HA HA!"
Death Watch
. It's funny, but without that episode preview, I wouldn't have even the slightest inkling of any real characters (non-background-Freightors) dying this episode. If you think about it, aside from Jin and Claire (whose deaths have been hinted at in flashforwards), there really aren't a lot of major characters left to kill off – especially if you operate under the assumption that SOME of the non-Oceanic Six must survive to be in need of help (as Charlie pleaded to Hurley in his flashforward). I'm half tempted to chalk this up to an ABC Promo lie, just like last week's promise of revealing "the last of the Oceanic Six" (which might have happened, but it certainly wasn't clear). However, it's worth putting out the current odds for death of the main characters on the show, even if the person who dies this week is someone like Keamy (PS – worst name ever).
The first thing we can do is rule out all the characters we've seen in flashforwards, which protects Jack, Kate, Hurley, Sayid, Sun, and Ben. That leaves us with the following top 5, ranked in order of likelihood of dying:
1.
Jin
- we know he dies (at least I think we do - others are in denial), so this might be the week we find out how… but I'm still leaning towards Jin sacrificing himself to help Sun get off the Island – and we still seem to be a ways off from anyone getting off the Island.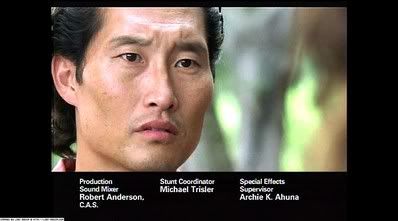 2.
Claire
– the other character who might die, based on Kate raising Aaron post-Island. The only real saving grace she has is her yet unrevealed connection to Jack, and the possible storylines associated with that – but otherwise she's a waste, and I'd gladly have her kick the bucket without needing a whole episode centered around her to do so.
3.
Michael
– it's a dark horse (again with the racist sounding comments!), but consider this – we heard of Minkowski… then he died the first episode we saw him. We heard of Regina… and then she died the first episode we saw her. Why not have this episode totally tie up the Michael storyline and feature his death? Not likely, but it would be hilarious given all the hype surrounding his return.
4.
Sawyer
– a member of Death Watch ever since he killed Anthony Cooper last season (providing closure to the biggest demon / mystery in his past), Sawyer's best chance of survival is his integral role in the Jack / Kate love triangle… although you could argue that Juliet could easily replace him to keep the triangle alive.
5.
Desmond
– what would easily be the most heartbreaking death ever on a television series, I held my breath at the end of his episode earlier this season after he and Penny professed their love over the telephone… waiting for someone to walk in and kill Desmond on the spot. Thankfully, he was spared, and maybe those Lost writers have a soft spot after all and will give us the reunion of Penny and Desmond that we've all been praying for. The other good news is that Desmond provides a crucial link in explaining who the heck Charles Widmore is to the rest of the Survivors, now that they know he is behind the Freighter.
In the end, if it's not Jin or Claire, I'm putting money on "the death" being a secondary character. But even then, Faraday, Frank, Charlotte, and Miles all seem to be safe since they all appear to have fascinatingly mysterious backstories that have yet to be fully explained. Yikes – Keamy, I was just kidding a few paragraphs ago – but it's not looking good for you, buddy.
One last thing before I go – Thursday's episode of Lost will be preceded by nine hours of drinking for Brian thanks to the NCAA tournament. Because of this, I'm not sure if there will actually be Instant Reactions right after the episode, if they'll be there but be totally unintelligible gibberish, or if they'll show up Friday morning. I shall do my best.
Happy Losting!
http://facethewoods.com/lost/index.php?topic=284.0