Episode Title
: "The Other Woman"
Brian's Deeper Meaning Guess
: Upon first glance, this week's episode title seems quite literal. After all, it's a Juliet-centric outing, and she is in fact the Other woman – meaning she is a female, and she is an "Other". In fact, she's the only female Other among Team Rescue or Team Island. Given the Freightors reaction to learning that Juliet was not on Oceanic Flight 815, it would make sense that they might even refer to her as "the Other woman" (although, I'm not sure that the Freightors would call the non-Survivors "Others", since they probably know precisely who they are).
On the other hand, the phrase "the other woman" carries another connotation that could easily apply to Juliet – that of someone who is the third wheel in a relationship. Again, this could easily apply to our girl Juliet (who, I have to say, has been looking hotter these past few episodes than ever!) in relation to her role in the love triangle along with Jack and Kate. Unfortunately, since Kate is currently with Team Island (although maybe on her way back to Team Rescue after getting the boot from Locke), it's unlikely that we would have a Kate-Juliet catfight (drool) over our boy Jack this week, so that doesn't really fit either.
So, the only possible explanation for the title in our current on-Island action would be if another Other woman appeared, perhaps coming back from the Temple (where Alpert and the other Others were headed when we last saw them) to deliver some sort of message / assist Ben / murder some Freightors. While I would excitedly welcome the return of some Others, in hopes that it would mean the return of Alpert or possibly the explanation of why they don't age, given all the current action on the show, on multiple fronts, introducing another character and storyline might make our brains explode.
However, there is another, much easier explanation for the title. As you'll see when we get to the ABC description below, this looks to be the first episode of the fourth season of Lost to be a traditional flashback of a main character on the show. Based on the guest stars, it's looking like this flashback will take place on-Island, before Juliet met any of our Survivors (or maybe even before Oceanic Flight 815 crashed). In this timeframe, the second possibility becomes much more likely – that Juliet is "the other woman" in some sort of relationship.
Think about it – given the limited number of Others on the Island, it had to be pretty slim pickings when it came time to ask someone to Other Prom or to go to Other Makeout Point. Suddenly Ben brings semi-hottie Juliet to the Island and she's like the hot foreign exchange student that shows up Senior Year. Remember, we did see that she was pretty hot and heavy with Goodwin during her flashback last season. But who's to say that she didn't do a little home-wrecking to get him in the sack? Or that Goodwin didn't ditch his longstanding girlfriend / wife for Juliet once she arrived? Either way, this would create some good tension between Juliet and this "other woman", and help lead to Juliet becoming something of an "outsider" among the Others – in addition to her radical thoughts about free will still existing on the Island.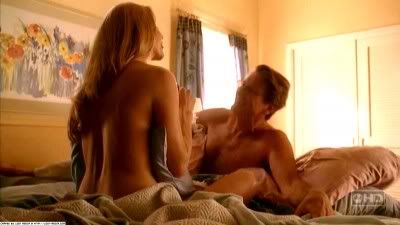 I'm also reminded of some of the comments between Ben and Juliet last season – when people thought they might be dating, or used to be dating, or something along those lines. Maybe the introduction of Juliet to the Others' community led to some home-wrecking that affected Ben directly? Did she "date" Ben before settling with Goodwin? Did she go lesbian and steal Annie away from Ben? Neither one seems likely – but it's a thought…
ABC Description
: Juliet receives an unwelcome visit from someone from her past and is given orders to track down Charlotte and Faraday in order to stop them from completing their mission -- by any means necessary. Meanwhile, Ben offers Locke an enticing deal. Guest starring are Jeremy Davies as Daniel Faraday, Rebecca Mader as Charlotte, Alan Dale as Charles Widmore, Andrea Roth as Harper, M.C. Gainey as Mr. Friendly/Tom and Brett Cullen as Goodwin.
Widmore
. Let's play a quick game – which guest star does not belong? Charlotte? No. Faraday? No. Widmore? No. Goodwin? No. WAIT A MINUTE, DID YOU SAY
WIDMORE
?!?!
This could be huge.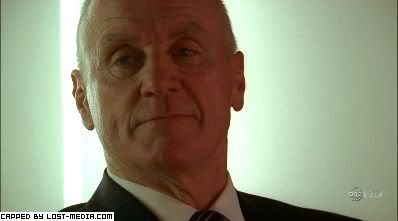 Assuming this really is an on-Island flashback featuring Juliet, and based on the list of guest stars – it pretty much has to be, unless we've got Others coming back from the dead, what in the world is Charles Widmore doing there? There are a few possibilities.
The first, least fun, and biggest tease of a guest star ever would be if Widmore was featured in a brief image inside Jacob's cabin, a la Christian Shepherd in the Hurley-centric season premiere. Remember how people were freaking out about that and assuming it meant he was alive and on the Island? What if we're getting all excited for this and it turns out to be nothing more than the same? It's Jacob messing with our minds, I tell you!
But would the writers play the same card twice over the course of six episodes? Seems a little redundant to me, so I don't think it's likely.
The next option, which would totally throw out my analysis from last week, would be that Widmore is on friendly terms with the Others. He could be the funding that provides the wealth for Ben and Co. to carry out their wacky experiments, paying a visit to see how his investments are paying off. The only problem here is that we really haven't seen any evidence of the Others continuing the goals of the Dharma Initiative – rather, they just seem focused on making babies and living a peaceful hippie existence.
On the other hand, if we follow the logic of my analysis last week (where Widmore is working to find the Island in an effort to exploit its unique properties and is the funding behind the Freightors), it seems quite likely that Ben would know of Widmore. After all, he had vast knowledge of each of the Freightors (the enemy), so if Widmore is the one behind the enemy, it would make logic that Ben would know even more about him. It doesn't seem out of the question to have some scene where Ben is researching Widmore in the flashback, and he appears in a video or something along those lines.
It's not that this scenario isn't also without its holes (for one, in the flashforward future, Ben didn't seem to know who "The Economist" was, since he was trying to use Sayid to lure him out of hiding – so that means there must be someone higher than Widmore behind everything) – but it just feels like the most likely, and would confirm my suspicions from last week that I'm greedily really rooting for, since I think it would make for a fantastic storyline.
Either way, the promise of a Charles Widmore appearance this episode should either help prove our prior theories about the role of Widmore in all this… or totally blow them out of the water…
The Rest
. As for the other guest stars, once again it's the ones that are missing that are just as interesting as the ones that are there. The omission of Miles means we probably won't get any new insight to his mission or powers this week. The lack of Frank means we're taking a break from the Freighter this week (and with him, Sayid and Desmond). Based on the preview, it looks like we'll still have some Ben and Locke scenes, but the action looks to be primary focused on Juliet and Team Rescue, and their interactions with Faraday and Charlotte.
Episode Breakdown
: Which brings us to the episode breakdown for the week. We actually get TWO sentences this week, instead of the normal brief single sentence we've received for most of this season!
First, Juliet receives an "unwelcome visit" from someone in her past to stop the Freightors. Where would this message come from? With Ben under Locke's captivity, the only logical place for it to come from would be from some other Other… and if it's "unwelcome", my money is on this potential "other woman" who Juliet scorned long ago. This would provide a nice tie-in between the current action and the flashback action in the episode, and give Juliet a tough decision to make – trust someone who probably hates her, or risk the lives of everyone on the Island by siding with Jack.
Since this episode was filmed back before Cane was canned, I won't get my hopes up for the reappearance of Alpert along with this "other woman", but maybe this is the first step in the eventual reuniting of our Survivors with the Others, and a bounty of explanations about their purpose on the Island.
Mission
. Based on the scenes in the episode preview, it looks like Juliet decides to trust the Others and stop the Freightors – since we see Juliet (seemingly) pointing a gun at Faraday and Charlotte, who were both wearing white radiation suits. This makes me wonder – where in the world are Charlotte and Faraday that they would need to wear these suits? The only place that would seem to require such protection would be the Swan Hatch… but that's imploded – and wherever Chuck and Dan are seems to be very much unploded, with fully functioning computers.
As I said last week, it seems likely that the mission of the Freightors is to disable the electromagnetic shield around the Island and stabilize the hostiles (Others) before calling for the cavalry. Based on the suits, I'd say that they are working on the former. Perhaps they've found the electromagnetic core of the Island and they're ready to key in some sequence to blow the Bubble apart (although, wasn't the Swan Hatch acting as a "plug" for this force, making that the core?). Puzzling.
The second sentence may very well be a single scene or two in the episode. Again, based on the lack of Miles in this episode, I don't think we're going to make a ton of progress on the Team Island storyline, but it does look like Locke will finally cave and accept some of Ben's "guidance" regarding what his next move should be in his defense of the Island. After a nice six episode run of Locke being the man in total control and charge of Team Island, it looks like he's slowly giving up some of that power back to Ben. Oh Locke, when will you learn? He shot you like three days ago!
Okay, I think that wraps it up for this week. The mind-blowingness of this episode migh be directly tied to how the Charles Widmore appearance shakes down, but the Juliet-centricity guarantees at the very least we'll get some more insight into her character and life among the Others – which is something I've been wanting for the past two seasons, so I think it'll be a solid episode.
Happy Losting!
http://facethewoods.com/lost/index.php?topic=271.0