After two weeks of episodes that were very strong and semi-mind blowing, this week's episode definitely failed to keep the awesomeness streak alive. In all honesty, as soon as it ended I sat there wondering "What in the world am I going to write about that?" It all seemed too simple, too neat, and didn't drop any "clues" that got my mind wandering. But I've got a job to do, and I shall do my best. Let's get analyzing…
Backlash
. In reading the comments from the Instant Reactions, it's pretty clear that a lot of people were upset by this episode. Granted, the previews were misleading about the "mysteries finally revealed", which led to even higher expectations for this episode than we should have had – and clearly this episode was not as strong as the prior two episodes. But it accomplished what it set out to do – continue building the relationship between Jack and Juliet, separate Crazy Carl from Kate and Sawyer, and get everyone off Alcatraz. My problem was with the way they went about doing it.
More than anything, I fault the writing. There was just too much in this episode that felt clunky – Jack's flashback in general, the Sawyer and Crazy Carl heart-to-heart, and Jack's encounter with Cindy in particular.
While the end result of Jack's flashback did give me the tie-in to the main story that I'm always looking for, getting there was pretty rough. The Achara / tattoo storyline just didn't make a lot of sense. So Jack is "finding himself" in Thailand and has a fling with a mysterious woman who can "see who people really are". She then proceeds to tell Jack that he is a "leader and a great man", but it makes him "lonely and angry". That doesn't come across as seeing Jack's true self – that comes across as a generic sounding fortune telling. How about Jack's obsessive, self-sacrificing, altruistic nature that has driven him away from everyone important in his life? Doesn't that more get to the heart of Jack's real personality?
We're also lead to assume that these tattoos carry some sort of religious / spiritual meaning to the people of Phuket (which sounds pretty hilariously inappropriate when you say it out loud, by the way) – and Jack, an "outsider", having one of these tattoos is unacceptable. Thus, the beating he receives at the end of the episode by Achara's brother and his friends. But why? You have to make some pretty big assumptions here with very little to go on, and even when you do the story doesn't make a whole lot of sense.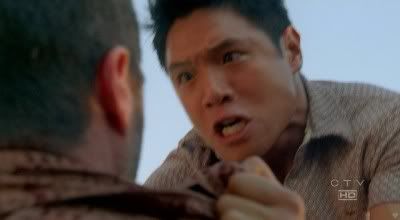 The writers clearly wanted to separate Crazy Carl from our Survivors – he was too liable to spill all the secrets of the Others that they so desperately want to keep secret (more on this later). But does it make any sense to have Sawyer sit down and tell him to go follow his heart and find his true love? No – Sawyer, more than almost anyone on the Island besides perhaps Sayid, should have been interrogating him hard about the Others and probing him for answers about how they can get off the Island. Even though he threw around his typical hilarious pop culture lines ("Bobby from the Brady Bunch" and "Cowboy Up"), it didn't "feel" like Sawyer. I think it would have been much more realistic (and made viewers much happier) if Kate and Sawyer wake up to find Crazy Carl gone – taking off in the middle of the night – and then the two of them lament the missed opportunity to get some answers about the Others.
Lastly, we have Jack's encounter with Cindy, which I have been mega-excited for ever since we saw the Lost Moment containing it months ago… but little did I know that the Lost Moment was actually about 90% of the total scene, and that was all we were going to get out of it. Talk about a missed opportunity. What better way to finally get some reveals about the Others than by having one of the former Tailers, now seemingly a part of them, try and convince Jack that everything the Others have done to our Survivors was for a purpose, and can be explained. Talk about a great opportunity for Jack to continue questioning in the motives of the Others and having Cindy defend them, dropping hints about the true nature of the Others and what they do! We'd all be watching and re-watching that scene like crazy and developing theories about what Cindy meant in her responses.
Instead, we have Cindy's simple explanation of "it's not that simple" and "we're here to watch" and then Jack flips out and drives her off. Missed opportunity.
Lost writers are infamous for dragging out storylines to the point where the audience starts forgetting about them or caring about them – then finally resolving them without giving enough time to the aftermath (this is probably my number one complaint about the show). What am I talking about?
Remember back in early Season One when Sayid got knocked out when trying to triangulate CFL's message to determine its source? That was episode seven. We found out that Locke knocked him out in episode twenty-one. After finding out, Sayid temporarily flips out at Locke, but is back to acting normal less than two minutes later. Where was our episode where all the Survivors question Locke's intentions and wonder if he's some sort of traitor? Where's the ongoing distrust between Sayid and Locke?
It's just one example of a story that could have had some real meat to it – and provided the audience the answer to a small mystery on the Island – somewhere around episode eight or nine. Instead, it felt "tacked on" to an episode much later in the season, when the audience has long forgotten or caring about it, and then dismissed as quickly as it is revealed.
The reason I bring it up, and I hope I'm wrong, is that it scares me that some of the other "smaller" mysteries on Lost, such as the kidnapping of Cindy and the children, will be addressed and dismissed in similar fashion – rather than answering them when they should logically be answered (in the case of these two mysteries, this episode). It's almost as if the writers are afraid of giving the answers because they think that's the only thing that keeps the audience watching... or that the answers aren't that exciting. Like I said, I hope I'm wrong - and maybe in a few weeks we'll get that Others reveal episode that somehow answers all of our questions and we'll suddenly realize why we couldn't get these answers prior to that point. But more than anything, I hope that when we do finally get the answers, we get time to see the characters discuss and process them, to discuss their implications, and act like real people would act in that situation – and they aren't dismissed quickly, without any impact – such as Michael and Walt's disappearance, Eko's death, etc.
Enough bitching. As I said earlier this season, Lost is still the most "important" feeling show on television. This is why I find the comparisons people are making between "Lost" and "Heroes" so humorous. Yes, Heroes reveals answers much quicker than Lost – that's also because the mysteries are not fundamental to the overall
series arc
of Heroes. Finding out who Claire's real parents are doesn't change our understanding of the show the way that finding out who the Others are would change our understanding of Lost.
Don't get me wrong – I think Heroes is a fantastic show – I was giddy this week when Peter started using all sorts of powers to escape HRG, and my jaw dropped when the episode ended with Matt and Ted inside the Bennett household. But there's no part of me that felt the need to analyze the symbolism behind either action – that's not what Heroes is about. It's a fun action show with mystery thrown in, and there's nothing wrong with that. But comparing Heroes to Lost is kinda like comparing a comic book (nothing against comic books – I've actually never read one, but I think I understand how they work) to a classic novel. The comic gives you more quick, satisfying entertainment – whereas the novel slowly builds and then gives you a huge feeling of satisfaction in the end once you fully understand it. Is one better than the other? Not at all. They're just different.
Now that that is out of the way, let's get to the episode! Like I said, this was a pretty straightforward, so there isn't that much over-analysis I could find – but I'll do my best…
Achara
. So it seems that the quote about Bai Ling appearing on "three episodes" is inaccurate. When it was mentioned that Juliet was going to be "marked", I immediately thought – it's going to be Achara marking her! How did she get on the Island?! She must really have some sort of special powers and knew Jack was going to end up on the Island with the Others – that's why she tattooed "He walks amongst us, but he is not one of us"!
But then we found out Juliet's mark was more of a brand, and Achara failed to appear. Suddenly, she became a far less interesting character in the grand scheme of things. She became nothing more than a secondary character in one of our Survivor's lives who had a minor impact on them. Did Jack's time with her fundamentally change him as a person? Not that we've seen so far. Will we see her again? Not likely.
Luckily, we were also introduced to a far more intriguing character this episode…
Isabel
. First, let it be noted that we now have a Dr. Shephard, Dr. Burke, and Izzy on two shows on ABC. That's funny. Second, the appearance of Isabel as the "sheriff" seems to indicate the Others actually have a complex society that isn't purely controlled by some all-powerful "leader" (such as Jacob). Instead, they seem to have rules, laws, and people who enforce them.
The Others still feel like a religious cult to me - with their brainwashing, dedication to their "mission", and the way that one person (Ben) can override any of their laws – but it's more of a tempered religious cult now… maybe like a religious cult that was created by a bunch of scientists who were focused on saving the world, not blindly following some religious doctrine that they have been passed down. If you remember, Cindy told Jack that they were "there to watch". After watching the episode, I'm not interpreting this statement as Cindy and the other Others (that never stops being fun to write!) being on Alcatraz (and not their Main Island) to "watch" the judgment / trial of Juliet – not to watch Jack. "Trial" seems like too democratic of a word for the way that the ruling on Juliet was passed down, but the fact that it is done in front of her peers seems to indicate that there is some form of "government" on the Island.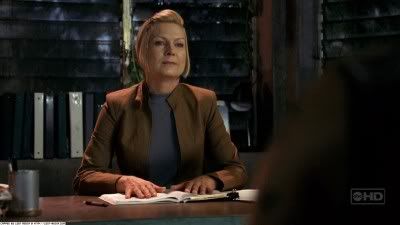 I would look for Isabel to have a decent-sized role in the next few episodes as Jack enters the world of the Others – her calm, all-knowing, slightly-creepy demeanor fits in nicely alongside Ben's – but she seems to be "all business". Whereas Ben seemed much more involved with mind games and an overall mission plan, Isabel seems more concerned with the day-to-day actions of the Others. Also, with Ben looking to be on the IR for a little while during his recovery, it would make sense for Isabel to step up as the "face" of the Others.
Ethan
. We also found out this episode that the Others not only have a Sheriff – but used to have a surgeon in Ethan. Suddenly, it makes a little more sense why he was the one who was sent to recruit Juliet. He would be able to "speak her language" per se, and could possibly verify the results of her tests in person to ensure their success. However, if you remember, Ethan was actually working on the plumbing of Juliet's house during "A Tale of Two Cities", so he likely was more of a "renaissance man".
Actually, with the small number of Others on the Island (we assume, based on how many we've seen so far – I would go so far as to say the Others present at the "trial" of Juliet compose a large portion of the Others), it would be logical that each of them possessed a number of talents that would make them useful to the group… and it also makes sense why the death of even one of them would cause such a big blow to the Others. When Ethan died, they lost their surgeon… and their plumber… and who knows what else.
(PS - some have wondered why, if Ethan was a surgeon, did Ben need Jack in the first place? Well, I'm no doctor, but I think there's a pretty big difference between being a regular surgeon and a spinal surgeon – spinal surgery seems more of an intricate specialty that was likely far out of the league of Ethan… much like dealing with infected stitches is far out of the league of Juliet).
Juliet
. Speaking of Juliet, where does she stand now with her people? As Ben mentioned to Jack, even as he was about to sentence her to be "marked", Juliet was still "one of them". This serves as a pretty stark contrast to the Juliet we saw two episodes ago, who came across as being a prisoner on the Island who wanted nothing more than to go home and was willing to do anything (even kill someone) in order to reach her goal.
Is this just Ben being out of touch with reality? Or has Juliet been "initiated" into their group, making her "one of them" regardless of her intentions to leave? Either way, how does this change now that she's marked?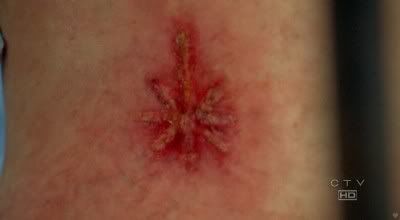 I searched around, but couldn't really find anything deeper in the star-shaped mark that was placed on Juliet's lower back. Initially, my thoughts turned to the Scarlet Letter – with the Mark being a way to ostracize a member of the Others society. But if that's the case, why did they put it on her lower back, where it would only be visible during bikini season (which might be all the time, since they're on an Island, but still…)? It was clear that the Mark was a bad thing based on Tom's reaction to hearing the ruling – but why?
Based on the lack of clues from this episode, it could be anything from something signifying that Juliet is now fair game for Smokey to munch on to being a sign that Juliet is sentenced to never leave the Island. Or it could just be another way for the writers to "connect" Jack and Juliet, since they now both have markings of sort on their body. Very puzzling…
Kids
. But even more puzzling is what we saw with Emma and Zack (the Tailer kids) holding in this episode - their teddy bear. Check out what it looks like now:
It looks pretty much the same as it did before the kids were abducted:
Which is to say - totally normal. However, remember that we also saw this teddy bear in between the time when the kids were abducted and this episode. And when we did, it looked drastically different:
Aside from just looking different (beat up and with tape around the leg), it was also being carried by someone that clearly was not Emma or Zack. Granted, there's always the chance that there are
two
teddy bears on the Island – but if that was the case, why go out of your way to specifically show it so many times?
There's always the possibility that this is just some sort of production error with the prop folks on Lost – but to me, it seems like a puzzling inconsistency. Remember how freaky it was when we saw the mysterious feet of the "Others" walking by, dangling a teddy bear? Now that we see the kids and Cindy seemingly alive and well, the teddy bear still happily with them – it does seem as though the fear we had of the Others was misplaced. Sure, they're brainwashing people and seem to have a strict set of rules to live by – but there's nothing "creepy" about them at all. The writers seemed to include that image of the teddy bear as a way to mislead us about the nature of the Others… but now that we see some of their true nature – it doesn't make a whole lot of sense – in particular the state of the teddy bear.
Jack
. Lastly, this episode seemed to solidify the fact that Jack is going to be with the Others for quite some time. He's slowly becoming more and more integrated into their day to day life, and by the end of the episode, didn't even seem like a "prisoner" anymore. He is entering into agreements with the Others, and they're letting him travel around the Island without needing armed guards or handcuffs. A level of trust between Jack and the Others is developing.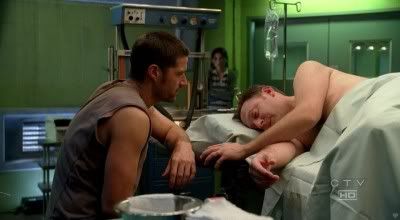 It seems that we'll eventually reach the point where Jack "becomes" an Other. To me, that would be a fascinating storyline – to have the "leader" of the Survivors of Flight 815 join the "enemy" and happily live among them. He'll have his romance with Juliet, a valued role as a surgeon (something the Others are now lacking), and the chance to leave the Island, assuming Ben is a man of his word. Remember back when Ben said "I want you to want to help me"? What if the Others' intentions all along were to get Jack to "join them" as a replacement for Ethan? That would help piece together some of the timeline logic of why they didn't initially kidnap Jack, but then wanted him once they found out that Ethan was dead.
If nothing else, it's an intriguing possibility. Our Survivors could stage a rescue operation, storm the Others camp, reach Jack – only to find that he doesn't want to go back with them. Talk about irony!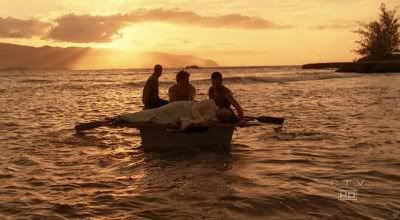 Okay – that's enough for this episode. I'm not going to lie, my heart really wasn't into the analysis of this episode (and it probably shows in the above writing). There just wasn't a lot of "meat" from the episode to chew on. But I'm actually very hopeful for the next few episodes. We're due to get a full blown look at the Others' society (where they have backyards!), Sayid and Locke staging a rescue operation of Jack, and supposedly the connection between the Others and Dharma in a few episodes. It sounds like excitement is just around the corner, and when it's all said and done, we'll all forget how much we complained about this episode.