I find that one of the problems with taking a few days to formulate and write my analysis to an episode is that by the time it actually gets posted on the Blog, it either seems like a re-hashing of ideas that have already been posted in the Comments section, or that I'm flat-out stealing the theories of others and claiming them as my own. It almost makes me wonder if it's necessary to go through such analysis, since my conclusions often mirror those of others, who get them out much more quickly than I do. But I guess without knowing what my thoughts are, my future predictions and analysis wouldn't make any sense. Plus, I usually try to pull together all the theories and ideas out there into one cohesive post for the masses too afraid to venture into the Comments section. That somehow justifies their purpose, and the amount of time I spend on them, right?
Enough of my blabbering. Without further ado, here is my outdated, much-influenced analysis of "Flashes Before Your Eyes".
Flashbacks
. In a way, it's ironic that after two and a half years worth of Lost episodes featuring character flashbacks, only now are we really starting to question them. Up until this point, it was assumed they were merely plot devices used to develop the varied characters that were thrown together after the crash of Flight 815. But after this episode, people are wondering if they might represent something more, something deeper - something that could actually be key to the greater purpose and mysteries of Lost Island itself. Deep stuff.
Before the episode, we were told that it "would feature and use flashbacks in a way we never have before and never will again. It'll either blow people's minds or chase them away for good." Based on the extremely lengthy and heady comments people have already made in the comments section from my "Instant Reactions" on the episode, the former seems to be the case… (although ratings might tell another story - but I blame that more on the episode airing at 10:00 pm than anything else. Heck, it's even tough for me to stay awake for the whole episode… and I've got a lot more vested interest in each episode than the average American!)
So what was so different about the flashbacks this episode? Well, the fundamental difference between Desmond's flashbacks and those of most everyone else over the past few seasons is that he was cognizant of his future and "aware" that he was in his past. Desmond was proactively trying to change his flashbacks, interacting with them, and doing things differently than he did when these moments in his life originally happened. This is a striking contrast to the flashbacks of the other Survivors that just seem to be passively viewing moments in their pre-Island lives in their minds.
The question becomes – what made Desmond different this episode? What was really happening during his flashbacks? After much deep thought and consultation with my Magic 8 Ball, I've narrowed it down to one of two possibilities, each with their own logical strengths and weaknesses:
Desmond was time traveling
. He was actually re-living the events (and changing them). It's definitely the sexier and much more complicated theory. There are countless variations of what actually was happening – call it "time travel", an "out of body experience", a "parallel reality", or whatever scientific explanation makes the most sense. But the important thing with this theory is that Desmond was physically back in the past, interacting with real people.
From this assumption, there are a number of ways to explain why things happened the way they did, and what it means to the numerous outstanding mysteries we've encountered on Lost. But in the end, if Desmond did travel back in time, it really just comes down to two important (but very contrary) points:
Desmond still ended up on the Island.
Desmond told others about his future.
Why?

Well, Desmond discovered that fate is a very powerful thing. As Ms. Hawking (creepy old jewelry store lady) told him, the Universe has a way of "correcting itself". Even if you can travel back in time, things that are destined to happen are going to happen (the "Final Destination" theory). This flies in the face of the "Back to the Future Theory" where the slightest changes in the past can have dramatic effects on the future. However, this goes a long way in explaining all the random events that led our Survivors to the Island. It wasn't some grand master plan by Dharma or the Others that brought them to the Island – it was merely fate.

Upon viewing this episode, some began to hypothesize that maybe all of the flashbacks we have seen aren't really just flashbacks, but opportunities for our Survivors to correct their pasts and right their wrongs. But if you look at Desmond this episode, he tried to correct his greatest mistake and found that no matter what he did, he couldn't. So even if the rest of the Survivors were cognizant of themselves in their flashbacks, it wouldn't matter – you can't change your path in life. Kinda depressing, right?

Well the good news is that the other point is much more hopeful, optimistic, and intriguing… and it fits in with Back to the Future Part II. Remember when Marty returned to "Alternate 1985" where everything was different due to his actions in the past? Well, assuming that Desmond actually did go back in time, we're currently looking at "Alternate Island" because he told his friend Donovan about the future and what was going to happen to him.

By doing this simple act, Desmond might have opened up the door for the rescue of everyone on the Island. While Donovan initially dismissed Desmond's claims about the soccer (futbol) game, the bar fight, and his race around the world, eventually he would come to realize that Desmond was actually right – he was just a day off in his predictions. I don't know about you, but if my friend told me that he was going to disappear on a race around the world and then a few months later he actually did, I would start telling people about it.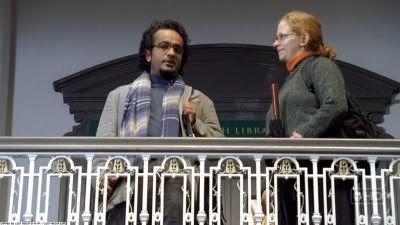 So who is this Donovan character? Well, we know he's a physicist who we meet while he is finishing up a conversation that sounds very much like he's discussing the possibilities of alternate realities existing. He seems like someone who wouldn't chalk up his encounter with Desmond to "crazy-talk", but rather the proof that his theories about time travel / alternate realities actually could exist. From here, it's easy to see the storyline progressing to Desmond telling Penny, who has the resources to fund setting up a "detection system" for any space-time anomalies around the world… and queue the Arctic Scientists at the end of Season Two.

Because Desmond went back into the past and told Donovan about his future, Penny knows how to find and save him – simply by waiting for the "Electromagnetic Anomaly" to occur (the result of Desmond going back into the past), and then tracking it. The curious thing here is that, if you remember, the Arctic Scientists made a comment about "we didn't miss it again", as if there was already one that had already occurred, but they didn't track. This brings up the interesting concept of a "time loop". That could either mean that Desmond has done this multiple times, trying to change his past through a variety of ways only to find it futile... or the flashbacks of the other Survivors are actually time travel as well. Since we've seen nearly 60 flashbacks from other characters already, I think the former is the more likely – otherwise, the Arctic Scientists' detection devices would be going off nonstop over the course of the past two months.

But so far we've only been talking about Desmond's time travel to the past. What this episode showed us was that he also has the ability to see the future. His time travel experience wasn't limited to a one-time event when the Hatch imploded because he's now saved Charlie TWICE. This is pretty key. If he only saved Charlie once, one could theorize that his entire life flashed before his eyes – past, present, and future – and he knew Charlie was going to die because he already experienced. But by saving Charlie from the lightning bolt, he effectively changed the future. If Charlie was also in danger of drowning, the only way Desmond could have known about is if he saw the future again, after the lightning incident. But is Desmond actually going into the future and interacting with it, as he did with the past? Or is he just getting "visions" of the future as some byproduct of his powers? Does he have any control over this power? How far into the future has he actually seen? Are his visions limited to only seeing others in danger or can he also use this for gambling purposes?

As you can see, the questions start piling on pretty quickly – and trying to formulate reasonable answers for them is enough to make the brains of even the most over-analytical among us start to hurt. But if you remember at the start of this rant, I said one of two explanations was possible. Time travel is just the first. The second is much simpler, and much more logical.



Desmond was dreaming. We're all over-analyzing this a bit, and if we look strictly at the facts from the episode, it's much simpler. When the Hatch imploded, the blast carried Desmond clear out of the Hatch and onto the ground of the jungle some distance away - this clearly knocked him out… at least temporarily - and this is thing that sets his flashbacks apart from everyone else.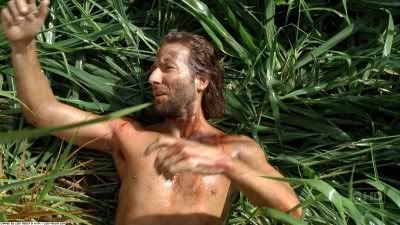 Typically, when a character on Lost has their "flashbacks", they are awake, interacting with others, in the middle of doing things, and otherwise cognizant of what is going on around them. They're almost daydreaming about the past, seemingly inspired by things that are currently happening on the Island (when the writing is good and the flashbacks don't seem forced, that is). At least that's the way they are presented to the viewer.

On the other hand, Desmond's flashback occurred while he was seemingly unconscious (aka "dreaming") from the blast of the Hatch, between the time when he turned the Failsafe Key and the moment he woke up in the jungle outside... and this might help explain the difference between the two. When Freud studied dreams, he found that more often than not, dreams don't gratify wishes. He noted that some dreams represent attempts to master or overcome a past traumatic experience. It's the brain's way of trying to go back and "fix" things from the past that it wishes were different.

Sound familiar?

Desmond was dreaming that he had a chance to do it all over again – to replay the events in his life that led up to his arrival on the Island in hopes of changing them. However, what he found is that dreams don't always grant wishes. What happens next is an intriguing battle between the left and right sides of Desmond's brain. His left side is serving up the logic and facts about the present and past. We even have Ms. Hawking acting as a physical manifestation of Desmond's subconscious – the rational left side of his brain telling him that he can't actually change the past and needs to accept his current state. Since the left side is the practical, safe side of the brain, she even goes so far as to give him some comfort about his current place in life on the Island with her "If you didn't push the button, we all would have died" speech. On the other hand, the right, dreaming side of the brain is telling Desmond that he can indeed change his past actions to achieve a different, better future.

In effect, Desmond was just dreaming, not having a "flashback" like everyone else on the Island has. His life "flashed before his eyes" and he tried to change it, but realized that the Island was his fate. No matter what he tried to do, this is where he was supposed to end up. Once again, fate controls all.

It's all pretty neat and easy, right? Well, the problem is that none of this would explain his future seeing. Sure, Desmond could have had a trippy dream as the result of being knocked out – but how does this explain that how he knows very specifically how Charlie's life is in danger?

Unless…

The two are not connected.

Who says that Desmond's dream has anything to do with the ability to see the future? If we accept that the "flashback" was nothing more than a dream, then it would be in no way tied to the potential magnetic mumbo-jumbo that Desmond could have received from the Hatch Implosion. Think about it. How different is Desmond from Walt seeing the future? What about all the other "visions" that the other Survivors have had on the Island? Desmond's are just a little different – almost a combination of the two.

Maybe Desmond is somehow temporarily "flashing" outside of the normal time of the Island due to the Hatch Implosion, and the whole point of the dream in this episode was to serve another purpose – to show Desmond coming to grips with his life in the present.

For a show whose constant underlying theme has always been redemption, it would make sense. Here we have Desmond, who has been told that he isn't good enough and would never amount to anything, ending up on an Island pushing a button where he may or may not have saved the entire world. In the process of saving the world, he somehow gained the ability to see the future, and sees this gift as having the potential for him to do something even more positive with his life – saving others. The Island / Smokey may be giving him this gift as a way to overcome his past demons – that of feeling not worthy – by practically making him a hero.

Again, how different is this than the Island showing Boone visions that helped him get over Shannon, or having the Island appear in the form of Yemi to try and get Eko to repent for his past sins? What better way to help Desmond find his worth than having him save the world? And like the other Survivors, Desmond is finding that getting over your demons isn't an easy thing. He's facing the harsh realization that fate is a very powerful thing, and it may not be possible to change it not matter what he does.

So which theory is correct? Well, I think there are three critical pieces of information that tip the scales one way or the other.

The Picture. The first piece of evidence is the picture of Desmond and Penny. Before we analyze too much, it should be pointed out that there is one glaring issue with looking at the picture too closely – that it has changed over the seasons. When we first saw the picture, the actress for Penny had not yet been cast – thus the difference between the picture we saw inside the Hatch at the start of Season Two, and the picture that Desmond currently has.


So throw any discussion about that out the window. But the interesting thing here is that both Desmond and Penny have a copy of that same picture. Sure, it's possible that Desmond and Penny had the picture copied prior to Desmond's race around the world, but what if they didn't? If Penny and Desmond both have a copy, that could mean that Desmond has gone back in time and that event has happened twice – once where Penny keeps the picture, and once where Desmond keeps the picture.

Ms. Hawking. First of all, this is two weeks in a row with obvious Stephen Hawking references (he also wrote "A Brief History of Time" featured in last week's episode). Without getting too in-depth, it's worth noting that Stephen Hawking is theoretical physicist who specializes in theories on space and time. However, when you look at the character of Ms. Hawking, the important thing is that she knows a whole lot about Desmond's future. This isn't like Richard Malkin, the creepy psychic from Claire / Eko's flashbacks who talked in sweeping generalities and later "admitted" that he was a fraud. Ms. Hawking knows very specific details about Desmond's future, as well as his intentions to try and change it.


If Desmond is really time traveling, how do you explain that? Is she an agent of Dharma that can also time travel and is trying to prevent Desmond from changing things? I think that's a little too far out there, even for someone who just made logical arguments supporting the possibility of time travel. No way.

Desmond's assumption that she is his conscience is much more plausible, and not a total rip-off of the Matrix movies.

Advantage: Dreaming.


Stuff. What about all the Island Items that we saw in Desmond's past?

The 1:08 Clock.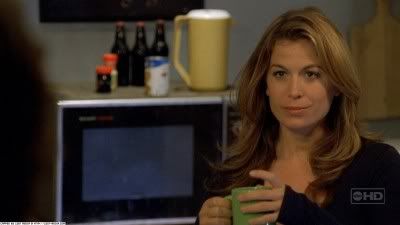 The package "for 815".

The Polar Bear / Buddha / Namaste Picture.

One note about this – at first it looks like the word "Namaste" is written backwards, which is kinda creepy – and that the picture disappears after we initially see it!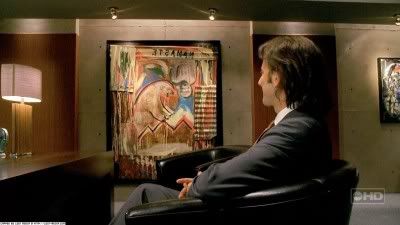 But actually, what we are originally seeing is the reflection of the picture in a mirror on Desmond's right side (thus, the backward word), and the real picture is on his left side:




If you think about it, these are the strongest indications that Desmond was indeed dreaming, and not time traveling. Sure, you could chalk up the items up to coincidence, foreshadowing, or even a Widmore-Dharma connection, but the much more reasonable explanation is that they were just random images that his mind was inserting into his dream. Scientists have found that people often interpolate items from their day-to-day life into dreams in very strange and unexplainable ways.

Advantage: Dreaming.


So, after thinking through both theories and comparing the facts – I think the answer is that the events we saw during "Flashes Before Your Eyes" were just that – Desmond's life flashing before his eyes in a dream. However, the events that we didn't see – the future events that also "flashed before his eyes" seem to indicate that Desmond has gained some sort of "future seeing" power from the Island. So in a way, everyone wins. But more specifically (and accurately), those who said "Desmond can't time travel, but he can see the future" are actually the big winners.

My brain hurts. Two last quick things before I go…


Charlie. In this episode, we discovered that Charlie's middle name is Hieronymus. His parents must have hated him, right? Well actually, Hieronymus Bosch was a Dutch painter back in the day, famous for works concerning religion, Adam and Eve, sin, etc. Plenty of symbolism there!


But the more pressing question is – "Is Charlie Doomed?" It's funny, Desmond said that no matter what he does, he can't save Charlie – yet ironically he's now saved him twice. But how long can Desmond keep this up? Does the Island want Charlie dead? Is this a product of fate? Is Dominic Monaghan just looking to get off Lost to do more Hobbit movies?

As much as I hate Claire's character on the Island (due to her incessant wining and general lack of development), Charlie has to take the cake for having the worst flashbacks of any character on the show (see: "Homecoming", where Charlie tried to sell copiers and "Fire + Ice" where Charlie does diaper commercials). Based on that alone, I wouldn't shed too many tears if he actually died.

But will he? Well, as much as we like to claim Lost surprises us – how about this fun fact? No major character has ever died in an episode that wasn't his or her flashback (Libby being the one exception). Charlie isn't due for a flashback for quite some time (at least not in the next six episodes), so he should be sticking around for a while at least. Or perhaps Desmond will discover that he can change fate (it just takes a lot of tries and hard work) and Charlie will truly be saved.

Either way, we look to have Charlie around for a while, so we won't put him on "death watch" quite yet.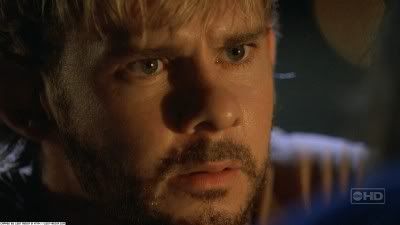 Hobbes. I would be amiss if I went through this entire post and didn't comment on hobbes' excellent theory from the Comments section below. For those who didn't read it, here you go:

Hobbes said:

"if something is meant to happen, it's going to happen" - Brian
Well more to the point in physics there is a strong notion that it is ALL THAT can happen. Due to a multitude of belief systems out there some of you may not appreciate this notion or like this next analogy even less. But I certainly hope I don't basterdize it too much too insult all the physisists out there who really know what they are talking about.
Now imagine the universe is like a big loaf of bread. It is for all intensive purposes, everything. On one end you have the past and on the other you the future. And what if we can make a slice to see from one end to the other? Well, this of course should start to provoke some thought that if indeed the universe is static, then what does that do for free will? And the notion that we have choice? Remember, the loaf is static, all that happens is all that can. There is not to much you can do once the loaf is made, you can't change it. Life, is what it is, brothos' & sistos'. Like I said I may have ruined the actual physics analogy but I think I got the basic premise.
Now this brings me to the Swan hatch and it's Grand (albeit, still hypothetical) purpose. What if the purpose of the Swan hatch was to generate a bubble or a pocket of "Lost Time" in which the area of the island is in a phase shift from the rest of time. Effectively removing that area of spacetime from the static (hard coded) nature of the universe. Wow that was overly wordy. But stay with me hopefully I am making as much sense as it seems in my head. And hey its been awhile since I've had a crazy Lost theory of my own. And like any Lost theory it has holes.
Now I am loosly following this up with things like Juliettes remark about there still being "Free will on the island". And Ben's (HGI at the time) comment about how "God can't see us here"(something to that effect). Well duh! when you are not entirely plugged in with the rest of the universe perhaps there is a way to change things. To alter fates path.
So maybe with this (the Swan Hatch generator), there actually was a way for the initial purpose of the Hanso Foundation/Dharma initiative to succeed in creating a way to directly affect causality, and free ourselves from the "tyranny of those numbers" (the variables in the equation). And ultimately to change the morbid destiny of humanity via altering aspects of the human genome and implimaneting those on a global scale. "The bodies must be examined to insure specific genetic markers are being made" -Mittlework. After all if enough of us can survive...
But more importantly now that the bubble is popped and the island has phased in with the rest of the universe, what now?
Alright I'll take my bruises now.


Awesome theory. While I pretty much throw out the "time travel" notion of this episode, I'm still a big fan of a theory that the Island exists on some sort of "funky time" – and this concept of a "bubble" outside of the normal timeline of the universe makes a lot of sense. It ties in nicely with the ARG from this summer, where Dharma scientists were working to change the Valenzetti Equation and, in doing so, save the world. What better way to create more time to work on saving the world than to develop an Island where time moves more slowly than the rest of the world? They could spend years working on a solution while only hours pass in the rest of the world.

Granted, there are still holes with the theory – the Red Sox World Series footage being the biggest. Jack was shown this footage after roughly one month of "Island Time" had passed. Flight 815 crashed on September 23. The Red Sox won the World Series on October 27. That makes the timeline of the Island nearly identical to the timeline of the rest of the world.

So in the end, I still have no idea how – or even IF – there is "funky time" on the Island. There are so many hints towards it, but no theory seems to match up all the facts and hold up to the overwhelming evidence to discredit it… and so we soldier on in our quest for the truth about Lost.