Wow. One episode back and there's already so much to say (anyone seen the bridge?). I'll spare you the normal witty banter of my intros and dive right into the over-analysis of 42 minutes of television…
Others
. As I mentioned, this wasn't quite the full-fledged reveal of the Others I was thinking this episode would provide (silly me, assuming that the Juliet flashback episode would be told from her perspective!). But we did learn some very interesting things about the Others that we can draw three major conclusions from…
The Others can come and go as they please… at least they used to (much more on this later). We saw Ethan Rom in Miami recruiting Juliet, and clearly Juliet got to the Island somehow (3 years, 2 months, and 28 days ago) – so they must have some transportation system in place to get to and from the rest of the world. Boats, planes, choppers – something. The Others haven't necessarily lived on the Island since time began as some sort of "indigenous people" – and are likely the remnants of the Hanso Foundation / Dharma Initiative. This open channel of transportation helps explain the very "normal" lifestyle they are able to maintain on the Island with book clubs, cheeseburgers, and Red Sox world series videotapes.
The Others have some type of incredible data repository at their fingertips. We've seen how much they know about each of our Survivors, and some assumed it had something to do with a master plan to bring each of them to the Island. But as we saw with Juliet last night, they have the ability to quickly gather a lot of information about almost anyone. Chalk this up to Hanso / Dharma money and power, telepathic experiments on the Island, or effective use of a Google Search Engine – but these guys seem to know everything about everyone.
The Others are willing to do anything to accomplish their goals. In this episode alone we saw them (presumably) kill Edmund Burke, Juliet's ex-husband, in order to get her to join them on Lost Island, torture / brainwash Crazy Carl with a trippy Clockwork Orangish video (much more on this later) to get him to "conform" to their way of thinking, and Juliet not think twice about busting some caps in Danny Pickett… shortly after giving an order to kill Kate and Sawyer if necessary. Again, this doesn't necessarily make their disposition "evil", but it does mean that they are so blinded by their ultimate "goals", that things that normal people would see as major moral dilemmas are quickly brushed aside and accepted so long as they are in the best interests of their goals. But this does make them very dangerous (see: religious zealots, cult members, Tonya Harding), especially if you don't see eye to eye with them.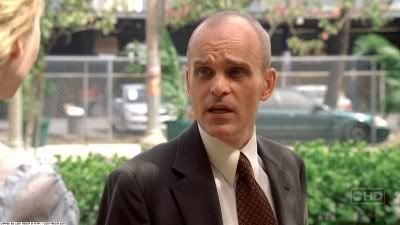 Oh, and one more thing…

Babies. Apparently the Others can't successful get it on. One has to assume that the slides that Richard Alpert (Juliet's recruiter) showed, featuring a womb that looked like it belonged to a woman much older than she really was, belonged to an Other. It all just ties too nicely together with the reason that the Others wanted Juliet so badly. Juliet had demonstrated that she could impregnate male mice and her cancer-ridden sister. She's able to make babies where babies shouldn't be – and this is precisely what the Others need.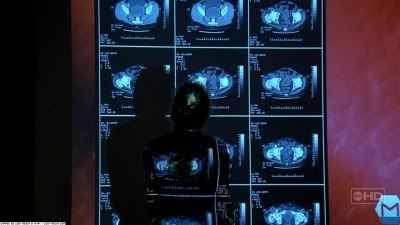 The question here becomes – why can't the Others reproduce? As we've seen, there are plenty of potential reasons out there – but the most likely seems to be the strange magnetic force that may or may not be messing with time (more on this later). As Alpert mentioned, the person's body (at least their insides) were either aging far faster than they should be or were being worn down prematurely by some force on the Island.

But why do the Others care? Clearly they're concerned with making sure their mission on the Island continues even after they die, but if they can easily bring new people to the Island, couldn't they just focus on recruiting rather than reproducing? Well, if you're in a crazy cult, it's always preferred to breed your own offspring to carry on your mission, rather than recruiting new people – since children that grow up in that environment generally don't need the same sort of "brainwashing" to become assimilated in the culture that new recruits would need. Also, without children, who are the Others going to get to mow their lawns, take out their trash, and feed their hogs? For all these reasons and more, Juliet was a very important person to them – she offered them hope.


Juliet. The only problem was, Juliet seems to have failed. We don't see mini-Others running around the Island; rather the youngest Others we see appear to be the children of former survivors of crashes into the Island. Whatever is causing the Others to be infertile is clearly stronger than the science that Juliet brought with her to the Island. Therefore, what was initially offered as a six-month pseudo-vacation has turned into a 3 year, 2 month and 28 day imprisonment. Suddenly, the sadness that she has always seemed to have just beneath the surface becomes understandable. She just wants to go home, but she's trapped. It seems that only certain individuals have access to the transportation that accesses the Island, and she's not one of them.

While I'm sure Juliet was put through some amount of "training" when she arrived on the Island (read: brainwashing), with the amount of anger and hatred brewing inside her (remember the book she was reading in the season premiere – Carrie – about a girl who rages against society?), it's somewhat surprising how much she has seemed to go along with the Others' mission with Jack. I would be that the Others are dangling the carrot of a return to the rest of the world in front of her, enticing her to play nice and do what she's told.

Based on this, Juliet was dead serious when she told Jack to kill Ben. She hates him and everything he represents. But when he offered up the chance to leave the Island, she didn't think twice about doing whatever it took to fulfill her end of the bargain – even when it meant killing Pickett.


Jack. As for Jack, Juliet read him correctly right from the start – he would never let someone die on the Operating Table, no matter how much it might strike a blow to his potential "enemies" on the Island. However, what she didn't count on was Jack immediately calling her out on the secret plan to "accidentally" kill Ben during the surgery – which has put Juliet in a seriously bad position with the Others. It's pretty clear that she's the only one who wanted Ben to die (there was no grander conspiracy), shown by the reverence and concern the rest of the Others displayed when hearing Ben's life was in danger.

With Kate and Sawyer now halfway home (and by the looks of the previews, Sawyer talks Kate out of her idea to go back and rescue Jack), Jack's only ally left on Alcatraz is Juliet. Fundamentally, both want the same thing – to get the hell off the Island – and both seem to share the same hatred for the Others. Plus, they're both doctors and their names start with J. This has "Island Romance" written all over it, doesn't it? I wonder if they'll be held in the same cages as Kate and Sawyer, or be put to task bashing rocks as replacements. The show's creators have told us we'll be done with Alcatraz by the end of the third episode of the Spring Season, so whatever Jack and Juliet's punishment ends up being – it's clearly short-lived.


Carl. Speaking of punishment, how trippy was Room 23, where Crazy Carl was being held? While we never found out exactly what Carl did to deserve his encagement next to Sawyer, based on the fact that he's being subjected to this mind-bending, sensory overloading, rave-fest, smart money is Carl being a bit of a rebel that needed to be broken.

As I mentioned above, the curious thing about Carl is that we have no explanation of where he came from. Alex, sure – it's CFL's daughter who was kidnapped and raised by the Others. But as for Carl? It seems that Alex is the only person in his life. Contrast this with Pickett, who was so distraught by the death of his girl Colleen that he almost killed Sawyer for no reason. Or compare it to Ben, who has asked about Alex numerous times. Where is the Other who is asking where Carl has been for the past few weeks? Only Alex seems to care. The Others may be a messed up cult, but they're a messed up cult who believes in family and relationships.

I would bet that Crazy Carl has a similar past to Alex – either stolen as a child and adoptively raised by the Others, or crashed on the Island in his teens, and has lived as a "rebel" on the Island ever since… thus the need for him to be locked up and brainwashed. He clearly isn't a card carrying member of the Others' cultish ways. Which brings us to…


Rave. One of the more trippy sequences in Lost history, this brainwashing video contained a lot of funked out imagery… but it really isn't as complicated as you might think. Check it out:

The phrase "Plant a Good Seed and You Will Joyfully Gather Fruit" with a picture of a flower. The phrase is from the Dhammapada – which, by the way means "the path of Dharma" – the Buddhist scripture containing 423 verses in 26 categories. Here's the full quote:

"The kind of seed sown
will produce that kind of fruit.
Those who do good will reap good results.
Those who do evil will reap evil results.
If you carefully plant a good seed,
You will joyfully gather good fruit."

Plant a good seed… double entendre for making babies, anyone?
The phrase "Everything Changes" with pictures of various (old looking) coins, CDs, a stove of some kind, and a compass.
Prism-effect images of light, flowers blooming, and flames.
Numerous doll faces ranging from Asian to Anglo.
Buddha
The Moon
The phrase "We are the Causes of Our Own Suffering" showing bees and dead fish, once again a Buddhist / Dharma expression.
A bird's nest of twine.
And eyeball looking thing on a string (another glass eye reference perhaps?).
A cracked speedometer.
A close up view of some gears.
The phrase "God Loves You As He Loved Jacob" – a dual reference here to Jacob in the Bible and "Jacob", the mysterious leader of the Others.
Some pipes.
Some metal contraption that is beyond my realm of knowledge.
A picture of Alvar Hanso.
The phrase "Think About Your Life" with the prism-effect of Easter Island statue faces.
A picture of scientists performing experiments – the same scene we saw in the original Orientation Video!
So what does it all mean? Well, like so many things Dharma-related, it's pretty heavy on Buddhist teachings about realizing one's own faults and finding true peace by accepting overcoming them – kinda similar to our of our Survivors, huh? The images are all very iconic and creepy – a combination of things signifying changes, new beginnings, and starting over. Yet, interspersed within are subliminal images of Alvar Hanso, and Dharma Scientists – the perfect brainwashing video that blends an overall message with a bit of homage to the cult-leaders. Clearly this is being shown to subjects to make them repent the error of their rebellious ways, and emerge a faithful follower of the mission of the Others. (I'm not going to lie, rewatching that thing a few times kinda starts to creep you out. Glad this section is over…)


Ben. Speaking of creeping you out – how in the world did Ben suddenly start talking mid-surgery? I understand that it's possible that the anesthesia was wearing off, but it seemed a little ridiculous to me. Are we to believe that he faked going under the anesthetic in the first place? Or that Juliet is a poor doctor who didn't administer the proper dosage? Either way, it adds to Ben's image of being this all-powerful Other who is running the show. Even when he his life was on the line, he's still manipulating Jack and Juliet to do his bidding. Wow.


Purple Haze. Which brings us to the single most puzzling part of the episode for me. Mid-surgery, Jack asks Tom, "If you can really leave this Island, why didn't you just take him to a facility?" To which Tom replies, "Because, ever since the sky went purple, we…" and is cutoff by Ben's spurting artery (come on! It's like Ben knew that Tom was about to spill the secret and so he intentionally had his artery erupt! This guy is ridiculous!)

What was Tom going to say? My interpretation (that I've told you all countless times) is that the Hatch Implosion and Purple Sky actually broke the seal around the Island, and would allow others to now find and travel to it (Penny). But Tom's comment seems to indicate the exact opposite – that since the Hatch Implosion, they can't leave the Island. There's a few problems with this, though:

Michael and Walt seemingly left the Island on a boat after the Hatch Implosion.
Jack, Kate, and Sawyer were kidnapped before the Hatch Implosion, when the Others could theoretically come and go as they pleased.
So what gives? This puzzled me. So I turned to the one place that I knew I could find answers… my own Blog (I'm being hilarious, not conceited here, I swear). I looked back at one of my earlier posts from this season – this passage in particular:

One of the big lines of the episode was something of a throwaway line between Tom and Ben when Sawyer was waking up on the operating table, where Tom mentions somewhat frantically that "the sky went purple, we've lost communications, and Colleen is dying…"
Why is this so important? For one, it demonstrates that the Others have no idea what happened when Desmond blew up the Hatch any more than our Survivors do. The curious thing is that Ben's capture and toying with Locke seemed to be for the purpose of getting them to stop pushing the button – why would he have done so if they were unaware of the consequences of such action?
This also leads me to the question – if the Others don't know what happened when the sky went purple, who will? Are we ever going to get a firm answer of the repercussions of this action, or are we going to have to piece it together as we go along, chalking up new occurrences on the Island as resulting from the Hatch implosion?Also huge in this conversation is that the Others have lost their communication with the outside world.
When the magnetic force "released", it clearly knocked out whatever sort of communication equipment they were using – leaving them as stranded on the Island as the Survivors are.
Will this possibly lead to the two sides working together? Not likely – the Others seem quite content to stay on the Island, which is the exact opposite of how our Survivors feel. What this might do, though, is give our Survivors a bit of an upper hand in some sort of "battle" between the two groups. With their communications down, maybe their ability to remotely monitor the Island is lessened as well.

Lost had been gone so long I had forgotten things I already figured out in my head last fall. That's sad. But now it all makes sense, with some additional rationalizations…

The Others don't have an Island airport full of planes, or a fleet of cruise ships docked around back that can leave whenever they want. They must need to contact someone in the outside world (Hanso Foundation?) to come and get them. It's been made pretty clear that they are for the most part anti-outside world, and would prefer to stay on the Island if at all possible – only leaving when absolutely necessary. Ben, who had never left the Island in his life, knew that he had a spinal tumor, but when Jack fell from the sky, he took it as a sign that the Island was providing for him – giving him a chance to get healed without having to re-enter the scary / contaminated outside world.

Little did Ben know the severity of his tumor. He originally planned to take the time to break Jack, turn him into an Other perhaps, and have him willingly perform the surgery. Once Jack told him he needed to have surgery immediately in order to live, the timeline sped up. At this point, I think Ben would have considered going to the outside world for surgery… except he couldn't anymore. Jack was his only option.

So in the end, I think both theories can co-exist. The Island is now visible – but ironically, now the Others are trapped there, since the act that made the Island visible also disconnected them from their outside compadres.


Time. One last thing – the company that was courting Juliet wasn't Hanso or Dharma – it was "Mittelos Bioscience". Damon Lindelof mentioned that this episode contained an anagram that would prove important for the rest of the series. As many astute readers have already put together, "Mittelos" is an anagram for "Lost Time". Factor in the potential that the Others age more quickly than they should on the Island and Charlie from "It's Always Sunny in Philadelphia" was reading "A Brief History of Time" and we have even more evidence that there is something strange going on with time on this Island.


Of all the scenes that they could have shown during the one hour recap before this week's episode, which basically summed up two and a half years worth of Lost – they included the scene of Sayid and Hurley on the beach, listening to the radio, with Sayid saying "It could be coming from anywhere", followed by Hurley saying "…or any time."

I'm not sure if this is just some long running joke, intended to make us think that there is some time warp effect happening on the Island, or if it's legit – but it's worth noting that the evidence just keeps piling up. We're constantly being reminded about how only a few months have passed on the Island, even though the show has been on for years. If the series ended with us finding out that either a) only days had passed since Flight 815 crashed – with the rescue crew showing up or b) many years had passed and grown-up Walt and Grandpa Michael showing up to rescue everyone – I would not be in the least bit surprised, and we would all look back and think "Hey, they were hinting at it all along."



Lastly – there seems to be an influx of fake websites that popped up after this episode. As a general rule, if you can't find the ABC copyright associated with the page, it's probably a well-designed fake. If any new real websites show up, I'll let you guys know.