Finally back from Montana! Good to see that the Blog is still in one piece, and all the booze is still in my liquor cabinet. Without further ado, here is a mix of my "Instant Reactions" and "Analysis" of "Tricia Tanaka is Dead"…

Brian's One Word Review: Happy.

It's funny – after last week's debacle of an episode that left most viewers (myself included) disappointed about the lack of plot development, along comes this week's episode – one that centered around fixing an old van found in the jungle - and it totally worked. I'm sure there are some people out there who were just as angry – if not angrier – after this episode as they were last week. "Tricia Tanaka is Dead" featured very little in the way of plot development concerning any of the main mysteries of the Island. If you watch Lost solely for reveals about the deep mythology they've established, you were likely hugely disappointed in this episode. But in fairness, if you only watch the show for storylines about Dharma / Hanso / and the potential "funky time" of the Island, you probably hated Season One too, since we didn't even really learn about them until early Season Two.

So why did this week make me happy whereas last week left me disappointed? Quite simply, this episode didn't offer any pretense about being about something bigger than it was. From the start, you knew this episode was going to center around Hurley and the junked Van, and it told that story very well. Last week hinted at much grander plots (Cindy, the kids, the "laws" of the Others' society), but the story failed because they were unwilling to actually tell the story of any of these points. This week felt like a throwback to Season One, very similar to Hurley building a golf course in an attempt to raise the spirits of his fellow Survivors, with a simple self-contained storyline with little bits of greater plot development interspersed.

What made me happy?

Locke, Sayid, and Kate. I think I verbally said "thank you" when Kate came back and Locke and Sayid immediately began drilling her with questions. In a way, the two minute scene between the three of them on the beach was more satisfying than any scene involving Kate, Sawyer, or Jack when they were actually among the Others – because they were asking the questions we as viewers have been asking, and analyzing what the answers mean in the grand scheme of things. I can't tell you how excited this makes me for the next few weeks of episodes (since we're due for a Sayid flashback next week, and a Locke flashback in three weeks) assuming these two maintain the same level of logic in looking for answers.

The overall theme of the episode. If you think about it, Hurley's right – a lot of really crappy things have happened to our Survivors lately. Honestly, this season has been very "heavy" with Survivors dying, Survivors being held prisoner, and Survivors in a state of panic over these mysterious "Others". This episode was all about hope, and raising the spirits (before more heavy episodes which I think are right around the corner). While the flashbacks didn't really contribute a lot in terms of character development, but they tied in nicely with the theme, and served as a way to verbally reinforce the underlying theme of the Island action.

The "buddy adventure". Sure, the whole sub-plot about finding a Van in the jungle seemed a little out of place – but it offered the opportunity for a fantastic "guy's episode" that bonded the characters, gave them plenty of opportunities for hilarious interactions, and a simple mission, that when completed, left them all happy and their spirits changed for it. I absolutely loved the ending scene, where Jin and Charlie return to the main camp excited about the "adventure" they just had, and can't wait to share it with the women in their lives because it showed that the action in the episode actually had an impact on them, and changed them for the better. Even better was that Sawyer was in the same boat (no pun intended… well, maybe just a little one), ready to get over his foolish arguments with Kate and excitedly tell her the stories about the getting the Van to run – but she was gone… the love rhombus continues…

The re-introduction of CFL. What do you know? In a shocking display of logic and problem-solving skills, Kate proved that she's more than just a pretty face (and smoking body) by putting together what she learned about CFL and Alex over the course of the past two seasons – and sought her out as an ally in her quest to rescue Jack. Again – it's another example of the characters acting "smart", acting like real people would be acting if they were in this situation – and I loved it.


Part of me wants to take the episode for what it was – a simple story that isn't supposed to be over-analyzed and debated like so many other episodes of Lost. It's clear that this was supposed to be a "fun" episode that sets the stage for some heavy duty stuff to go down in the next few weeks – the sunshine before the storm, if you will.

But we all know I can't resist, so I'll semi-over-analyze (just plan "analyze"?) a few things that intrigued me – such as…


Curses. Since Charlie and Hurley faced their fears and "won", does that mean that Charlie actually won't die, and Hurley will no longer be under the curse of the Numbers? Well, I doubt that this will put Charlie in the clear. From a storytelling perspective, I think it's much more interesting to continue the Desmond-Charlie interaction and see how Charlie reacts to potentially dangerous situations that arise with the knowledge that he could die at any moment. As for the Numbers, I'm kinda of the opinion that their "power" has been diminishing ever since the Hatch imploded, based on the lack of their presence in episodes ever since.


I think what this episode showed was that you have to make your own luck, and not live your life in fear of some "curses" that might be over you. Even if they still exist, this episode showed that they shouldn't prevent you from living your life. Hopefully, this will prevent us from having Charlie complaining about his impending death in every scene he's in, and will get Hurley back to the jolly fattie we know and love.


Roger Work Man. Who was this guy? Should we take Sawyer's logical explanation that he was simply a "Dharma Janitor", and "Work Man" was his title, rather than his name? If you notice – the name seemed to be handwritten on his jacket, not embroidered or sewn on like the Dharma Logo. This would seem to indicate that there were a number of "generic" uniforms created that could be used interchangeably among various members of the Dharma community. If Roger really was simply a "Work Man", it makes sense that he didn't get a fancy personalized Dharma suit.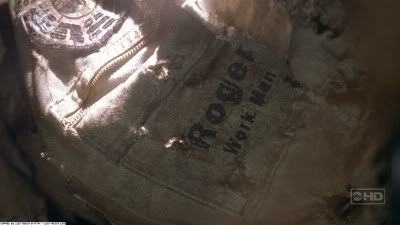 But who was Roger? The Dharma logo on his suit is from the Swan Hatch, which puts him in the same plot thread as Desmond, Kelvin, and Radzinski – people who were tasked with inputting the Numbers to prevent the world from coming to an end. Since we know he's not any of those three characters, he must have existed pre-Radzinski – which is an era I imagine as the "glory days" of the Dharma Initiative – when the Hatches were new, the experiments were just beginning, Dharma employees on the Island were plentiful, and "work men" such as Roger served as simple "assistants" to the scientists actually carrying out the experiments on the Island.

"Work Men" such as Roger would go on beer runs for the scientists, take out their garbage, pick up their dry cleaning – whatever they needed to be done. They were doing important work, and couldn't be bothered with such menial tasks. It seems that Roger was in the middle of carrying away some "recycling" (which would fit in nicely with the hippie ideals Dharma surely had), and was carrying large quantities of beer – either to provide to the Hatch workers, or to take back to the "work men" barracks, where he and his buddies could booze the night away and complain about "those fancy Dharma Scientists who think they know everything and don't tip us enough" – when he met his unfortunate demise.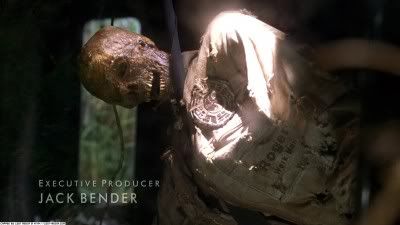 Which brings up a whole new set of questions – how did Roger die? If he did exist during the Dharma Glory Days, why didn't someone come and recover his body? If you recall, Roger still had his seatbelt on (which, according to billboards on the highway, should have saved his life). Also, while the Van was on its side, it didn't seem to have any huge structural damage that you would expect to see if he had hit something. Who Killed Roger Work Man? (Wow – how much better of a title would that have been for this episode – I could have frantically analyzed the similarities between Toon Town and Lost!)

Partly because I have no other answers, all signs point to Smokey. Smokey is the only thing I can imagine that could pick up, shake up, and roll the Van without totally destroying it. What if Roger was driving through the "dark territory" of the Island where Smokey roamed, a part of the Island that everyone else was afraid of entering? If he was attacked inside, it's logical that no one would ever come looking for him – they were afraid of that area for good reason. Heck, maybe all the beer was in the Van in order to give Roger some "liquid confidence" to make it through the dangerous journey (also, all the more reason to send a "work man" on the trip, rather than an important Dharma scientist).


Roads. Aside from Roger, probably the biggest piece of information we gained from the Van was the map that Sawyer found among the beer and garbage. If you look closely at the map, it seems to show a topographic map showing a road going from a high point (that seems to have a hand-drawn "civilization" with a Dharma logo next to it), down a series of cutbacks, down to a location off screen shot of the map. This provides more evidence of Roger existing during the Dharma Glory Days, where they probably had a much stronger Island infrastructure.


But it also reminded me of a very important point – remember the radio tower on the Island, used to transmit CFL's crazy message during Season One? We still haven't seen that radio tower on the Island, but it would make sense that it would be located at the highest point on the Island. It would also stand to reason that there would be some other buildings constructed around this tower to keep all the Dharma workers centralized. I'm thinking that the map shows the location of the "Dharma Civilization" – and it's located at the highest point of the Island. This would help explain why our Survivors haven't stumbled across it yet in their journeys.

The real question is – is the Dharma Civilization the same thing as the Others Civilization? I guess it all depends on the relationship between Dharma and the Others (which we're supposed to learn next episode!) Theoretically, if the Others do live in the former Dharma buildings, we might just be a few episodes away from a reveal of one of the major undiscovered areas of the Island. Even more intriguing – if this is the case, Sawyer is basically holding a map that would lead right to this location… and Jack! (The only problem of course is that the "rescue party" consisting of Kate, Sayid, and Locke seem to have already left – but you never know, they might also get captured – and the map might once again prove critical.)


Shambala. One last thing about the Van – I know a number of Commenters were already all over this in my absence, but the song that began playing when the Van started was "Shambala" by Three Dog Night. Besides being a rocking song that perfectly fit the mood the episode (and did you notice how it was carried over into the score for the touching reunion scenes on the beach – very well done), the song is about Shambala - a legendary, mythical city - kind of like a Buddhist Camelot. It represents the ideal of secular enlightenment, a view that all aspects of civilization - family, commerce, education, science, the arts, and religion - can be full of an innate sacredness. It's not really a physical place, but rather a spiritual place that can only be achieved by those who have achieved a state of spiritual enlightenment.

It's pretty obvious to see the tie-ins to Lost, and even makes one to wonder if the Island represents a sort of "Shambala", a place that only "enlightened" ones were allowed to live. If nothing else, it's a cool little Easter Egg in the episode.


Like I said earlier, I think the vast majority of the episode was intended for pure entertainment and didn't need over-analyzing. But as the episode winded down, the mood shifted, and with the shift came something that definitely needs addressing.


CFL. While I think we're all super-excited about the return of CFL, with it comes some serious questions about her prior stories and motives. Let's revisit her story so far:

CFL was on a science expedition (where her team was allegedly studying "time" – but that line was cut from the original script), with her husband Robert, and was pregnant. When their ship picked up a signal broadcasting the Numbers, they came towards the Island to investigate and crashed when a storm hit. After a few weeks on the Island, her team became "sick", and CFL killed them all out of fear that if they ever did get off the Island, this "sickness" would spread to the rest of the world.

She soon gave birth to a daughter, Alexandra. But a week after her birth, she saw a black pillar of smoke, and Alex was kidnapped by the Others. At some point, she changed the message at the radio tower from the Numbers to her own distress signal (picked up by Charlie in the Pilot episode), but claims that the tower is still under control of the Others. She seems to have extensive maps of the Island, but claims to have never seen the Others, only having "heard their whispers". She helped Claire escape from the Others, and caught Ben in one of her traps – warning Sayid that "he'll lie for a very long time".


After reading that, I hope you're thinking the same thing I am – CFL's story doesn't add up. Immediately, the following three questions jump out at me:
How could she have changed the message at the radio tower if it's under control of the Others?
How has she lived 16 years on the Island without seeing the Others, when clearly they have a full-fledged civilization "with backyards"? Especially since her maps seem to indicate that she's explored the Island quite extensively?
If she's never seen (and thus, never interacted with) an Other, how does she know that Ben will "lie" when she catches him?
Something is not adding up.

At first, I was inclined to think she was an Other "mole", merely acting like a Crazy French Lady much like Ben was acting like a stranded balloonist – but she really does seem like she hasn't seen Alex for quite some time. When she first captured Sayid in Season One, the first thing she asked him (multiple times) was "where is Alex?", thinking that he was one of the Others, and would have answers. Also, Alex has yet to mention her mother, and doesn't seem to know that she exists – so I think it's safe to say that CFL is not an Other.

On the other hand, if the Others know that she exists, why didn't they kidnap and brainwash or kill her? Clearly, they must not think she poses any threat to them or she would have been taken care of long ago – it's almost as if they are coexisting on the Island without either side taking notice of the other – which seems totally out of place for both sides.

Maybe, since the Others really aren't heartless killers, and have no reason to kill her, they haven't – but due to her craziness, they have no reason to try and integrate her into their society. Maybe the Others use Smokey as a "security system" (CFL's words, in fact) to keep her away from their neighborhoods with backyards (and Alex). It does seem like the Others aren't seen unless they want to be seen, and are willing to quickly abandon places (the Staff Hatch) or setup decoys (the huts where Michael was held) for the sake of anonymity and secrecy.

At the end of the day, I get the feeling that CFL has lied to our Survivors. She clearly knows more about this Island and the Others than she is letting on, but doesn't know everything, and is just as "lost" as they are in some aspects of the Island. But why would she lie to our Survivors? Well, at the end of the day, I get the feeling that we'll just chalk it up to CFL being not right in the head. I don't think there's anything malicious in her actions thus far, she's just crazy (obviously, or else we would just call her FL).

It's going to be very interesting to see how the next few episodes play out. We could be in store for a heartfelt reunion between CFL and Alex, CFL going crazy on Ben for kidnapping her in the first place, or Alex coming to grips with who she actually is and what that means in regards to her place in the Others society.

I'm excited for it.