After three solid weeks of Lost in a row, with next week looking to potentially be one of the all-time great episodes, I think a lot of people are forgetting the frustration we all felt with the first six episodes of the Season. If you ask me, life is pretty good right now for Lost fans. Without further ado, here is the slightly delayed analysis of this past week…
Claire
. As I've always said, Claire is one of my least favorite characters on the show. Now that baby Aaron has been born and doesn't seem to be of any interest to the Others, she doesn't really have any engaging storylines going on. She seemed like a totally expendable character. Then this episode happened, and you could argue she's one of the central characters to the show. Why?
She is Jack's pseudo-sister. The writers couldn't kill her before this is revealed, could they? I suppose you have to debate which would be the more interesting storyline – dead Claire forcing other Survivors to raise Aaron or Jack and Claire having a heartfelt reunion on the Island. I have to think that the writers would opt for the later. As I said before, the only way this "reveal" would actually happen is if the Others were to disclose this information to Jack or Claire – but that really doesn't seem to far-fetched anymore, given the knowledge that they seem to have about each Survivor.
The good news is, while it looks like Claire will be sticking around, at least her character is getting more interesting after this week's flashback. As I said in my "Instant Reactions", I interpreted the last scene of her flashback as a tearful apology / confession at her comatosed mother's bedside – which makes Claire yet another one of our Survivors with a sketchy past – the kind of past that would make you "unworthy" of making Jacob's List.
Some have questioned how I arrived at this conclusion. Well, if you combine what Claire said at the end of her flashback to her mother ("I'm sorry I said I hated you. Wished you weren't my mother. Wished you were dead. It's all my fault. The accident. Everything.") with the Cop's questioning of her earlier in the flashback (which indicated that it was Claire's car that swerved and hit the truck – at a high speed – not vice versa), it paints the following picture:
Angsty Claire is driving with her mom as the passenger. The two start to argue about any number of teenage issues where she and her mom don't see eye to eye. Claire gets irrational and goes on her "I hate you, I wish you were dead" rant. Either intentionally or unintentionally (because she's so worked up) she starts to speed and loses control of the car. Bam.
Did Claire kill her mother? No. Technically, she's not even dead yet. But Claire is keeping her alive using machines out of guilt (remember Jack's Dad's speech about the difference between guilt and hope?), because if she lets her die – then she in fact does become a "murderer".
But either way, it adds Claire (one of the last holdouts!) to the list of (main character) Survivors with seriously sketchy or murderous pasts. In fact, the only character left who we haven't seen with a morally destructive past is John Locke… and I get the feeling that could come into play with this week's episode.
The other really intriguing thing about Claire is that she seems to be kryptonite for Charlie. Think about it – every time that Desmond has saved Charlie's life, we have found out that he was going to die because of Claire. How long will it take for Charlie to put two and two together and realize the connection? Forcing him to choose between love and life is a pretty meaty storyline for his character (the kind he definitely needs). While each of Desmond's visions so far have had some logical incongruities (why did he need to prevent Jin and Claire from catching the first bird? Wouldn't that have saved Charlie too?), I'm excited to see if the trend of Claire's involvement in each potential death continues. Again, it's something that makes not only Charlie, but also Claire, a much more interesting character.
Family.
As for Christian Shephard, he continues to be the character who has crossed paths with the most Survivors (Ana-Lucia, Jack, Claire, Sawyer). It also looks like he attempted to live a double life for quite some time – with one family in Australia, and one in Los Angeles. Talk about racking up the frequent flyer miles! Suddenly it all makes sense why Dr. Shephard, after having his life in LA fall apart and his son rat him out for performing surgery drunk, would go on a drinking binge in Australia and attempt to reconnect with his "other family".
Some crazy people have suggested that Christian Shephard may in fact be the "Jacob" that is in control of the Others, and that the crash of Flight 815 was an elaborate scheme to get both of his kids on the Island with him. I know it seems like a neat way to tie everything together in a nice little package, but the number of facts that seemingly disprove this theory far outweigh any theories that could make it work… plus it would be a little too close to the Irina Derevko storyline on Alias.
Christian Shephard is dead. Numerous doctors would have examined his body in Australia (including Jack, who identified him in the morgue). It's hard to imagine Christian leading a double life in Australia and LA while still being a successful surgeon, let along a THIRD life as leader of the Others. No, I think we'll meet this "Jacob" at some point this season – but when we do, if it's Christian Shephard, we're going to need an entire episode of nothing but explanations about why and how this could be possible – and I don't see that happening. Let this theory go.
CFL
. However, feel free to jump onboard the "CFL is an Other" bandwagon, because after this episode, you've got more solid evidence that would support this theory. It was pretty convenient that CFL interrupted Patchy right as he was about to out John Locke's paralysis. But if you think about it, if CFL was an Other, why would she care that Sayid and Kate learned about Locke's paralysis? What harm would that bring to their cause? Reveal that they know a whole lot about everyone? Make them believe that the Island really is magic? Start questioning the motives of John Locke?
I'm not sold on it. On the other hand, a theory that might make more sense is that John Locke and CFL are both members of "Team Island", working to sabotage any escape plans of the Survivors and take down the Others. It still has holes (like, why would CFL not go to the Flame last week?), but if you look at it from this angle, it would explain why she acted to protect Locke's secret this week. She knows more about the Island than she is willing to let on, but isn't an Other. She's received "enlightenment" and survival skills from the Island just like Locke. Her random appearances to our Survivors have all been part of a larger plan, set in action by the Island / Smokey, to use our Survivors to finally get rid of those pesky "Others". It's yet another (debatable but flawed) theory for you to chew on.
But my thought? CFL is still just on "Team Crazy". I think the writers are intentionally throwing these red herrings out to make us question the motives of CFL, but at the same time, they're also giving us scenes that logically explain her actions, if we would just take them for face value and forget the other things she has said and done. Last week, it was the "I have survived this long by avoiding the Others". This week, it was "I'm not showing any emotion because I know Alex isn't going to know me" – which, by the way, is great foreshadowing for a potential Kate and Jack reunion where Jack doesn't know or doesn't react to Kate's arrival with tears of joys and a hug-fest.
Maybe I'll be proven wrong down the road, but for now, I still think CFL isn't Dharma or Other or Team Island – I think she's just crazy.
Patchy
. Oh Patchy, we hardly knew thee – yet you gave us more insight about the Island and the Others over the course of your brief scenes than any other character on the show has in the past three seasons… and for that, you'll definitely be missed. He went out the way he would have wanted, protecting the secrets of the Others the best way that he was able. He thanked Locke for giving him his release, as it kept him from being held responsible for the Search Party arriving at the Barracks or indirectly giving them any assistance. The Others are not only willing, but quite happy to die for their cause, and Patchy was given the chance to do it this week.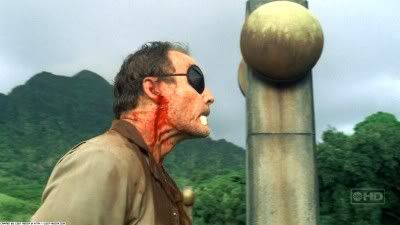 But before he died, he did give us some more tantalizing clues. For one, he confirmed that it was indeed the "electromagnetic pulse" from the Swan Hatch implosion that knocked out the Others' communication. He also explained that since then, the homing beacon no longer functioned, which meant that if the Others used the submarine to leave the Island, they would not be able to return – and clearly these wacky cult members think they've found paradise and are not willing to take the risk of leaving and not being able to get back.
Initially, I thought this might explain why Ben needed Jack to perform his surgery, why he couldn't leave the Island and have it performed in the real world – but then I recalled that the kidnapping of Jack, Kate, and Sawyer took place BEFORE the electromagnetic pulse – at a time when the Others still could have been coming and going to the real world as they pleased. So unless they could see the future (in which case, why not go and get the surgery done like three months ago?), it doesn't help explain this mystery.
Patchy also demonstrated the Other's uncanny knowledge about each of our Survivors (note that he didn't say anything about CFL though… she must be an Other! Oh wait, I already went through that…) including pre-Island knowledge about Locke's paralysis. Even though their knowledge continues to be things that could easily be obtained through medical records, police reports, and other easily obtainable information – but there's still that nagging thought that they have some sort of "mind-reading powers". It would explain some of the experiments being performed on the Island, their interest in Walt, and the whispers we've heard in the jungle. Also, obtaining the information they have about each of our Survivors would be possible if they were some super-powerful organization (Hanso), but if we learned last week that they are NOT associated with Dharma, where would this "ancient Island civilization" gain this information? For that matter, how did the Others come and go from the Island pre-Dharma, if the submarine was indeed theirs? How could they have recruited Patchy roughly 20 years ago (he said was 24 when he was "recruited" – I would say he looks about 45 or 50, right?) if they didn't have means of coming and going to the Island?
It doesn't add up. It's funny that it seems the more we learn about the Others, the more puzzling they become. With each passing week, another theory that could have potentially explained them seems to find new holes… and there aren't a lot of new theories springing up that tie everything together. That either means the writers are doing a great job, and are much smarter than we are – or we've gotten some misinformation along the way that is throwing us off. Either way, I'm extremely hopeful that next week's episode brings us closer to the explanation that we've all been waiting for.
Lastly, Patchy again referenced "Jacob's List" – not to be confused with Ms. Klugh's list of Jack, Kate, Sawyer, and Hurley – but rather the "original list" that determined who would be kidnapped and assimilated to the Others' culture, and who would not be. It seems like the ones that weren't on the list are the ones who have sketchy pasts, huge emotional baggage, and major issues that make them "unworthy" of the utopian bliss that the Island provides. It also would explain why our Survivors are not on the list – since these are the same people that we learn each week via flashback have some sketchy pasts (as we learned with Claire this week). Ironically, the audience views the Survivors as the "good guys", and the Others as the "bad guys". But technically, if what Patchy is saying is true – it's the exact opposite. Our Survivors, even though we feel the most emotional attachment to, are the "bad guys". We're giving them all the benefit of the doubt because we believe that they can find redemption and overcome their past sins – but if you didn't buy into this spiritual line of forgiveness thinking, like the Others – it makes perfect sense that they wouldn't want our Survivors "polluting" their perfect world.
I remember a long time ago – maybe early Season Two? – I said that the best Series Ending I could imagine would be to find out that the Others were the good guys all along, and that our Survivors basically hosed them and ruined paradise. In my mind, it would be a delicious surprise ending that would really make the audience think about the nature of good and evil, and how important perspective is in deciding which is which… but it's probably a little too heady and a "downer" for the masses. Still, Patchy's comments give the theory some legs.
Security System
. Speaking of mysterious things about the Others, this week we finally encountered the "security system" that surrounds their Barracks (which look to be the same "neighborhood" looking place that we saw in the first scene of the season). It's hard to say what technically happened to Patchy when he was pushed between the pillars, but it seemed to be some sort of electrocution. The weird thing is that he passed through it before the force started making him foam at the mouth and his ears bleed, yet our Survivors could climb over it, land in the same area as he was "zapped", and be fine. What gives? Was this just an opportunity to show Kate straddle and climb up a tree (which was unbelievably hot, PS), or is there some sort of "technical" explanation – where passing through the plane subjected you to its power "shot you" regardless of where you went next. Our Survivors, climbing over the plane, never got "shot", and could therefore walk freely where Patchy met his demise.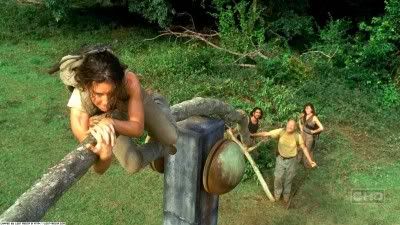 Clearly this sort of technology is quite advanced (a development of the Dharma Initiative scientists, for sure), but it's odd that it was so easily bypassed by our Search Party. You would have to think it would be full of cameras too, right? Watching the perimeter and detecting anyone who came into a close proximity to it? Yet our Search Party seemingly bypassed it and arrived at the Barracks without much incident. Strange.
In fact, when you look at Sayid's electrical map, it shows a tunnel system that goes under the Security System, which is clearly how the Others come and go from the Barracks (and probably Sayid's number one escape strategy once they "rescue" Jack). So when you figure that you can easily go over or under the Security System, it loses some of its thunder, doesn't it? It's almost as if it was designed as a way to keep very simple-minded people or animals from getting through it – anyone with smarts could easily bypass it.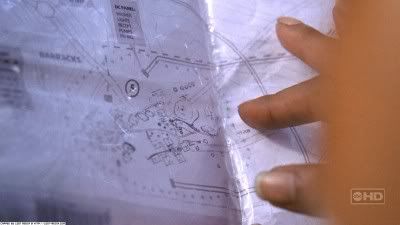 In my mind, this would indicate that when Dharma built the perimeter, they either thought that the Others were not too smart – and what amounts to a big electric fence would keep them at bay… or that the fence isn't intended to keep the Others out. Once again, I think the design of the Security System points towards Dharma building it to keep "Island Savages" out – experiment rejects who walk around the Island barefoot and drag teddy bears in a noose. This was always one of my favorite theories about the Island that has lost a lot of momentum since Season Three started, but I think the Security System once again gives some evidence that there just might be another group on the Island – high on brawn, low on brain – that is the real purpose of the Security System. If you ask me, this would provide a very easy way to have our Survivors "merge" with the Others by having a common enemy. I guess just keep it in the back of your mind for now, since there definitely isn't enough evidence to support it… and there's always the chance that the Security System had to be simple enough for the Search Party to pass in order for the Jack Rescue to continue and we're all just over thinking it.
Locke
. I've really been on the fence with Locke these past two weeks. In my Instant Reactions, I always think he's a bad guy – but then once I have time to rationalize the episode, I start to shift back to thinking he's just a misguided guy. Well, after this episode, I think it's safe to say that Locke clearly has different motives than the rest of the Search Party, and our Survivors in general. They want to rescue Jack and eventually get off the Island. Locke wants to understand the Island and stay there forever. Does that make him a "bad guy"? From the perspective of our Survivors, absolutely.
Does this mean that he intentionally blew up the Flame Hatch by entering 77? I think it's important to think about what we missed from that episode. Clearly, Locke had time to wander around the station on his own (when he stole the C4), so it's safe to assume that there was more to the Marvin Candle message on the computer than simply "If you are under attack from hostiles, enter 77". Perhaps the next message was "station will self-destruct in ten minutes". But regardless of what entering 77 actually accomplished, it definitely feels like Locke was responsible for the explosion in some way. The Flame Station represented a way to communicate with the outside world and potentially get off the Island – and this is something that goes against Locke's goals.
While last week I was willing to forgive his actions as being ignorant about the repercussions, this episode we found that his excuse to Sayid when questioned was "if I knew there was C4 in the basement, I wouldn't have done it" – yet then find out that not only did he know about the C4, but swiped some. Locke knew exactly what he was doing – and I think our "Locke Problem" is going to come to a head in the next few episodes here. If he really is on "Team Island", it will be very obvious once he spends some time at the Barracks… which should be next week!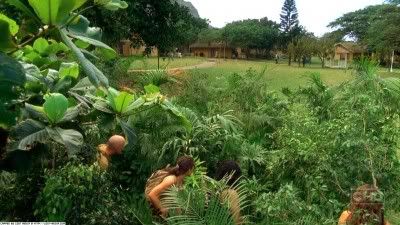 Barracks
. Speaking of the Barracks, did they look like some type of summer camp to anyone else? If you look at the background, we have Others standing around with pool sticks, riding bikes and having a good time. It definitely gives the impression of the Barracks being a sort of "utopia" where everyone is happy and having a good time. You don't see Others' toiling in fields, worrying about Smokey or our Survivors, or guarding their Barracks with guns. It's definitely a side to the Others that we didn't see on Alcatraz, and would seem to indicate that once you succumb to their way of thinking, life is pretty good. Maybe we just happened to catch them during "recreation hours", or are only looking at one area of the Barracks dedicated to "fun", but the Others sure do seem to be loving life on the Island...
Jack
. And that brings us to Jack, who seems to be fully participating in the fun that the Barracks provide. The episode ended with a beautifully shot scene of Jack running towards the Search Party, only to have him make a cut and catch a football at the last minute, revealing he's happily tossing the football with Tom (who, by the way, had potentially the worst throwing motion I've ever seen – clearly he's not a member of the Others' intramural football team) leaving the audience sitting with their jaws dropped in shock. Great, great, scene. So what's up?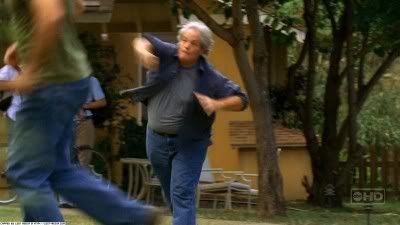 Well, I think you can narrow it down to one of four possibilities, each with varying degrees of likelihood:
Jack is Brainwashed. They subjected Jack to the a "Rave Room" just like Crazy Carl, and now he's a card carrying Other, worshipping Jacob and planting a happy seed with Juliet. It's an easy answer, but it's not likely. In Island time, we're only looking at four or five days passing since we last saw Jack, which doesn't seem like a long enough time to break him down and rebuild him with crazy brainwashing techniques – especially for someone as stubborn and headstrong as Jack. If you think about it, it's not hard to imagine Crazy Carl had been subjected to those techniques for many days or even weeks – and still wasn't changed. It's not likely that it could have changed Jack so fast.
Jack is Drugged. They subjected Jack to the same "Happy Drugs" that they gave to Claire to make her a willing participant in the Others' babynapping hijinx. It would explain the quick turnaround, and the dumb grin that Jack had while tossing the football – but the preview for next week seems to show a Jack that is clear of mind, not a loopy Jack like we saw from Claire when injected with the drugs. Still, it's an easy explanation that could still set the stage for the heartbreaking "I don't know you" scene between Jack and Kate, and a Jack who is reluctant to cooperate with the Search Party.
Jack is Making the Best of What's Around (yes, this – and the last time I wrote it – were intentional DMB references). If you go along with the "Jack has given up on life on the Island" line of thinking, it makes sense. He thinks that Kate has chosen Sawyer over him, and that he has nothing left on the Island worth fighting for. He's basically given up, and just wants to get off the Island and go home. He's tired of being the leader, fighting the good fight, and trying to rescue everyone. He's just looking out for himself, and figures the best way to get off the Island is by playing nice with the Others in hopes that they hold up their end of the bargain and take him back to the rest of the world. It would be a pretty large character shift for Jack, and leave our Survivors with a large "void" in terms of leadership, but keep in mind that Jack was originally supposed to die in the Pilot episode anyways. What better way to "kill him" now than to send him back to the real world, turning his back on the other Survivors? Pretty shocking and powerful TV if you ask me. But I think the most likely scenario is…
Jack is Playing the Others. He's acting like he's given up and joined them and is doing exactly what he's supposed to be doing – but he's really just gathering information and plotting his eventual escape. Really the only problem with this scenario is that the Others seem way too smart to fall for this sort of scheme. Remember the "long con" that Ben played on Sawyer? Even if Jack gets in line and says all the right things, I still don't see the Others giving him a very long leash to wander around their Barracks. However, this would set up a great scene of our Rescue Party finally reaching Jack, and Jack having to tell them (Kate in particular) that he doesn't want to be rescued and doesn't care about them. The emotional impact of the scene would be pretty huge and heartbreaking, and would keep Jack in the role as "strong leader" on the Island. It would also set the stage for the eventual rescue for all of our Survivors, as Jack should figure out what needs to be done in order to get off the Island within the next few episodes. It's my best guess as to the way the writers will take the storyline.