Before we get started this week, there is some serious Blog news that we need to address…

First the good news. I'm finally making my long awaited return to Europe, which I should have taken last year for the World Cup. However, due to all of my friends being lame (and not having the plentiful vacation days that I have), it never happened. Thankfully, this year, it's happening in a big way with a two week European Extravaganza taking me through Edinburgh, York, Bath, London, Paris, Munich, Salzburg, and the happiest place on Earth - Augsburg, Germany.
Why do you care? Well, besides the fact that FOBs (Friends of the Blog) located in any of these fantastic cities need to start sending me Emails offering free places to stay and recommended non-touristy hotspots, it brings us to the bad news.
The trip is happening April 13 - April 29th… right in the middle of our current "nonstop" spring season of Lost. Since I don't intend to spend my trip watching TV or writing about TV (I wouldn't have the means, even if I wanted to), it means I'll be unable to write a Full Analysis of Episode 16, and will be unable to write Previews, Instant Reactions, or Full Analyses of Episodes 17, and 18. That's where you come in.
Since so much of the Blog is about readers commenting and discussing episodes on their own in the comments section, I definitely want that to continue in my absence. However, I think it would only be fair to take it one step further…
Someone is going to get to fully take over Lost and Gone Forever in my absence. Welcome to the first ever "Control the Blog" contest.
Think I'm an idiot and you could write better (and more quickly) about each episode? Want to have thousands of people each day read your crazy thoughts and theories for a while? I'll give some trustworthy individual the ID and Password to access the Blog and post their own episode previews and recaps. You don't have to do it in the same format as I do (although doing it like that would keep it nice and consistent…), but it would allow readers to continue obsessing and over-analyzing even when I'm gone. (Note: this can also serve as a contingency plan in case I ever die.) It's a big responsibility, but also a great opportunity.
If you're interested in taking over, shoot me an Email to
controltheblog@hotmail.com
(yes, I even setup a special Email address for this contest!) telling me why you want it. Nothing too fancy, just why you would be awesome. If I get a lot of responses, maybe we'll have some sort of judging contest or something. The other thing you should address is why I should trust you. Since technically whoever takes over could effectively destroy the Blog in a matter of minutes, it's kinda scary. I'm not sure how to limit the risk here - but if any computer savvy people out there think of anything, let me know.
If no one wants to assume this god-like power, then that's fine too. I can always post "shell" entries for each episode before I leave, and you'll just have to comment under the appropriate entry before and after each episode. It could get confusing, but it would be better than nothing.
So there you go. This could either turn into a horrible Blog experiment or a super successful annual event. We'll see.
Remember, Email me at
controltheblog@hotmail.com
if you're interested. We'll need to make a final decision on all of this before I leave, so I'll set a deadline of April 1st for any entries. That gives you about two weeks to decide if you're up for it.
But enough about me, let's get to the task at hand...
Episode Title
: The Man From Tallahassee
Brian's Deeper Meaning Guess
: Like every week, I started this week's "deeper meaning guess" reading up on the city of Tallahassee, the state capital of Florida. Unfortunately, while very informative (the word "Tallahassee" is Muskogean for "old town" and it's the home of Richard Simmons!) – it gave little insight to anything relative to the current state of the Island or characters on the show.
Instead, this looks to be another week where the episode title comes from something said inside the episode (similar to "Not In Portland"). More specifically, I'd bet the quote comes from inside the flashback. Why?
Well, who could possibly be from Tallahassee on the Island? If we're to believe that most of the Others, sans Juliet (who's from Miami), have lived on the Island for their entire lives, we can pretty much rule them out. Looking at the Survivors featured in this episode (Sayid, Kate, Locke, Jack), based on flashbacks we've already seen none hail from the Orange State. So who does that leave?
Take a look at the guest stars listed below. The one that should immediately jump out at you is Richard Alpert, aka – the guy who recruited Juliet to join "Mittelos" somewhere "not quite in Portland" in the first episode of the Spring Season. His reappearance in the episode means one of two things – either he's on the Island, and now that we're inside the Barracks, we'll run into him… or that he once again appears in a flashback. While the former seems much more likely, the latter offers tantalizing possibilities about Locke's knowledge about and role on the Island pre-crash…
…which brings us to this week's Locke-centric flashback. "The Man from Tallahassee" promises the long-awaited answer to the question of "how did John Locke lose his legs?" Once again, it's somewhat ironic that this is a question that the fans have been begging for since Season One – and yet now that we're about to find out, this is one of the least fascinating parts of the show for me. Sure, I'm curious, but with a number of far more interesting stories happening on the Island at this point, learning how Locke became paralyzed is merely a side-story. The far more intriguing possibility for the episode is that Richard Alpert appears in Locke's flashback.
Think about it. Although up until this point, we've had plenty of characters cross paths in their pre-Island lives, there have only been two that involved non-Flight 815 Survivors (Desmond / Jack / Charlie, and Kelvin / Sayid), and neither are "Others". But the appearance of an Other like Alpert in Locke's flashback would seemingly hint that there was some sort of greater plan in place for at least some of our Survivors, at the very least helping to explain the vast amount of information the Others have about each of our Survivors, and making the "conspiracy theory" geeks start freaking out.
Unfortunately, that would fly in the face of the facts that we've already learned about the crash of Flight 815. The Others were surprised by it. They had to gather information about the Survivors. The crash itself was caused by Desmond following Kelvin out of the Swan Hatch and racing back to enter the Numbers just in time. In the end, while it's still possible that Alpert appears in Locke's flashback (since we've already seen him in Miami, Tallahassee is only a few hours away), I wouldn't bet on his appearance holding any greater meaning for Locke's place on the Island. I think smart money is still on him simply appearing in the Barracks.
But where does that leave us? Like I said, I'm anticipating the episode title to be revealed in a fashion very similar to "Not In Portland" – a throwaway line that might hint at a key scene from the flashback, but nothing that we should be gathering any huge deeper meaning from.
Basically, something Lost creators use to torment me and my "Deeper Meaning" section. Jerks.
Episode Description
: Ben tries to talk Locke out of his destructive plan by offering him some island secrets. Meanwhile, Kate's reunion with Jack does not go off as planned when she discovers he has made a deal with the Others. Guest starring are M.C. Gainey as Mr. Friendly/Tom, Tania Raymonde as Alex, Nestor Carbonell as Richard Alpert, Mira Furlan as Danielle Rousseau, Kevin Tighe as Anthony Cooper, Patrick J. Adams as Peter Talbot, Barbara Baehler as Mrs. Talbot, Don Nahaku as Detective Reed, Marlene Forte as Detective Mason, Stephen Bishop as William Kincaid, Cleo King as government worker and Brian Goodman as Ryan Pryce.
Episode Breakdown
: I'll just say it – this episode has an insane amount of potential. Between the last three episodes, this week, and next week (it's scary, but there are rumblings that next week's Nikki and Paulo-centric episode will shockingly be one of those "change your opinion about everything" episodes and will make us all feel terrible for hating those characters for so long) we might just be in the best stretch of Lost episodes since the first few episodes of Season One.
This week, we have the long awaited reunion of John Locke and Ben (who was Henry Gale the last time the two talked). Ironically, this time Ben is in a wheelchair (the trigger for Locke's flashbacks, anyone?) If you remember, Ben was the person who told Locke that "I came for you", as if he was "chosen" and then proceeded to lie about the repercussions of not pushing the button. Looking back on this conversation now, the scene brings up some pretty interesting questions.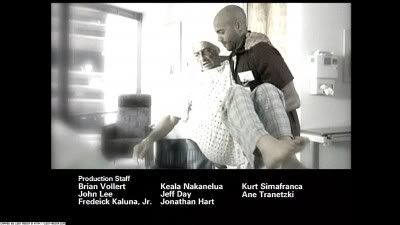 For one, it's pretty clear that Ben was not "sent for Locke", and that Locke is not someone that is on Jacob's list. However, as I said last week, he does seem to be the one remaining Survivor without a questionable past – in fact, he's consistently been the one that was used, abused, and taken advantage of. Maybe this is what makes him "unworthy" of gaining admittance to Otherville – they not only want "good people" spiritually, but also emotionally – and it's clear from Locke's past that he has some serious emotional baggage due to the rough go he's had with life.
What's not as clear is why Ben seemed to be setting up Locke (and the rest of our Survivors) to stop pushing the button and implode the Hatch. Remember, Ben told Locke that he didn't push the button and nothing happened – that it was all a big experiment. This (along with the trip to the Pearl) planted the seed of doubt in Locke's mind about his number-pushing mission. The really weird thing is that we learned earlier this season that the Others (Ben included) didn't know what would happen when the 108 clock expired. When the sky went purple, it knocked out their communication – seemingly catching them off guard and negatively affecting them. So why did Ben want this to happen?
The only explanation I can think of is that while the Others had no idea what pushing the button actually did (which would be surprising, when you think about how much they do know about the Island and the people on it), they knew that it was a product of Dharma experiments, which they were opposed to. However, the ever-cautious Others didn't want to risk their own skin in finding out what happened when the button wasn't pressed – so they decided to send Ben to convince our Survivors to do it on their own. Risky, but it did all work out in the end.
Which brings us back to John confronting the person who rocked his faith in the Island and his importance there… and kinda almost killed him. This is one pissed off John Locke. The preview showed Locke with a gun to Ben's head demanding answers about the Island. The episode description indicates there's some bartering going on – with Ben offering up some of these "Island Secrets" Locke so desperately wants in exchange for Locke calling off his "destructive plan".
What is this "destructive plan"? Based on the last few episodes, smart money is on Locke using the C-4 that he swiped from the Flame to blow up something tied to communications at the Barracks, or the ship / submarine that people could theoretically use to come and go off the Island. This would fit in with Locke's recent rampage of destroying anything that could provide escape off the Island or allow others to reach the Island, as he continues his apparent mission to stay on the Island forever.
The worrisome part here is that the bloody ABC preview also showed an image of John Locke standing in front of an explosion, which would seem to indicate that Locke carries out his "destructive plan" after all. I really hope this doesn't mean that the audience is cheated out of finding out some solid information about the Island due to Locke's wacky Island obsession – if so, I'm going to be pretty furious at his character. Let's hope for Locke just being extra shady and making Ben tell him all this information… then blowing stuff up anyways.
Two weeks ago we learned that the Others have "lived on the Island a long time", much longer than Dharma – so logically you should assume that they have a lot greater knowledge about things innate to the Island… maybe things like Smokey, Funky Time, the Whispers, etc. That really raises the bar for the excitement level for the Locke and Ben confrontation, doesn't it?
The second main storyline of the episode surrounds the Jack and Kate reunion, which clearly doesn't go off as planned. As we rationalized last week, Jack seems to be "playing nice" with the Others in an attempt to gather information that could eventually be used to help his fellow Survivors. Kate entering the fray puts Jack in a difficult situation. If he shows his loyalty towards Kate, it blows his cover and could get both of them thrown back into captivity. If he keeps up his act with the Others, it will crush Kate's fragile heart and potentially get her re-captured or killed… and that, my friends, is good TV.
There will clearly be plenty of excitement, tension, and drama – along with something for the "Kate Hearts Jack 4-EVA" fans out there. It will be interesting to see how far Jack is willing to take this act… or how far he can take it without getting caught. If this was "24", the Others would wisely make Jack shoot Kate to prove his allegiance… but since this isn't, I doubt things will escalate that high. Still, here's hoping for some insight towards Jack plan… or the revelation that my assumption was wrong and Jack is actually just out for himself and getting off the Island (not likely – but it would be pretty jaw-dropping and would seriously shakeup the show!)
Who is curiously missing from the Episode Description? Sayid and CFL. It's pretty easy to see how Locke and Kate spend the episode, but what about the other two members of the Search Party? Since Alex is listed as a guest star this episode, I would bank on CFL spending a good bit of the episode watching her daughter from afar… afraid to actually approach her – but just observing her and being all sad. As for Sayid, being the most logical one of the group, I'd look for him to try and gather as much information as possible while at the Barracks – information about the Others, the Island, and searching for access to the tunnel system that is their ticket out of the Barracks once Jack is rescued.
That only leaves one more thing… the flashback.
I would be a terrible Blogger if I didn't harbor some sort of guess as to the cause of John Locke's paralysis. Noting the guest starring characters, Anthony Cooper once again is in the episode – Locke's sketchy biological father (who previously has used him to get a kidney, indirectly ruined his potential marriage, and dragged him into a con) is making a reappearance. Who wants to bet that he is in some way responsible for Locke's loss of his legs? A con gone wrong? A former associate looking for revenge? Running over Locke with a car? Who knows, but what better way to increase our sympathy for Locke and add another example to the "every Survivor has a terrible father" column than to have his father once again hose him? Meanwhile, on the Island we'll see the stark contrast between "poor helpless pre-Island Locke" with the headstrong, plotting, potentially evil Island Locke. Don't let him trick you into feeling sympathetic!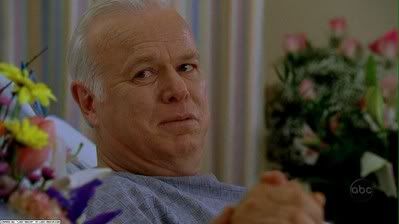 That's all for this week. Something tells me we're going to have an insane amount of analysis to do after this episode… I better rest up.