I remember back to the Season One finale, when it ended with Locke and Jack peering down the Hatch, but not revealing what was actually inside of it. I remember thinking, "Wow, we're really on the threshold here of defining what this series is actually
going to be about
- it's no wonder that they didn't want to actually show what was inside, since it could potentially disenfranchise a huge portion of the audience." You see, up until that point, Lost could have been about whatever you wanted it to be about. There theories that it was a "religious" show about redemption with people living in Purgatory, a "land of the lost" show with Dinosaurs lurking in the background, a "government conspiracy" show about people who were actually test subjects in crazy experiments, or any number of other theories that you could make strong arguments for. The main thing was, Season One of Lost was everything to everyone. The writers were careful to hint at things without ever fully showing their hand - which I think is part of why the show became so popular. In Season Two, we began to finally start seeing what the show was
really about
, introducing the Others and the Dharma Initiative as the underlying backbone of the Island mystery - but the writers carefully remained pretty vague about what was really causing all the crazy stuff that happened on the Island. Throughout the season, you could chalk the strange appearances and coincidences on the Island up to anything from fate to a magic Smoke Monster, and pretty much anything else in between.
Where am I going with this rant? Well, the ending of this episode potentially marked one of those moments where we finally get a reveal that knocks a lot of theories out of contention and further reveals what this crazy show called "Lost" is
really
all about. The appearance of Locke's Dad (Anthony Cooper) at the end of the episode could mean that all the visions we've seen thus far are manifestations of Smokey, wishes of people on the Island coming true, or simply evidence at the unbelievable power and reach of the Others. I don't know how to put this, but it's kinda a big deal.
But there is a lot to discuss about "The Man from Tallahassee" besides the potential show-shifting final scene, so let's start at the beginning. It's a very good place to start. When you read, you begin with A-B-C… so I present to you, my analysis of this episode in alphabetical order:
Alex
. Something tells me that Alex is going to play a pretty critical role as the show goes on. She's always been a bit of a "rebel" within the Others, but could also get away with it by playing the "I'm Ben's daughter" card whenever someone questioned her. We've seen it work to help out Jack, Sawyer, Kate, and Juliet in the past, and I don't see any reason to think it will stop in the future. To add fuel to her rebellious fire, this week she learned from Sayid that her mother is actually alive. You could argue that Alex has no reason to trust Sayid (he's a foreigner!), but she seems like she's already built up a good amount of distrust for her fellow Others (Ben even comments that she kinda hates him), so I'm thinking she believes it.
What does this mean? To Alex, this means that her "dad" has been lying to her for her entire life, which should make her start to question (if she wasn't doing so already) everything else that Ben has told her about her past and even the ongoings on the Island. At the very least, I would expect her to try and sneak in some more conversations with Sayid to get more information from him. Taking it a step farther, she could potentially help our Survivors escape the Barracks, leaving with them to get an alternate perspective on Island life and what's really going on. If you want to get really crazy, how about Alex being the person who brings the Survivors and Others "together" by exposing Ben's lies to the rest of the Others and revealing the truths about the Island to our Survivors? I've always thought that the easiest way to get the two groups unified (which has to eventually happen right? We can't keep this "split screen time" act forever) was to introduce a common enemy to them (The "Experiment Rejects" for example) - but it might be just as easy to unite them with the goal of getting off the Island, now that they're all pretty much trapped there.
Ben.
Which brings us to Ben. One of his many fantastically interesting things Ben revealed this episode was that the sub keeps up the illusion that people can come and go as they please. The key word there of course being "illusion", as if the people can't really use it. We've already learned that Juliet was promised a short trip to the Island and then was forced to stay - but I assumed that she was the exception and not the rule. When you factor in Ben's other line about being "one of the few that was actually born on the Island", you start to view the majority of these Others as a group of people who were brought to the Island for various reasons - and then found themselves unable to leave. Over time, they start to buy into the mission (either voluntarily or through brainwashing) and eventually willingly stay there, going so far as to defend it with their lives. I wonder if, given the chance to leave, how many would actually take it.
It also makes you wonder who else besides Ben is a "native" to the Island, because it would seem that they would be the ones who would be the "higher ups" that have the power to actually use the sub and leave the Island, such as Alpert and Ethan - who we've seen on both the Island and in the "real world". I would wager these are the people that actually know the full story – know what's going on on the Island and understand the importance of keeping it secret. Well, these people and John Locke of course.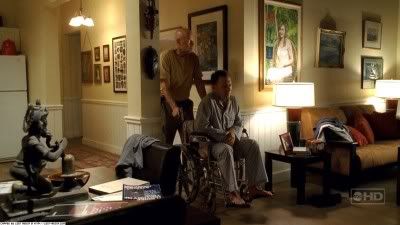 Remember that Ben made a comment to Locke that he "doesn't understand why, but (Locke) has a communion with the Island". It's something I've recently been calling "Team Island", thinking that Locke was "working" for the Island to prevent people from leaving and attack the Others. Now I'm somewhat re-thinking it, because based on Ben's comments he's also a member of "Team Island", and I think all the "native Others" are as well. The way Ben talked to Locke, it was almost as if he understood that Locke shared this spiritual connection with the Island, but didn't understand how an "outsider" could have gained access to it. This connection seems to give the person some sort of "special powers" or enlightenment. Locke is a newbie to this power, and doesn't understand the "why" behind it as Ben does – but he's definitely experiencing the "how". We'll touch on the "Magic Box" later, but potentially only those who enter this "communion" with the Island gain access to its powers.
The important thing is, thanks to Locke, Ben got out of an impossible predicament. As he said, if he didn't let Jack and Juliet go, he would be seen as a liar, and would lose the respect of the Others. If he did let them go, not only would the Submarine be gone forever, but he would be viewed as "helping an inferior person" in escaping from the Island – also losing the respect of his people. Thanks to John Locke, he got "an out" which allows him to keep face with the Others, securing his position of power among them.
CFL
. As for CFL, this episode confirmed for me that she is NOT a part of the Others. The scene with a teary eyed-CFL seeing Alex for the first time from the shadows? That's a sign that she hasn't seen Alex in 16 years – and you have to think that if she was an Other, she would have had the chance to do so… it's not like the Others have multiple cities around the Island (or do they?! I'm just kidding, I don't think they do…) However, still open are theories that she entered some sort of "pact" with the Others, is working with ulterior motives, or is lying about her knowledge about the Island – but as for being an Other, that theory is blown up like an Other Submarine.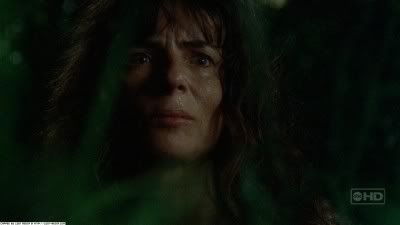 Jack.
What about Jack? Is he an Other now? No – it turns out that with all the theories we had about why Jack was playing nice with the Others, the simplest answer was the correct one. He was playing nice with the Others in order to get a one-way ticket off the Island. However, he retained his "hero" status by confiding in Kate that although he was going to leave the Island, he was going to form a search party and come back to rescue everyone else. Ever-logical Jack realized his freedom was the best chance that EVERYONE had for actually getting off the Island, and he was ready to take it. Unfortunately, along came John Locke to destroy that plan. Two seasons ago, Jack told us we were going to have a "Locke problem", and boy do we ever have one now.
The big question is – what now? Ben seemingly was going to let Jack go (although it certainly is debatable if this really would have happened), but now that the Sub is gone, does Ben let Jack return to the beach with Sayid and Kate? Or does he keep him captive. I think the answer to this hinges on the question of how much Jack actually knows. I'm not going to lie, when Jack started into his "the kids are safe" speech with Kate in the gameroom, I immediately thought "Oh great, he's brainwashed like Cindy" because the two speeches sounded so similar… and both were so void of any real information. However, I think it's safe to assume that Jack was kept in the dark on the majority of "secrets" of the Others – finding out only as much as was absolutely needed for him to spend a few days at the Barracks – and therefore could theoretically be released with the other Survivors. I mean, EVENTUALLY Jack has to return to the beach to have verbal spars with Sawyer and have awkward moments with Claire, right?
But who's to say (what's impossible) that Kate, Sayid, and Locke would even be released? If you remember, Ben's quote was "I'll let your friends go as soon as you leave this Island." We've seen in the past that Ben, while sneaky and conniving, seems to be a man of his word. But with Jack not leaving the Island, he doesn't technically have to release the Search Party. But again, I feel like the writers (and the audience) have had enough of the "Survivors kept prisoner by the Others" storylines, so I would expect a conditional release of Jack, Kate, and Sayid. What about Locke? Well, if he's a member of "Team Island", that puts him in the inner circle of the Others, and I think he would stay. It certainly gives him the "greater purpose" he's been looking for since he arrived at he Island, and Ben seems awfully eager to find out how Locke gained such favor with the Island so quickly. Plus, if Jack got his hands on Locke, he would literally kill him for blowing up the Submarine.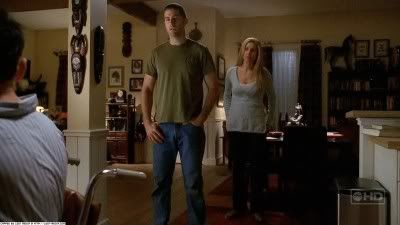 Juliet
. On the other hand, Juliet seems to be in the opposite boat. She's pretty much demonstrated that she hates the Others, is tired of their antics, and just wants to go home. I find it hard to believe she would fall back into the role of a mindless Other following Ben after all she's been through. Also, how could we have the Jack and Juliet potential romance blossom if the two are separated? No way – TV writers love geometric love stories (love triangles, rhombusi, pentagons – things like that). By introducing Juliet to the Jack / Kate / Sawyer mix, it guarantees that they can string along the inevitable Jack and Kate romance for a few more seasons. My money is on Juliet being dishonorably discharged from the Others and leaving with Jack, Kate, and Sayid.
Locke.
I would have never expected John Locke to deliver a comedic line on "Lost", but he surprised me this episode with his "You aren't going to start talking about the Magic Box again, are you?" line to Ben. But this was just one of many insanely interesting conversations between the two characters. Based on Ben's conversations, it seems that John Locke somehow got "instant communion" with the Island once Flight 815 crashed – something that apparently takes years to achieve for outsiders (if ever?) – something that only "native Others" seem to have had in the past. But why? What made John Locke so special? As we saw in his flashbacks, he definitely had the crappiest life up until the plane crash, which might mean the Island just took pity on him – or saw him as a weak personality looking for purpose in life that could easily be convinced to perform the Island deeds.
It almost seems like the Island used to be BFFs with Ben, but has ditched him for the "new guy in town" John Locke. Remember how Locke mentioned to Ben, "you're in the wheelchair and I'm not"? This screams "the Island likes me better than you now". But why? Well, also recall that Locke called Ben a hypocrite for using electricity and guns, whereas Locke is embracing the "au natural" route of Island life. Hunting. Gathering. Living in underground hatches. You know, the usual stuff.
How about this for your crazy theory of the week? Ben and his Native Other cohorts lived in total communion with the Island for centuries, and thus received its favor in terms of protection (Smokey), wishes being granted, and power. The Island liked them because they lived simple lives and ate, drank, and were merry. But then, along came the Dharma Initiative, and introduced our Others to things like electricity, guns, and Dharma beer, among other vices (a very Native Americans being polluted by the White Man sort of theory). Suddenly these Others were no longer living the way that the Island wanted, and it was pissed. It crashed Flight 815 to get some new blood on the Island that could take over, deeming Locke the leader of the group and zapping him with instant communion. Locke doesn't fully understand it, but realizes that he has this power and omniscience over things happening on the Island. The Island is almost telling him what to do and then making it happen – which explains his destructive actions against the Others and anything that could provide escape from the Island. The Island is pissed at the Others and wants them gone… but it also wants to ensure that our Survivors stick around and re-settle the Island. Aaron becomes the first sign of the "next generation", along with baby Sunjin (explaining why she could suddenly conceive – the Island needs babies!).
Absolutely crazy? Yes. But if this is the case, then Ben understands that his communion with the Island is slipping, whereas Locke's seems as strong as ever – making him NEED Locke to keep control over the Others. There was an article in the Los Angeles Times this week which mentioned that Locke (and Locke's Dad) wouldn't be appearing on the show again until near the season finale (boo!). While we should take this with a grain of salt (you can't trust the liberal media), it might also open the door for an insane reveal near the end of the season, as our Survivors again encounter the Others, only to find John Locke their new leader. Tell me that wouldn't make for great TV!
Locke's Dad
. Speaking of great TV, it seems that the folks at Lost have learned their lesson from the Season One finale, where they opened the Hatch but didn't show us what was inside, leading to riots in three US cities and hunger strikes by thousands of Lost fans worldwide (one assumes). Thankfully, this episode showed us what was behind door #1 at the end, what "the Magic Box" created, what John Locke apparently wished for – none other than a bound and gagged Anthony Cooper, his father. We're through the looking glass, people.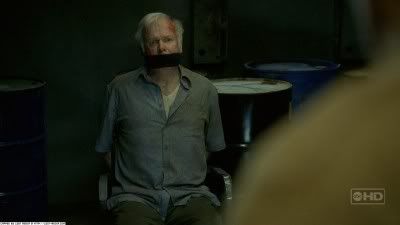 What does it all mean? Well to be honest with you, I haven't decided yet. You might find it hard to believe, but typically when I start writing each post, I have no idea where it's going to take me or what theories will spring up in my head as I write (for example, that crazy one above? No idea where that came from). This is one of those cases. I could easily see Locke's Dad being a product of the Island granting wishes, Smokey, the power of the Others, or just another example of crazy coincidence / fate. So I'm just going to argue each point and see what sounds the best to me in the end. Kids – this is not a recommended method of "proper writing" – don't try this at home…
Anthony Cooper is another crazy example of coincidence and fate on the Island
. It's definitely the "cleanest" of the explanations, albeit the least fun. The detectives in the hospital told Locke that his father "disappeared to Mexico" shortly after throwing him out the window, and then didn't know where he went from there. It's possible he decided to charter a boat on a trip to the South Pacific (far away from the long arm of the law) and ended up crashing on the Island. Hey, it happened to CFL and Desmond, right? What are the odds of that? Not great. What are the odds that the Others would find him and keep him captive for just this moment, knowing his relationship with Locke? Even not greater. But if you are one of those "I hate science fiction stuff and want everything on Lost to be explained very logically", this is a good theory for you. This would also be the theory you would want to apply to Eko's plane, or Jack and Claire ending up on the same plane, and all the crisscrossing characters in flashbacks.
Anthony Cooper is a product of the Others' power and reach around the world
. This is actually a better theory for those "realists" out there than the first – because it takes a lot of the "coincidence" out of everthing… but it also means that the Others are almost Dharma-like in their power and influence around the world, able to kidnap someone and bring them to the Island within the course of a few days (I guess technically they could have taken as long as 80 days) just in case they ever needed them to be a pawn in a psychological game with someone on the Island. Or maybe it's just like Survivor where the Others brought a family member from each of our castaways to the Island just in case they ever needed leverage over them. This would also mean that the Others constructed a fake plane (with fake corpses!) for Eko, set loose a black horse for Kate, and had Charlie's guitar conveniently hanging in the trees for him to find. It works… except that we're supposed to believe that the Others are NOT Dharma (note: in a recent Podcast, Damon and Carlton confirmed that Patchy was telling the truth – the Others are NOT Dharma, but wiped them out in a "purge")… and how would a group of Islanders gain this sort of power? It's a pretty big hole if you ask me (that's what he said?).
Anthony Cooper is a manifestation of Smokey
. You'll notice in the first two theories above I didn't reference Jack's Dad, Hurley's Dave, Boone's Shannon, or Shannon's Walt. It's dangerous to group every weird occurrence together on the Island and try to find a unifying explanation for all of them, because it doesn't have to be that way. For example, I have always chalked up Hurley's Dave to Hurley being crazy – not a product of anything on the Island. Hurley was having visions of his imaginary friend long before he arrived on the Island, so why should we think his visions on the Island are any different? Likewise, I would easily chalk Jack's Dad up to a "dealing with the death of a parent" traumatic hallucination and nothing more. Walt seemed to always have special powers, even the ability to "appear somewhere that he wasn't supposed to be" as Ms. Klugh said, so Shannon seeing him isn't necessarily tied to Smokey. Even Boone's Shannon, that Locke asked "is that what the Island showed you?" could just as easily be tied to the drug-laced goo that Locke smeared on this open wound rather than a manifestation of Smokey.
So when we talk about Smokey, we have to be very careful to throw out these examples and focus on the hard evidence. In my mind, this really just leaves Eko's visions of Yemi as the only hard evidence of Smokey taking on the form of another person. At least, until this episode. In my Instant Reactions, this was the first thing that sprung to mind. Remember that the only two characters that have really had a "face to face" encounter with Smokey are Eko and Locke – and in Eko's encounter we saw Smokey "scanning his memory for images from his past". It's easily rationalized that Smokey would later take on the form of these images (Yemi for Eko, Anthony Cooper for Locke) in order to achieve some goal.
But what is the goal? Well, remember that Eko and Locke both
survived
their encounters with Smokey, whereas the Pilot did not – so there must have been something special about them. They were both religious, they both were unafraid, something. Perhaps Smokey intended for them to both be a part of "Team Island", but needed to "test them" to ensure that their intentions were true and they were "worthy" of gaining access to this great power. Smokey appeared as Yemi to test Eko, to try and get him to repent for his sinful past – and Eko was unwilling to do so, resulting in his demise. Maybe Smokey is now appearing as Locke's Dad in order to test Locke to see if he forgives him, or takes out revenge on him (you can't forget that Eko told Locke, "you're next" – maybe he's the next one to be tested?)
Also, remember those weird red flowers that were around Yemi when he appeared to Smokey (that some have theorized are always around whenever Smokey appears)? Well, check out the flowers that appeared with Cooper in the flashback:
The problem of course is that Yemi appeared and disappeared, was seemingly visible only to Eko, and was in total control. Cooper appears to be very physical, very tied up, and totally out of control (although this could all be part of Smokey's act to see how Locke reacts). It also raises a lot of questions about the relationship between Smokey and the Others that I can't even begin to wrap my head around. Are they working together? Do the Others know that Cooper is actually Smokey? You could make this theory work if you wanted to, but the details would require a lot of explanation down the road.
Anthony Cooper is a product of the Island granting wishes
. Which brings us to the last theory, the most out there, and potentially the most game-changing. Although Ben was clearly speaking in metaphor when he told Locke to imagine a "Magic Box" (since he worked a Box Factory, Ben probably thought this was a concept he could relate to), the underlying message was that the Island can grant the wishes of the worthy.
Here's where you have to ask yourself – is Lost a show about a Time Traveling Scotsman and an Island that grants wishes, or is it a show about people finding redemption through dream sequences and hallucinations that are encouraged by a super-powerful organization on the Island? There's a big difference there.
While I was never a big believer in the "time travel" theories with Desmond, somehow I'm finding myself buying into this theory about the Island making dreams come true. I know the show is rooted in science, and it couldn't possibly explain this – but it would be the lynchpin that holds this show together and explains soooo much. This could be that "secret" that I've referenced that the Others are clearly willing to die in order to protect. This would explain why it's so important to keep the Island a secret. Can you imagine this power falling into the wrong hands? Speaking of the wrong hands, this could explain why the Others only want the "worthy" Survivors to join them. How is Ben able to get the Others to follow his orders? Because he's the magic man that has a communion with the Island, and he's dangling the carrot in front of them that they could have this power as well.
I know, I know – it's crazy talk. But after typing out each of the other possibilities above, it's inexplicably the one that makes the most sense. There are a lot of holes with this theory of course – like it's scientifically impossible, or why wouldn't Locke wish for a scantily clad Helen, or why Ben couldn't just wish his tumor away, etc. But if you believe that Ben and the Others have slowly been falling out of favor with the Island, it would seem to fill in a lot of them.
I can just see the creators never offering a formal explanation about how any of this is possible, and hinting at all the different alternate explanations that adhere to science – but having the "true believers" like Locke simply believing that the Island is magic. Heck, the fraudulent book "The Secret" has been hawking the notion of "believing in something makes it come true" and has been featured on Oprah twice - which is basically the same theory. If all those millions of people who mindlessly follow anything Oprah says believe it, why shouldn't we believe a similar concept on Lost?
As I said in the beginning, I'm not 100% sold on any of these explanations, which makes me beyond excited to find out the truth… but for now, feel free to mock me for coming down on the side of "Island Magic". I know I would.
Oz
. An anonymous poster echoed my thoughts about this below, but it was something my friends and I discussed via Email earlier this week as well, so I wanted to throw it out there for everyone to chew on… I don't think there is a "Jacob".
Instead, I think that Jacob is closer to the Wizard in the Wizard of Oz (another Wizard of Oz reference? Come on!) - that being an imaginary all-powerful figurehead that keeps people in line (an Island god?), but doesn't exist in the flesh and bone. The more we see about the Others, the more convinced I am that Jacob either was one of the original Others, who discovered this "communion" with the Island, or is a fairy-tale figure that is used to convince non-Native Others about the power of the Island.
Throughout all Ben's conversations, he never mentioned fearing Jacob – just that he was afraid of losing power… as if he was the one who was ultimately in charge of all the Others. If Jacob existed, shouldn't he have been saying stuff like "Jacob is going to kill me for letting Jack escape" or "Jacob is going to be very upset that I've lost the faith of my people" – but he wasn't.
Just something to think about…
Submarine
. Lastly, I wanted to address some of the questioning about the submarine that I read in the Comments to the Instant Reactions – sorry to tell you, but it was the submarine that blew up. If you watch the episode closely, you can see the sub still sitting there in the background right before it blows up. Locke didn't move it and then swim back to the dock (even though he was wet – maybe he slipped and fell when getting off the sub?) – the submarine is gone. However, that doesn't mean that the Others are now all stranded on the Island either – remember that fancy ocean liner they took from Alcatraz to the Main Island? That still exists, along with Desmond's sailboat. Maybe the submarine was needed to "escape" the electromagnetic pull of the Island back in the day, but now – post purple sky – I would think that either of these two remaining vessels would provide a way to get back to the real world without having to follow any specific bearing (like Michael and Walt).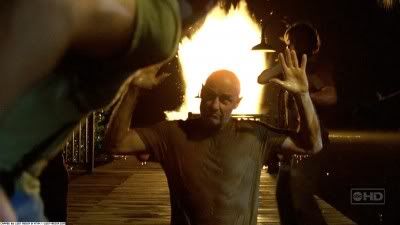 Okay. I'm exhausted. Quick update on the "Control the Blog" Contest and I'm out of here:
I've received a lot of interest, and there are some definite front runners. I think I'll take the advice of many of you and split up duties by episode, giving multiple people the chance to write. I've also gotten some tips on how to setup more of a "message board" structure for the Comments section, which would make it easier to navigate, read, and respond – which I think would be awesome. Due to my lack of technical know-how, I'm relying on FOBs to help make this happen, but it's something to look for in the future that I think is very exciting for the Blog. If anyone has any other suggestions or wants to throw their name in the running to Control the Blog, shoot me an Email at controltheblog@hotmail.com . I'm still not sure how the winners will be selected (again, suggestions for this are also welcome), but I figure I've got another week to figure that out.