(Short and sweet this week – like life in "Two Step" – because Mom, it's my birthday – like in "What Would You Say". Enjoy!)
Episode Title
: Par Avion
Brian's Deeper Meaning Guess
: Ah, the circle of life. Once of the first foreign languages we had to translate as obsessive viewers of Lost was the French radio transmission from the end of the Pilot episode. Since then, we've learned about Korean, Egyptian Hieroglyphics, Chinese Symbols, and Russian in one episode or another – which brings us back to this episode and French.
"Par Avion" is French for "By Air" or "By Airplane" (French scholars, help me out – I rely on freetranslation.com), a simple but surprisingly deep episode title when you consider the context of the show. I mean really, without traveling "by airplane", where would any of our characters be physically or emotionally? The show we know and love wouldn't even exist. But what's that got to do with this particular episode? Focus, Brian, focus!
Given that this episode is Claire-centric, the episode title becomes a little more puzzling. For one – why is the episode title in French? The Claire we know and love (and by love, I mean "tolerate, but would be okay if she died on the show") seemingly was born and bred in the decidedly non-French speaking continent of Australia. So why not simply title this episode "By Airplane"? Or "By Flydinger", as the Australians would say? Is it a way for the show's creators to make it more fancy sounding, thus appealing to a richer demographic? Maybe… but I think we're more likely due for a French Connection (famous old movie pun intended) this episode.
With last week featuring Sayid working as a chef in Paris, I have to think the writers are more creative than to feature a Claire flashback from when she was "studying abroad in France" – but that doesn't rule out Claire spending some time in any of the other 32 French speaking countries of the world.
Or, you could look at the title from the other perspective, with the episode featuring someone from France (or a French speaking country) visiting Claire in Australia (being brought "by airplane", perhaps?) More on the flashbacks later – because I think it gets clearer when you read the Episode Description.
But what about the "By Air" or "By Airplane" part on the Island? I have to admit, it's pretty hot and tempting to imagine that being a reference to the arrival of Penny to the Island, but it doesn't feel like the story is ready for that bombshell at this point, does it? While for the first few episodes of the season, I was begging for it – now I'm much more interested in the Others, the rescue of Jack, and an understanding of their nature. The story seems to be barreling towards resolution, and the introduction of Penny at this point would jolt it right off track. Plus, you can't have Penny show up in a non-Desmond flashback episode, could you?
What about just some random airplane coming to the Island? Well, in a way that's already been done too – we had Yemi's Beechcraft just a season ago. You can't have people constantly crashing into the Island over the course of three months. With that sort of crash-rate, the Island would be crawling with all sorts of random people, which clearly is not the case.
The only thing remaining is someone or something going "by air" FROM the Island. Which ties in nicely with…
Episode Description
: Charlie exhibits peculiar behavior when Claire has an idea that could get everyone rescued; tensions mount between Sayid and Locke as they continue their journey to rescue Jack. Guest starring are John Terry as Christian Shephard, M.C. Gainey as Mr. Friendly/Tom, Mira Furlan as Danielle Rousseau, Andrew Divoff as Mikhail, Gabrielle Fitzpatrick as Lindsey, Julian Barnes as Dr. Woodruff, Rhett Biles as Officer Barnes, Danan Pere as ER doctor, Anne Elizabeth Logan as head nurse and John Medlen as man at crash site.
Episode Breakdown
: This is one of the more straightforward episode descriptions of the spring season. There's really only two major concepts:
First, we have Charlie exhibiting peculiar behavior when Claire has an idea that could get everyone rescued. Why would Charlie be opposed to getting rescued? Is he becoming Locke-like in his desire to remain on the Island, where he is free from his former drug addiction and Claire has no other potential guys to hook up with, thus increasing his odds? It's a thought – but the real answer is going to be much simpler.
Desmond is going to tell Charlie that participating in Claire's plan to escape will result in him dying. Charlie, who broke out of his funk two weeks ago with Hurley in the Van, still isn't likely to be participating in risky actions on the Island, just in case. All it would take is a simple warning from Desmond for Charlie to stay a hundred feet away from Claire – which coincidentally will provide some great dramatic and romantic tension between the two former lovers, a very smart writing choice.
As for Claire having an idea of getting everyone rescued – it's about time! How long have we been complaining about our Survivors being so complacent on the Island that it doesn't even seem like they're trying to get off of it anymore? It doesn't seem like anyone has attempted an escape since the Raft at the end of Season One! So what is Claire's new, brilliant idea that is going to get everyone rescued?
How much do you want to bet it involves doing something "By Air"?
We've seen that "By Water" didn't really work for Michael, Walt, Sawyer, and Jin – so "By Air" seems like the next most logical choice. The only problem is – how in the world are our Survivors going to escape by air? They clearly lack the technology to manufacture a flying machine – and even repairing the Beechcraft or Hot Air Balloon is an impossible mission with their lack of fuel.
My next inclination would be some sort of kite-structure, but didn't we just see that storyline three weeks ago in Jack's flashback? Again, it would be too much of a rehash… and I really don't know how flying a kite could rescue everyone.
So what's left? What else flies besides planes, balloons, and kites? All I can think of is "birds" – but we all know how noticeably absent birds have been on the Island thus far (with the exception of the giant, freaky "Hurleybird", of course). Still, this idea seems to be the most logical, the one that most fits with Claire's easy-going personality, and the only one that has a chance in hell of working.
Hypothetically, if Claire were to find a nest of birds (or the Others' Bird Sanctuary hidden somewhere on the Island), it would be possible to attach some note to them in hopes that they would someday find their way back to the rest of the world, where someone could potentially see a bird with a note, catch them, read the note, and rescue everyone.
Granted, there are a LOT of holes in that plan. Starting with, how are you going to catch a bird? They can fly and people can't – it's nearly impossible. Even if you do, what are you going to put on the note? "We're stuck on an Island in the middle of nowhere – come get us"? That doesn't help. Who's to say the birds will even leave the Island? Or that someone on the mainland will also possess the cat-like reflexes to catch a bird, read a note, and put a plan in action? Maybe creating fuel for the Hot Air Balloon
would
be the easier plan…
The second main concept involves tensions mounting between Sayid and Locke, probably as a direct result of last week's explosive ending. It's clear that Sayid blames Locke for the loss of a good amount of Dharma Data ("What have you done, John?") and will likely start questioning the motives of Locke in their quest to rescue Jack. Is he really in it to save Jack? Or (more likely), is he in it to discover more about the Island and try and find another "purpose" there with the Others? Locke may have been able to trick Jack into going along with his "greater mission" Number pushing inside the Swan Hatch – but something tells me that Sayid isn't going to fall for a similar story. God (Allah) bless Sayid and his questioning of those around him. Here's hoping he keeps up the logic, which keeps the answers coming for we, the viewer!
That brings us to the guest stars – which, this week, is probably the most intriguing part of the episode description. Why? Two words:
Christian Shephard. That should immediately raise a red flag for the Lost theorists among us. Remember last season's "Two for the Road", where we saw Ana-Lucia accompany Jack's Dad on a trip to Australia where he drunkenly knocked on some lady's door and demanded to see his daughter? Remember again that this is a Claire flashback episode. Do the math.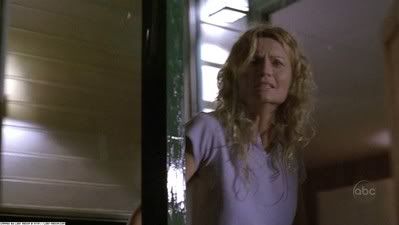 I'll wait for you.
Get there faster.
Bingo. Factor in that the never-to-be-trusted ABC promo hints that "an unknown connection between two Survivors will be revealed" and I think it's almost too obvious.
Claire and Jack are brother and illegitimate sister
. People have been speculating about this since last season, and it looks like it's going to end up being true.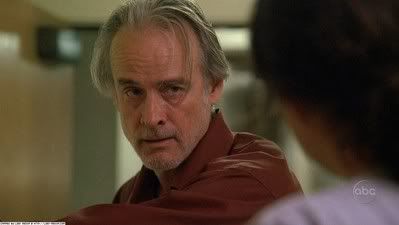 I'm actually not a big fan of this development. Sure, the interconnectivity of all the Survivors is entertaining in a "we're all connected" sort of way – but to have a brother and sister who don't know about each other end up as two of the forty-two Survivors of a plane crash feels a little too cheesy, soap opera-y… or Star Wars-y. Something about it doesn't sit right with me. But the good news is, short of the Others coming out and telling Jack or Claire about it (since they seem to know everything about everyone on the Island anyways), there is almost no way the two characters will ever put this together. That means we'll be spared the sappy reunion, telling childhood tales, and comparing "How Dad Ruined My Life" stories.
But when you factor in this little nugget of detail, the "By Air" storyline in the flashback gains another wrinkle. Can't you just picture a young Claire asking her mother who her father is and learning that he came "par avion" to Australia long ago, but then disappeared out of her life? We'll have a young Claire growing up dreaming about her mystery father who quickly flew in and out of her life via airplane – giving us ample opportunity for airplane symbolism and Oceanic Air symbols in the background. Sounds good to me.
The other thing that sounds good to me? This episode looks to bring the search party right up to the Others' doorstep, since we see that Tom is listed as a guest star. Next week figures to be the big reunion / clash of Sayid, Locke, Kate, Jack, Juliet, Ben, and the Others – which I have to admit, makes me more excited than anything that has happened on any other television show this season.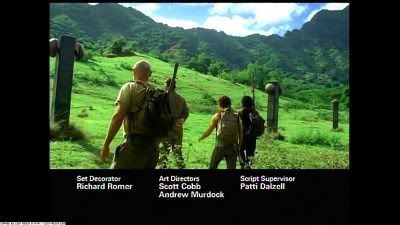 …and thus is the power of Lost. Is this week's episode going to be a "Blow You Away" episode like last week? Probably not. But it does look to keep the momentum of the main storyline going, setting us up for what promises to be an insanely huge episode next week.
Apprécier!