Episode Title: "The Little Prince"
Brian's Deeper Meaning Guess: Unlike the first three episodes of the season, which featured either really obvious episode titles ("Because You Left") or ones that were impossible to figure out beforehand ("Jughead"), this week brings us one that requires a little bit of research and thinking. Apparently, "The Little Prince" is the name of a pretty famous children's book published in 1943 by Antoine de Saint-Exupery. At first I thought I could just quickly read a summary of this book and find some easy references to the current storylines and characters on Lost – but what I found is that "The Little Prince" is one trippy and symbolism heavy little book. Seriously, try to read the Wikipedia entry and not be totally confused by it: http://en.wikipedia.org/wiki/The_Little_Prince
Here's the storyline in a nutshell:
The narrator, an airplane pilot, crashes in the Sahara desert. There he meets the little prince, a very serious little blond boy from a small planet that he took great care of - preventing any bad seeds from growing and making sure it was never overrun by baobab trees. One day, a rose sprouted on the planet and the little prince fell in love with it. But when he caught the rose in a lie one day, he decided that he could not trust her anymore and set out to explore other planets and cure his loneliness.
While journeying, the little prince passes by neighboring asteroids and encounters the strange, narrow-minded world of grown-ups, meeting a king, a vain man, a drunkard, a businessman, a lamplighter, and a geographer, all of whom live alone and are overly consumed by their chosen occupations. He learns from the geographer that flowers do not last forever, and he begins to miss the rose he has left behind.
At the geographer's suggestion, the little prince visits Earth, landing in the middle of the desert and meeting a snake who speaks in riddles and hints darkly that its lethal poison can send the little prince back to the heavens if he so wishes. The little prince ignores the offer and continues his explorations, eventually finding a rose garden, which surprises and depresses him—his rose had told him that she was the only one of her kind.
The prince befriends a fox, who teaches him that the important things in life are visible only to the heart, that his time away from the rose makes the rose more special to him, and that love makes a person responsible for the beings that one loves. The little prince realizes that, even though there are many roses, his love for his rose makes her unique and that he is therefore responsible for her.
Eventually, the narrator and the prince set off to find a well, feeding their hearts as much as their bodies, and the two share a moment of bliss as they agree that too many people do not see what is truly important in life. The little prince's mind, however, is fixed on returning to his rose, and agrees to let the snake bite him. The narrator takes comfort when he cannot find the prince's body the next day and is confident that the prince has returned to his asteroid. The narrator is also comforted by the stars, in which he now hears the tinkling of his friend's laughter, concluding by showing a drawing of the desert landscape where he met the prince, asking us that if we are ever in the area let him know the little prince has returned.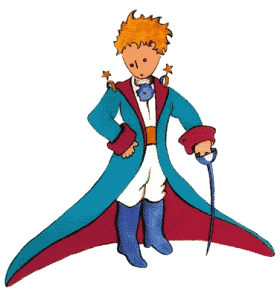 Pretty dense for a children's book, right?
There are a number of things we can pull out of this story and apply to Lost. When I first saw the episode title, before I even knew it was a book, I thought of Aaron. He's the closest character in appearance to a "little prince" on the show – and I think the symbolism from the book easily applies to him. Here we have a person from a small planet (born on the Island), who leaves it but then longs for the love he left behind (Claire?). In addition, considering that there is a chance that Aaron is some sort of "chosen one" on the Island, the "prince" moniker would fit.
But the more I thought about it, the more I like to think the real "little prince" on Lost is John Locke.
Here we have a character who leaves "his planet" (the Island) to visit a number of "grown-ups" that he views as narrow-minded or foolish for leaving the Island in the first place (the Oceanic Six). Locke longs to return to his love left behind (the Island), but finds that the only way to do this is to die, which is exactly what Alpert (the Snake) told him last episode!
Plus, the overall themes of the book seem to fall in line with Locke's point of view. The most important things in life aren't always able to be seen with the eyes (the whole science vs. faith argument we've seen between him and Jack from the start) and loving something means that you are responsible it (putting the Island ahead of yourself to take care of and protect it).
Deep enough for me!
Episode Description: Kate discovers that someone knows the secret of Aaron's true parental lineage. Meanwhile, the dramatic shifts through time are placing the lives of the remaining island survivors in extreme peril.
Guest Stars: Rebecca Mader as Charlotte Lewis, Susan Duerden as Carole Littleton, Tom Irwin as Dan Norton, William Blanchett as Aaron, Emerson Brooks as Tony, Stephanie Niznik as Dr. Evelyn Ariza, Melissa Farman as young Frenchwoman, Guillaume Dabinpons as Frenchman #1, Marc Menard as Frenchman #2, Bruno Bruni as Frenchman #3 and Ane Tranetzki as bellman.
Guest Star Breakdown: Isn't it weird that Charlotte is listed as a guest star, whereas Faraday and Miles are not? Could this mean that she is going to die sooner rather than later, making her a "guest star" this season as opposed to a "regular star"? Just a thought.
The other two familiar guest stars are Carole Littleton – better known as Claire's Mom or Aaron's Grandma – and Dan Norton – better known as "that lawyer guy who wanted a blood sample from Kate and Aaron in the season premiere." Up first is Carole. While reading over the Lostpedia entry on her character, it reminded me of one very curious point – she was in a coma before Oceanic 815 left Sydney in September 2004 – gone to the point where Christian Shephard, a medical professional, recommended to Claire that she pull the plug on her and let her die. Yet, she was alive and well at Christian Shephard's funeral in July 2005, less than one year later. I know that people miraculously snap out of comas from time to time, but this seemed like a pretty convenient (and the only way) for Jack to realize that he was related to Claire.
Now, it appears as though Carole is back to drive another plot. Although we all assumed that either Ben or Widmore were behind the lawyers showing up on Kate's doorstep, there's a chance it's really Carole Littleton hiring them in an effort to claim her grandson. Of course, this would mean that someone else would have tipped her off about Aaron's true identity, since I can't come up with any reasonable way that she could have put it all together on her own. But wouldn't that be EXACTLY how someone like Benjamin Linus would do it? Rather than have questions raised as to why he is asking about Aaron, or who Aaron is, find a pawn (Carole), feed them a little anonymous information, and let it play out exactly according to plan. Smart.
You'll notice the majority of remaining guest stars are different types of French people – and of course, when you think of French people on Lost, most people instantly go to the Crazy French Lady (CFL), who some people also call "Rousseau" for some unknown reason. From the episode preview, it's pretty clear that our Survivors are going to skip to 2004 this week (more on that later), but is it possible that our Survivors are also going to "skip" back to around 1988 in this episode and encounter CFL and her crew?
To refresh our memories, CFL claims that she was part of a six-person science expedition that crashed on the Island in 1988. Allegedly, after putting a distress signal on the radio tower, her crew came in contact with the Others which made them "sick", forcing CFL to kill them all. There are still tons of huge question marks surrounding CFL. For one, she claimed to have never seen the Others, only hearing them whispering – which is funny since our Survivors barely made it a month on the Island before having numerous confrontations with them. We've also seen no signs of anyone else developing this "sickness", even though there were a few storylines surrounding vaccines and quarantines on the Island. CFL also rationalized killing her comrades by saying "I had no choice. They were already lost. What would have happened if we were rescued? I couldn't let that happen. I won't.", even though we've seen no issues with any other characters coming and going to the Island (aside from the ruined lives and massive depressions).
On any other show, I'd be tempted to chalk this up to "storylines that got dropped" – but it would seem odd for Lost to have a character who said and did so many things that contradicted so many other storylines on the show. And as I've mentioned in prior analyses, we might just have to chalk these inconsistencies up to the fact that CFL is, well, crazy.
But maybe we'll find out for sure this week.
Even if CFL is crazy, I have to think the writers would give us a chance to learn the real story – and what better way to do it than having our Survivors skip back in time to when CFL and crew first arrived on the Island? If that is the case, then the "Young Frenchwoman" in the guest list may be none other than CFL herself: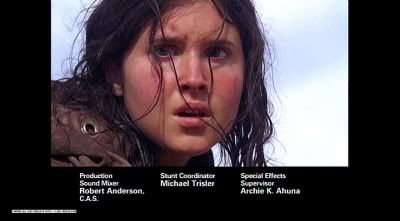 Admittedly, they seem to have different colored hair and eyes, but this was 16 years ago – so we can cut them a little slack with the casting. The character in the preview also looks a bit "bigger" than CFL – but if she's pregnant that could easily explain the extra weight... or the fact that CFL has probably been eating nuts and berries for the past 16 years to survive, which is probably a pretty good diet for weight loss.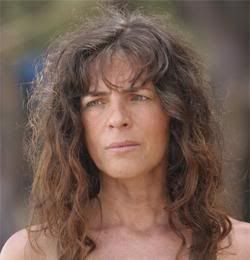 It's just too exciting of a potential storyline to pass up, isn't it? With CFL dead, this might be our last chance to learn her story, so I'm keeping my fingers crossed.
One last note: Is it just coincidence that the skips we've seen coincide with periods of time that strangers arrived on the Island? So far, we've seen 1954 (when the US military arrived), the 1990's (when Yemi's plane arrived), and 2004 (when Oceanic 815 arrived). If they also skip back to 1988 (when CFL's crew arrived), maybe there is something about "foreign visitors" that ties into the skipping phenomenon… or maybe that's the only way to provide a frame of reference to the viewer as to when the Skipping Survivors are – or it just makes it more exciting than them just skipping around and observing how much the surrounding plants have grown.
Episode Breakdown: I think we've already discussed Kate discovering that someone knows the secret of Aaron's true parental lineage with our Carole Littleton discussion, but I'll mention again that this seems to be the perfect way to drive Kate to actually want to return to the Island with Jack… and maybe the only way. Clearly she still hates John Locke, I can't imagine she would be friendly to Ben, and Jack broke her heart. Although she's friendly with Sayid, Hurley, and Sun – one is a self-loathing assassin, one is a crazy person, and one reminds her that she sorta was responsible for her husband being killed in their escape from the Island. Not a lot of strong relationships to tie Kate to the group.
Meanwhile, back on the Island (which is the far more interesting storyline for me); the dramatic shifts through time are placing the lives of the remaining island survivors in extreme peril. The key word here? SURVIVORS. Does this mean the Charlotte Nosebleed is spreading to the rest of our Skipping Survivors? Or is this simply a reference to the odds that they won't be able to sweet talk their way out of confrontations with the Others for long, which may lead to a flaming arrow through the heart? Or could it be a reference to the Back to the Future "you can't run into yourself when you time travel or else you'll cease to exist" danger that is present once they skip to 2004?
They're all legitimate theories, but based on this shot from the preview, I'm going to lean towards the last option. It looks like Juliet, Charlotte (who isn't dead yet, apparently), and Faraday (among others) are using a canoe to paddle away from the Island. All seem well enough to be paddling (read: not facedown on the ground with blood pouring out of their noses). But where are they headed? I think there are two choices:
1. If you remember during "The Lie", Juliet wanted to take the raft and head to a shipping lane, which Daniel immediately disagreed with, saying he needed to calculate a new bearing, and that in order to do that, he needed to determine where they are in time. This reminds us that it's still really important what bearing you use to enter or leave the Island, but also seems to hint that there is a mathematical formula to figure it out, once you determine the current date – interesting.
Luckily for them, if they skip to a time period and run into their fellow Survivors from Oceanic Flight 815, they'll know precisely when they are – which would allow them to hop on board a canoe and paddle off the Island… sure, they'll be a few months in time behind where they are supposed to be, but it would be an easy "out" to their current situation.
2. They are heading to Alcatraz / The Hydra / The Secondary Island / Did We Ever Decide on an Official Name For It?
There are numerous reasons to head there, even if it isn't out of fear of running into yourself. There could be supplies there, or it could just be a safe haven that the Others didn't frequent until after the Dharma years – which would keep our Skipping Survivors safe for a while – maybe until they can determine how to stop the skipping.
This sounds like the more logical option – but I'm guessing they run into some sort of obstacle that sends them back to the Island in the end. Let's face it, that's where the action is, that's where the Orchid is, and that's where they need to be if they're going to find any resolution to their current predicament.
Which reminds me – where the hell are Rose and Bernard, and whatever random Survivors are left with them during all this? Just laying low in the jungle each time they skip? Are they already dead? A reference to these characters this week would be nice!
Finally, let's refresh our memories about what happened during the timeframe that we appear to be revisiting this week – Monday, November 1st, 2004 (courtesy of Lostpedia's amazing timeline!):
Locke and Boone find the Beechcraft.
Boone speaks to Bernard and the other tailies via the radio in the Beechcraft just before the plane crashes to the ground.
Ana Lucia believes Boone is one of the Others and shuts off the radio.
Eko breaks his silence to comfort Ana Lucia.
Locke carries Boone back to the caves, tells Jack that Boone fell off a cliff, then goes to bang on the Hatch in despair.
Desmond contemplates suicide and discovers Penelope's letter inside his Our Mutual Friend. He hears Locke banging on the Hatch and he shines a light up the shaft to investigate. The light inspires Locke, and Desmond realises the outside world hasn't been destroyed (by the system failure).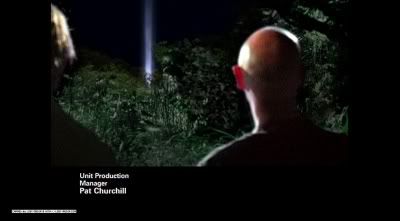 Jin's failure to score a putt on the golf course causes him to break down about the lack of communication and his unfortunate luck on the Island to a baffled Hurley and Michael.
Jack fails to save Boone's life, and realizes Locke lied about the cause of Boone's injuries.
Claire gives birth to Aaron.
Final thought – remember how Damon and Carlton told us that although Claire wouldn't be a series regular in Season Five, we would "see her". This might be the only time that happens, and ironically it might just be re-acting a scene we already know from a different camera angle: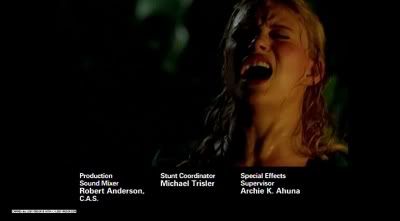 Happy Losting!