Brian's Official Review
: Decent setup episode. Probably the only Rose-Bernard flashback we'll see, since they pretty much told their story from start to finish, and we know why their motives are going to be "stay on the Island" from now on. The reappearance of Michael felt a bit too similar to Claire's reappearance, but should finally kick the show into gear. Someone mentioned that the last few episodes of this season are more "action-oriented" than any we've seen so far. If that's the case, this should be the last "slow" episode of the year.
But as always on Lost, regardless of how little actually happened, there was still plenty to discuss…
Others!

Check out the picture. There are lots of them!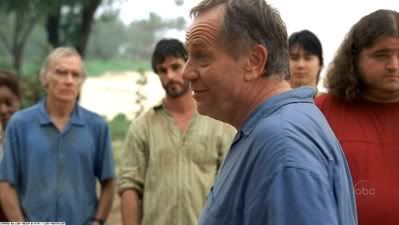 No, not "Others" in the traditional sense of "non-Survivors of Flight 815", but in terms of "the other 20ish Survivors of Flight 815 who we NEVER SEE OR HEAR FROM". Last season, I mentioned how I thought it would be cool to see some of these people come to the foreground this year, (theoretically providing new flashbacks, new interactions, and replacing "Front Line" Survivors who I assumed would be dying).
But that hasn't been the case. Instead we got the Tailers to provide fresh faces and stories to the existing cast. While I was happy to see at least some reference to them being on the Island this week, I've come to accept that they're just going to be bodies for the remainder of the show's life. Actually, if this "war" with the Others ever happens, who wants to bet that these guys are going to be the first to die, while our Front Line Survivors somehow all survive?
(It's just like when Jack Bauer goes on a mission with two random CTU agents… we all know only Jack is coming out alive.)
Fools.
One of the episode's strongest themes was that of "Fools and Fool's Errands." Rose referred to Bernard as being a fool, and his mission to get her cured was a fool's errand (meaning a fruitless or pointless mission). You could easily apply this theme to a few other activities happening on the Island, namely Locke entering the Numbers in the Hatch.
After his talk with Rose, Locke seems to come the decision that he needs to stop entering the Numbers, another "fool's errand". It's interesting that after Jack, Michael, and most of the other Survivors tried to convince him not to enter them – and even after HGI told him they do nothing, he still wasn't convinced. But when Rose talks to him, he changes his ways. Why?
Magic.
Locke has finally found someone else on the Island who shares his "love" for it, who thinks it's a beautiful place, because Rose has also been "healed by it". Sharing this common bond, Locke seems to have found some sort of peace with himself, knowing that he doesn't need to enter the Numbers to have a "purpose" on the Island. Instead, just being there and getting a new chance for life seem to be enough. Good enough for Rose, good enough for Locke.
So what's the key to the magic healing power of the Island? Do the Others have magic powers? Not likely. More and more, it's looking like it's simply "fun with magnets."
Bernard was trying to heal Rose by taking her to Uluru – the healing, spiritual place of the Aboriginal people of Australia. It's a sacred place for them religiously. Scientifically, this place has unique magnetic properties due to the enormous raised piece of earth (that actually is a huge long rock that descends deep into the Earth – which I guess gives you weird magnetic properties?).
It's interesting that Issac (the healer) said that he couldn't help her. More specifically, he said that "this place" couldn't help her, as if she could still be cured by magnetic powers… but not this one.
We've already seen that there is some sort of powerful magnet inside the Swan Hatch that is sealed off, yet still strong enough to attract a key hanging from Jack's neck.
As Rachel brought up in the Comments section, there seems to be some limitation to the power of the magnet. It gave Locke his ability to walk, it cured Rose's cancer, it made Jin fertile (maybe – still not sold on this one) – but it didn't cure Boone when he fell in Eko's plane, Shannon when she was shot, or the Warden's injuries.
I guess it makes sense. I'm no doctor (or am I, beth?!) but you could imagine that the radiation / magnetism of the Island could break up Rose's cancerous cells, wake up Jin's swimmers, and jostle Locke's spinal electrons back into place – but it couldn't heal a hole in Shannon or broken leg on Boone.
One thing that doesn't make sense is Locke's apparent healing ability. Remember last year when a piece of shrapnel shot into his leg, and he didn't feel it? Later in the episode, he touched the fire with his leg to a similar non-result. But when the Blast Doors fell on him, he clearly felt the pain. What's the difference between the two? Were his leg nerves damaged in his accident, causing him to feel no pain at first – but now are healing so he can feel again? Or is it just sloppy writing?
Evil.
If we weren't sure before, we really should be now. HGI is pure, unadulterated EVIL. I mean, look at this picture!
But again, here's the big question:
What's his goal?
If his goal is to keep the Survivors entering the Numbers and continuing the experiment, why convince the biggest Numbers believer that entering them does nothing? Nope.
If his goal is to stop the Survivors from entering the Numbers, he certainly helped his cause, and we should believe him when he says he actually didn't enter the Numbers when Locke when stuck under the Blast Doors. But then why the evil smile? Why make the comments about "if I were an Other, I would give Ana-Lucia a fake map and lead her into a trap." Maybe.
If his goal is to create havoc, he's certainly doing it. Bingo. Here's my newest take:
As I've said before, the Others are outnumbered. The Others are a bit afraid of our Survivors. The only advantage they hold over the Survivors is knowledge of the Island, the experiments, and what's going on. Knowledge is power. HGI was sent to cause some havoc, create some rifts among our Survivors, and do a little "divide and conquer"… and he's doing just that. He intentionally let himself get caught in CFL's net, has already created tension between Jack and Locke, and now is twisting the knife a bit more with the Numbers.
This face is the face of evil happiness, knowing that your plan has succeeded.
So now what? Does he stick around to cause more ruckus, or plan his escape?

Trap.
Speaking of CFL, how creepy was her trap that Jack and Kate got caught in?
Seemingly, this is a trap that was set long ago, using a baby doll as bait to try and "catch" Alex and get her back once she was stolen by the Others. But this brings up the question of - Why wouldn't Alex come voluntarily back?
If we are to assume she was somehow drugged / brainwashed (a la Claire… and Michael – but more on that later), it would make sense.
But the girl we saw help free Claire from the Medical Hatch was clearly working against the Dharmites. Does that mean they were no longer brainwashing / drugging her? Or did she become wise to their methods and somehow outsmart them to gain her mental freedom again?
Perhaps this is the distinction between the By the Book Dharmites and the Rebel Dharmites – the Rebel Dharmites have had their eyes opened by ceasing to take the 4815162342 medicine (that we saw with Desmond and again in the Medical Hatch). This furthers the argument that the Rebel Dharmites are the ones who made the Blast Door drawing, which states "The disease worsens with the treatment. The remedy is worse than the disease."
It's all coming together.
Kiss the Girl.
Seriously, that was hot. It's curious that the writers are teasing Kate and Jack as a couple again. But what are their chances of lasting? Let's compare some other TV couples that seemed destined to be:
Dawson and Joey: didn't end up together
Corey and Topanga: ended up together
Kevin and Winnie: didn't end up together
Ross and Rachel: ended up together
Buffy and Angel: didn't end up together
Sydney and Vaughn: to be determined
So the track record is spotty at best. It's a common TV writer trick to constantly break up and make up your most popular couples because it makes for good TV. So are jerk TV writers just jerking us around? Actually in this case, it makes sense from a storytelling point of view. Let's psycho-analyze how the Jack/Kate romance is coming up again:

During "What Kate Did", Kate symbolically chose Sawyer, giving in to her "dark side". Things seemed pretty clear cut. We would have Kate/Sawyer and Ana-Lucia/Jack. But then things changed. As a response to Kate being all girly with him (cutting his hair, making him miss football games, etc.), Sawyer got tough (conning everyone out of the guns). Then Jack started standing up to people (Locke, Sawyer), and then symbolically beat Sawyer in a game of Poker (a man's game). Kate, as an observer to all these events, suddenly sees Jack as the up-and-comer tough guy among the Survivors, and Sawyer as being a loner and jerk.

Therefore, she's suddenly thinking Jack might be the horse to bet on. He's got the dreamy leadership quality, a touch of "tough guy", standing up to other people, and he probably is a more stable person to attach yourself to when on a crazy deserted Island.

(There are also those pesky rumors about Michelle Rodriguez being booted off the show she's apparently quite the trouble maker in Hawaii. We can't leave our dramatic lead without some sort of love interest!)


Creepy.

Did the Isaac of Uluru scene strike anyone else as a bit odd?

To me, this isn't the face of "I can't help you, sorry", but "I can see what's going to happen to you and it freaks the hell out of me."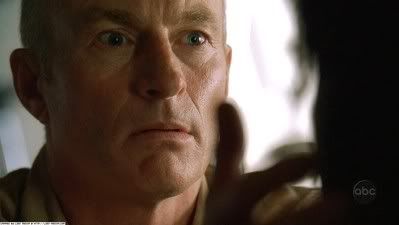 It just really reminded me of Claire's visit to the psychic where he was like "You must raise the child" and then put her on the doomed Flight 815.

So either psychics in Australia are for real, and can see the future (but then why wouldn't he warn Rose about 815 going down?), or there's something innately bad / scary / different about the overall aura of both Claire and Rose (and possibly all of our Survivors) that made the psychics freak out.

Since the show began, I've had the feeling that everyone on the Island was somehow "hand picked" to be there – but what? Are they "chosen ones" that were meant to end up on that Island? It's an intriguing thought, one I've had since the show began. I still have nothing even close to semi-scientific means (as everything on the show will allegedly be explained by) of putting a logical theory together, but this is another small action that just strengthens my feeling that there is something that identified our Survivors out of everyone else in the world, something that put them on that plane and brought them to the Island – on purpose.



Rolla on the River.

If you're anything like me, as soon as you saw jotting down his recollection of the Blast Door image, the first thing you thought was "What was he writing on?! It must be a clue!"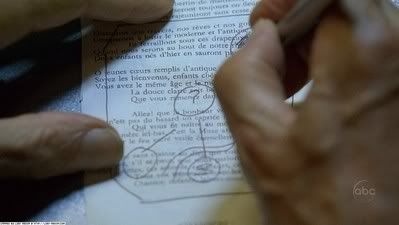 Well, he was writing on a page of the 1833 poem "Rolla", by French poet Alfred de Musset. Needless to say, it's a pretty heavy read. But readers in France, Quebec, or Djibouti, have a read!

http://www.poesies.net/mussetpoesiesnouvelles.txt

Ambitious but non French-speaking readers can peruse the text in English here:

http://64.233.179.104/translate_c?hl=en&sl=fr&u=http://membres.lycos.fr/jccau/poesie/musset/txt_mus2.htm&prev=/search%3Fq%3D%2522Soyez%2Bles%2Bbienvenus,%2Benfants%2522%26hl%3Den%26lr%3D

Lazy Americans who don't appreciate poetry, here's a one sentence summary:
Rolla is one of the strongest and most depressing of Alfred de Musset's works; the skeptic regrets the faith he has lost the power to regain, and realizes in lurid flashes the desolate emptiness of his own heart.

Whoa. Massive symbolism there! Locke is now no longer a "Man of Faith", but a skeptic! He said himself, "I'm done with entering the Numbers". But this makes it sound like Locke is sad about this new development, when in the episode he seemed happy, upbeat, and in a way freed from the Numbers due to his skepticism. But as I've mentioned before, this was his purpose on the Island, and without it, he would feel a certain "emptiness in his own heart". Locke is going to have to find some other "goal" to pass his time on the Island, unless he's content following Rose's path of "just being happy to be there, healthy again."

(For those of you keeping track at home, because of Lost I've now learned about French poets, Latin, Hieroglyphics, Greek mythology, the Aboriginal people of Australia, and the history of the phrase "S.O.S." over the past month. Who says that watching TV rots your brain?)



Trusted.

Lastly we come to our boy Mikey. Time for a little reader participation…
So did the Others agree to Jack's proposed trade? Giving them Michael and hoping they'll get HGI in exchange? Not bloody likely.

Assuming he's a Rebel Dharmite, HGI holds no major importance to the rest of the Others. You also get the impression that HGI could bust out of there at any moment either by overpowering or outsmarting our Survivors.

So where did Michael come from? Another product of Alex freeing a prisoner? I mean, he showed up just like Claire did. But I'm guessing that the writers won't rehash that storyline.

Did he break out himself? I don't think so. At least not if he's the Michael that we know and love. There is no way he would have left without Walt. Remember the blind irrational passion in his eyes when he swiped a gun and left the Hatch to find Walt? (Whatever happened to that gun anyways?) He would have sooner died than leave Walt behind. Also – if it's that easy to break away from them, wouldn't Walt have done so a long time ago?

So although he comes back and confirms one of my longest running theories this season: "There aren't that many of them, and they're not armed – we can take them!", I don't think he can be trusted.

That's right, I smell a trap.

It's a little too neat and clean that he comes back and stirs up everyone to go march in the Jungle and attempt to overtake the Others by sheer force. The Others are too crafty, and probably realize that Michael (who obviously isn't "good", or he would have been taken long ago) has no value to them other than being someone who can bait everyone else into walking into a trap.

So we have two options here:

Michael is drugged / hypnotized / whatever the Others do to you, and isn't intentionally leading them into a trap.
Michael went into the Jungle, got slapped around a bit by the Others, tortured, and told "You won't get Walt back unless you bring everyone else to us."
There's probably an option 3 I don't want to get into involving this not being the real Michael, similar to how Locke changed when he first met the Monster in Season 1, but I think one of the other two are far more likely. Either way, it serves as an impetus to FINALLY get the confrontation between the Others and our Survivors started – making me extremely excited for the rest of the season.

What do we think?
(PS - Happy Easter, everyone)