Official "Dave" Review
: My mind was blown… for a few minutes.
It's like the writers decided to entice the average, non-Blog reading viewer with theories of Purgatory and "It's All a Dream" by temporarily playing both of them up as true. But after some quick and easy analysis, both are easily dismissed, leaving the episode a bit hollow. Most had surmised that Dave was all in Hurley's head way ahead of the episode's reveal (since everyone has seen "The Sixth Sense"), and I partially ruined the big Libby ending twist (that's my bad – and I've adopted a new policy to ensure it never happens again).
But it was a good episode. It exceeded expectations. There was a lot of intriguing things that happened. We'll get to those. But first…
As much as I love Lost, there are a couple things about the show that really, really bother me. This episode started out with one of the main ones:
What the hell was that? Yes, I understand the symbolism of Hurley "kicking" his food addiction habit, but guess what? YOU ARE LIVING ON AN ISLAND WITHOUT A STEADY SOURCE OF FOOD. How about you think about a little thing called "survival" first, before worrying about how you have an overeating problem? I guarantee there are a bunch of people on the beach who would happily have eaten that food (and even instantly forgiven you for not telling them you had it all along).
Granted, we did have the magical Food Drop from the sky, but at this point in the episode, Hurley had no idea about it.
It's just a small part of a much greater point I want to emphasize:
The Survivors are far too content on the Island.
When's the last time someone talked about getting off the Island? They all seem happy enough playing cards, hanging out, and building shelters. Gone are any of the fundamental "survival" issues, or any sense of urgency in wanting to get off the Island.
Why?
Because they found a Hatch
? No, only a few seem to have ever set foot inside.
Because they think there are Other people on the Island
? No, because these people seem pure evil and have killed fellow Survivors, which should make you want to get off the Island ever more!
Because their lives were all miserable prior to the Island
? Possibly. This is actually the one answer that would give a lot of explanation to what we've seen thus far - they're actually quite happy living on the Island with a fresh start, away from the troubles in their lives. Maybe they all just want to stay there, start over – start fresh – and build a better life.
For more on this theory, listen to the Guster song "Keep It Together" (which could basically be an outline for the entire series of Lost, in reality). At this point, it would be a plausible explanation for the lack of drive to get off the Island…
Sayid is awesome.
He has single handedly proven HGI to be an Other at this point. No one else would have dug up the grave. No one else would have searched the body and found a $20 bill with writing in the wallet. Without Sayid, "Henry Gale" would have been exonerated of the "Other" claim and probably would be wrecking havoc on our Survivors… or escaping into the Jungle without helping answer any of the Lost mysteries!
I hope this point isn't lost (no pun intended for once) on the rest of the Survivors, as I think this thrusts Sayid into a leader position in the group. His high level of cynicism and failure to blindly believe what he encounters is a welcome change from the desire to believe of John Locke and the slow-paced "don't make waves" leading style of Jack. If I was Joe Schmoe Survivor, I'd be wanting Sayid making some more decisions… especially given his military training background.
(PS - I know this point isn't lost (again, no pun intended – twice? I'm Johnny Serious tonight!) on HGI, who is probably sitting in his cell cursing Sayid. "I would have gotten away with it if it weren't for those pesky kids… and that Iraqi!" Who wants to bet Sayid becomes Target #1 if target Sayid first if HGI ever escapes?)
Which brings us to HGI's comment that I found very intriguing:
"God doesn't know....God doesn't know how long we've been here John....God can't see this island anymore than the rest of the world can..."
I know my first reaction to this was "Oh, they're playing up the 'Purgatory' storyline again", only to realize – of course God can see Purgatory, can't he?
My second reaction was "Maybe there is some sort of magical cloaking device around the Island that makes it invisible to everyone?" But one would think God could see right through that anyways.
So what did HGI mean?
The quote isn't meant to be taken literally. HGI feels abandoned – not just by his fellow man, but also by his God.
This manner of thinking ties in nicely to the quotes written on the Blast Door:
"It's a bad plan that cannot be changed"
"I think therefore I am depressed"
"The wrath of the gods is great, but it certainly is slow"
"Save yourself from hell"
Here's my newest theory on HGI – he's not just an Other, he's a desperate Rebel Dharmite. HGI has clearly had some interaction with whoever the "He" who is the boss of the Others, and knows him enough to fear him. But his quote about God not seeing the Island clearly means something going on the Island is at odds with his morals, as in "If God could see this place, he wouldn't allow it to happen."
(PS – doesn't this remind everyone of Season 1 of Alias when they referred to "The Man" the whole season, only to find out it's Sydney's mom all along? If the "He" who is the leader of the Others turns out to be Jack's Dad, I'm calling JJ Abrams out for copyright infringement of himself).
However he was originally ended up on the Island, whatever he used to believe in – he's disenfranchised by it. He wants to get off the Island. He wants to end the experiments going on there. He wants to bring Dharma down. This desperation is a strong candidate for the explanation of why he got caught in the first place - HGI wanted to get caught. He was a prisoner to the Dharma life, and wanted to get out of it, no matter what it took.
But there's still the other part of his statement, and I took this part to be quite literal – the rest of the world can't see the Island. This could easily be explained by some sort of stealth technology / cloaking magical mumbo-jumbo I suppose, or they could fall back on the "Bermuda Triangle" theories that I was a pretty strong believer of last season – which help explain how different things from all over the world ended up there. Long time readers, remember this?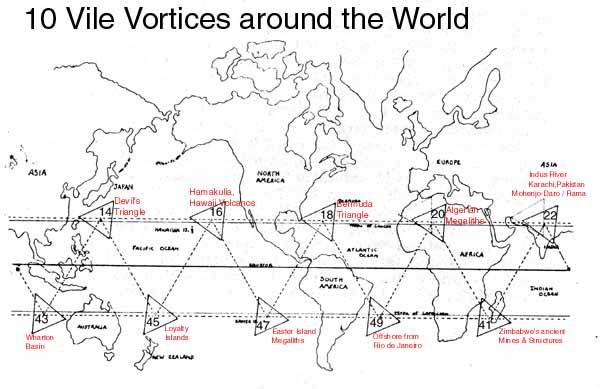 (Basically it's the Super Mario Bros "Warp Zone" theory that there are 10 areas around the world where unexplained phenomenon occur due to some complicated scientific region. Could easily explain how the Nigerian plane, polar bear, etc. ended up there – and why no one can find it.)
So is the Island all in Hurley's head
? No. Although Dave's explanation does neatly tie up the "Numbers" and strange activities (plus there was a picture of an Island in the mental institution!)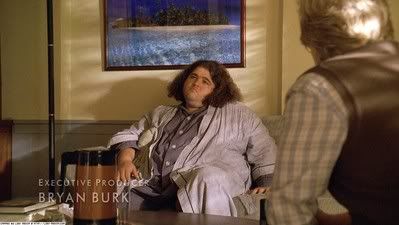 We've seen multiple instances of Hurley "learning things" on the Island that he should have already known if it was all in his head. Also, it would be the biggest cop-out of a storyline ever. Not something you reveal mid-season of Season 2. (Want to see a better example of how to play out the "Is this all in someone's head" mind-bending storyline? Check out the Buffy Season Six episode "Normal Again". Once again I'm reminded of the greatness of Buffy the Vampire Slayer.)
So why did Dave say that
? Besides providing the writers a chance to throw out a popular Internet theory and discredit it? Hard to say. In the end, he was just trying to get Hurley to kill himself. So here's a thought:
If you believe that the Dharmites have the technology evidenced in the Smoke Monster to "scan" someone's brain and pick up on their memories, it's possible to think that they can somehow pick out fears or weaknesses through such a scan. They could then use this knowledge to exploit / trap / kill the Survivors. If you think the Others are outnumbered by our Survivors (like I do), this is a safe and easy way to pick them off one by one without risking another Other getting killed (Ethan) or captured (HGI).
I mean, think about what we've "seen" so far on the Island:
Jack – dead father
Kate – black horse
Eko – dead brother's plane
Shannon – Ghost Walt
Boone – dead Shannon
Sawyer – person he killed in the form of a boar
Hurley - Dave
Each could easily be seen as a "worst fear" or "bad memory" of the character. Hmmm… I like this theory more and more…
So was Dave real
? No. At this point, everyone knows everyone in our group of Survivors – especially with all the dangers of Others on the Island, any new person who suddenly shows up would have been noticed and immediately captured / interrogated. When Dave first shows up, it's around the Supply Drop with a lot of other Survivors. Someone else would have seen him.
The tricky thing is that some of these visions have turned out to be "true" in the past. Sawyer saw Kate's horse. Sayid saw Shannon's Ghost Walt. Boone / Locke / Charlie saw Eko's plane. Are these visions somehow becoming reality on the Island? I say "becoming" because they all seem to start out as something that only one person can see, but eventually end up being seen by someone else.
Only Kate saw the horse at first. Only Shannon saw Ghost Walt in the beginning. Locke originally saw Eko's plane in a vision before actually finding it. It brings up some interesting possibilities about needing to have someone else believe you to make it real, or the things you believe you see eventually becoming real on this Island (somehow related to the "Mind's Eye" ability that Walt had?)
So Dave could eventually become real
? I guess... except he seemed to killed himself at the end by jumping off the cliff. I'm not sure how that would work with the "rules" of the visions.
So what was the point of Dave
? In the end, the point of Dave is the point of the episode. We learned that Hurley indeed was in a mental institution, we learned he indirectly killed two people, (giving him something in common with most of our other Survivors), and it shows that Hurley is still kinda crazy.
He's always been a "normal" one on the Island who provided comic relief and seemed above the drama that everyone else has had… but not anymore. As time goes on and we learn more about the Survivors' pasts, they just keep having more in common.
Comment away! Please make up some sort of name instead of being "Anonymous", if you don't mind!