Episode Title
: "Dave"
Brian's Deeper Meaning Guess
: Clearly this is another shout out to me from the Lost producers. First they play Dave Matthews Band's "Stay" earlier this season, now they title the episode after the frontman of the band. Once again my worlds collide and I am in danger of spontaneously combusting.
Or… I guess it's entirely possible that the title refers to this guy: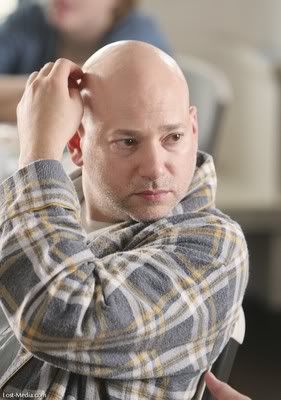 I'll go out on a limb and say his name is "Dave". Why?
There aren't any characters on the Island named Dave that we're aware of, and he's the new character that seems to be introduced this episode.
You can hear Hurley say "Dave?" at the end of the preview, and he's clearly the only person seeing this guy.
So who is Dave? Based on his getup, he's probably someone Hurley met during his time in the mental institution. (PS – can we please learn why Hurley was in the mental institution in the first place this episode? Please?)

But after last week's triple layered deeper meaning, this week looks to be the least symbolic Lost episode title yet. Even Season One's "Pilot" could be viewed two ways (the pilot episode of the series, and the Pilot of the plane who faced an untimely demise from the Monster).

Sorry to disappoint loyal reader, but I've got nothing for this one. I even tried searching the Net for some acronym of D.A.V.E. and found nothing.

It's like the Lost creators are trying to put me out of a job.


TV Guide Description: Libby lends Hurley support when he begins to think the island is having a strange effect on him, and Locke's sense of purpose is shaken when the prisoner provides new information about the hatch.


TV Guide Breakdown: After a few simple interactions, it looks like the Hurley-Libby relationship is finally going to start being developed on the show. Libby once again looks to be donning the "clinical psychologist" robe to help Hurley, who thinks he's going crazy when he starts seeing imaginary friends from back in the day. But why does Hurley seem to know her? More on that later…

Is Hurley going loco? Well, he has been eating more Dharma food than anyone else on the Island, thanks to his secret stash. If there is something fishy with the food (which, doesn't there have to be? Otherwise why would they need Dharma-manufactured food instead of just buying name brand stuff off the shelf? Hello, product placement ABC!) he would be the first one to feel the effects.

Or it could be that Hurley's been a little nuts all along. Although they've never officially come out and say it, it's been insinuated that he spent some time in a mental institution, but was released. I don't think it would be unrealistic to see him lapse back to "crazy mode" due to the stress of the crash and life on the Island. He's definitely a little touchy about the subject matter, since the previews show him literally jumping on Sawyer when Sawyer mentions something about "going crazy" to him.

So why is Hurley seeing Dave all the sudden? Well, think about the other visions we've had on the show:

Jack seeing his father (who he wronged / drove to his death).
Sawyer thinking a boar is someone from his past (who he killed).
Shannon seeing Walt (who may or may not already be dead).
Based on this, I'll go out on a limb and say Hurley wronged Dave in some way (possibly killed him?), and is now being haunted by his memories. Hurley is one of the few Survivors left who have a seemingly "clean" past, so it's about time his gets muddied up with some sins to put him in the same boat as everyone else on the Island.

The more interesting storyline looks to be about Locke's sense of purpose being shaken by Henry Gale (I can't keep calling him that, so let's call him Henry Gale Impersonator – HGI), when HGI tells him new information about the Hatch.

Ever since he discovered the Hatch, Locke felt that it represented his "mission" on the Island, the greater purpose for why he's there and why he found it. Once he saw the 108 Timer and was told it was necessary to save the world, he had exactly that. So I'm betting that HGI tells Locke that entering the numbers is simply an experiment, and nothing will happen if he stops doing it.

Clearly this would shake Locke to the core, since his "purpose" on the Island would be gone. But this would bring up a very interesting scenario:

On the one hand, we'd have Locke – who would try to convince everyone else that HGI is lying and that they need to keep entering the Numbers.

On the other hand, we'd have Jack – who finally has some evidence that tells him what he's suspected all along – that not entering the Numbers wouldn't cause any catastrophe.

With all the Jack / Locke conflicts we've seen building up over the past few weeks, this would be a great way to bring them to a head. It would also be a way to force Locke to start telling people what he's seen, to use as evidence of why they need to keep entering the Numbers (such as the hieroglyphics and the blacklight image).



ABC. I've said it before, and I'll say it again – never EVER trust anything you see from ABC. Last week's preview promised "five revelations, each more shocking than the one before"… which didn't really pan out. This week looks to show Hurley plummeting to his death from a cliff on top the Island… also probably not going to happen.

But this doesn't just go for the TV commercials. Their website is also guilty. Someone commented that "The Real Henry Gale is Rose's brother! There's a letter on ABC's website!" But here's what Lost's creators have to say about that…

"It's on the ABC site, but we [the producers] are not necessarily generating nor fact-checking content. We are sort of aware of it, and we sort of pitched the concept, but it sort of went off the rails a couple of weeks ago, talking about Henry Gale being their brother, and you know, we were a little surprised."

Translation – we can't come out and say "Stupid ABC is just making stuff up because they pay the bills that allow us to live and film in Hawaiian paradise", but that's clearly the underlying message.


Episode Prediction: Although we'll be dealing with the aftermath of the Henry Gale fiasco, (and hopefully the Locke / Jack conflict over entering the Numbers I described above) I'm thinking this episode will be a bit of a "slow" episode compared to last week.

Expect some development of the Hurley / Libby relationship, and Hurley to be haunted by his past in the form of "Dave". Hurley will think he's going crazy again and will go off in the Jungle looking to clear his mind. Libby will follow and end up being the only one who can help him. At the moment of truth, when Hurley is about to jump / fall off the cliff, he'll remember why he knows Libby.

Check out this promo picture that ABC posted, but quickly took down after realizing they were morons, yet again:




Bring your own booyah.

This brings up all sorts of questions, namely:

Is Libby crazy too? Certainly looks like it from the picture. Hurley clearly knows her from his time in the looney bin. So is she lying about this whole "clinical psychologist gig"? She seemed to know what she was doing when helping Claire out retrieve her memories. Which makes me think…
She's undercover. Acting crazy to help her patients, who see her as one of them (former Lost episode title pun intended) instead of a "doctor". Could it be that she was assigned to "monitor" Hurley, to the extent that the whole reason she was on Oceanic Flight 815 is because she's following him?
If you want to get really crazy, you could hypothesize that she's a Dharma employee hired to monitor crazy Leonard, who is repeating the Numbers over and over again? Once Hurley started using the Numbers, she began following him, with the mission of "controlling" these cursed Numbers to prevent them from affecting anyone else.
And if that's the case, is Hurley the whole reason for Oceanic Flight 815 crashing? A way to "bring the Numbers back home", eliminating the possibility of them spreading any farther?
Whoa. This is how awesome Lost would be if I was in charge of it…