As I'm sure you're all aware, this Wednesday there will be no Lost. No new Lost. No repeat Lost. No "special recap show" Lost. Why? Because after a grueling four month hiatus, a little show by the name of Alias is coming back.
Why should you, the average Lost viewer care?
Because it is probably going to show us what we're in for when Lost finally comes to its conclusion four or five years from now. How?
Both shows were created by JJ Abrams. Both shows offer deep mythology and multiple-season-spanning storylines. Both shows are often incredibly frustrating by not giving the audience the answers to the mysteries of the show. Both have mysterious numbers show up ALL THE TIME without an explanation of why (yet)! Both featured actors Greg Grunberg and Terry O' Quinn. Replace "Rambaldi" with "Island", and they're almost the same show :)
These are the final episode of Alias ever. It's the last chance to answer the questions the show raised, and see what sort of resolution we get for the characters. Basically, it's time to show your cards. Did you have answers to the questions you teased for years, or were you just making things up as you went along? If we get answers to Alias, we'll get answers to Lost (someday). If we don't, chances are we might not ever get sufficient answers to Lost.
See the importance?
I know what you're thinking: "But I've never watched this 'Alias' show before, I can't just start now!"
Wrong. Here is the Cliff's Notes version of "The Alias Storyline So Far":
Alias is like James Bond meets Buffy meets Da Vinci Code. Kickass female lead character, mysterious ancient prophecy, fun spy gadgets and costumes, and shifty double crossing characters who always seem to have alterior motives. The big underlying mystery on the show centers around Milo Rambaldi, a 15th Century Architect / Philosopher / Potential Prophet. (SAT-wise, Lost::Island, Alias::Rambaldi). Over the course of the show, there has been a race to collect pieces of his works, assemble them, and figure out what in the world they are supposed to be used for. There have also been crazy prophecies that may involve the characters on the show and may bring about the end of the world. But this isn't some "fantasy show". Just like Lost, everything is based in science. Most characters on the show don't believe the Rambaldi prophecy stuff, even as it keeps coming true.
Intriguing? We're just getting started. Here are the season by season breakdowns of major storylines:
SEASON ONE
The main character is Sydney Bristow:
She thought she was a CIA agent… until she found out that she was actually working for SD-6, a secret terrorist organization who tells their employees that they're working for the CIA (discovered in the first episode after SD-6 kills her fiance). Determined to avenge his death and destroy SD-6, she approaches the
real CIA
with the plan of being a
double agent
- continuing to work for SD-6, but all the while stealing intelligence and foiling their plans for the CIA.
Her "handler" (contact inside the CIA) is the dreamy Micahel Vaughan: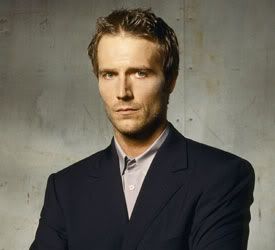 They have smoking hot chemistry with each other, but due to the whole "secret agent" deal, can never be seen in public together, and thus can't go steady. It's sad.
Sydney comes to discover that her father, Jack Bristow, who also works for SD-6 is also a double agent for the CIA. Like father like daughter!
But everyone else in SD-6 thinks that they are honestly working for the good guys… except the SD-6 leader, Arvin Sloane (the "bad guy", if you will):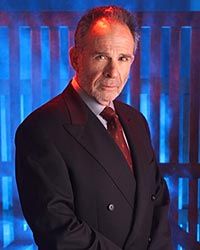 (He's obsessed with all things Rambaldi.)
Jack and Sydney, sometimes working together, are trying to destroy SD-6 from the inside. The main goal of SD-6 is to collect as many artifacts of Milo Rambaldi as possible. (Honestly, when you watch the first season of Alias, you think "Wow – Dan Brown ripped off most of this stuff for his book "The Da Vinci Code" from Alias… only it's done much better on Alias." I really think JJ Abrams could sue Dan Brown for copyright infringement and win.)
SD-6 is constantly in a race to recover these items with another terrorist organization, headed by the mysterious "The Man."
In the course of the season, Syd also discovers that her dead mother (Irina Derevko) was a KGB agent and that she is very much alive.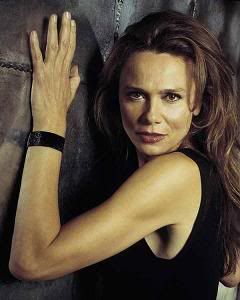 Her mother only married her father as part of a KGB plot, and then left him and Syd by faking her own death when her mission was over. The season ends with Syd finally coming face to face with "The Man"… who turns out to be her mommy.
Pretty good stuff so far, huh?
SEASON TWO
The search for Rambaldi artifacts remained the central plot point in Season 2. However, the main event of the season (that changed the Alias world forever) was the destruction of SD-6. After accessing security codes on an airborne server, the CIA raids all SD cells in the world simultaneously. In a single hour of TV, SD-6 (the "bad guy" of the entire series) was no more, Sydney was no longer a double agent (meaning she and Vaughn could finally hook up!), and the show became focused on the "Spy Family" of Jack, Sydney, and Irina (what JJ said he wanted the show to be all along – note that it took a season and a half to get there. Compare to Lost, where it took us a year and change to learn about Dharma – which may be what he wanted Lost to be all along!)
Irina has a ton of knowledge on Rambaldi, so the CIA takes her into custody and uses her for information throughout the season. As we learn more about Rambaldi, we find that the artifacts hold mysterious powers (Eternal life? Destructive power?), and that Sydney herself seems to be at the center of some mysterious Rambaldi prophecy written hundreds of years ago.
The season ended with Irina breaking out of prison, and Sydney waking up on the streets of Hong Kong, two years in the future, with no memory of the previous two years.
Still with me?
SEASON THREE
The third season is basically divided in two parts. The first half deals with Sydney's attempts to find out where she'd been for such a long time. The second half focuses once more on the relentless pursuit of the sacred Milo Rambaldi artifacts, which may hold the answers to Sydney's destiny.
When Sydney comes back to the CIA, she is shocked to find out what's happened in those two missing years. Jack is being unlawfully held in prison due to his questionable methods of trying to track down his missing daughter. Irina is in hiding, and her arch-nemesis, the shifty Arvin Sloane (former head of SD-6) has been granted a full pardon by the government for his role in bringing down over a dozen terrorist cells and is the head of a charitable group.
Most shocking of all is that her former lover, agent Vaughn is now happily married to the National Security Council's CIA liaison Lauren Reed.
The new evil this year is the Covenant, a terrorist outfit who (surprise, surprise) is determined to collect the Rambaldi artifacts. The CIA is also attempting to solve the equation of Rambaldi's endgame, so Sydney and her team attempt to capture these same artifacts and figure out their true meaning before the Covenant can get their hands on them (sound similar to Season 1?). We find that Vaughn's wife, Lauren, is also working for the Covenant and is pure evil (also having an affair with a high up Covenant member, Mr. Sark).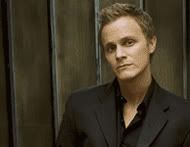 The season wraps up with the Rambaldi artifacts leading to Sydney's long lost half-sister, Nadia - an Argentinean spy who was imprisoned in Russia.
She also seems to be critical to the whole Rambaldi puzzle. The season finale ends with Sydney killing Lauren, much to the delight of Sydney/Vaughn fans the world over.
SEASON FOUR
This is the point where Alias went from being unbelievably great to just good. ABC strong-armed the show into being more "single-episode oriented" and tried to attract new viewers by dropping a lot of the Rambaldi and double-crossing agent stuff (which, I'll admit was getting pretty confusing). To achieve a sort of "reset" of the show, the writers had Sydney quit the CIA and joins a Black Ops unit called "Authorized Personnel Only" (APO) alongside with her partner Dixon (who somehow I haven't pictured until now! But he's been her field partner from the start):
along with Jack, Vaughn and Sloane. Basically we were almost back to the way the show started, with different names for all the organizations involved.
Vaughn began researching his father's death after he found some signs that he might still be alive. In the end, he seems to conclude that his father is dead, but was also obsessed with Rambaldi and may have some connection to Nadia.
We learn of Rambaldi's desire to have a complete worldwide cleansing through an apocalypse. A Sloane impersonator (who looks freakishly just like him, even though he was played by another actor) assembles stolen Rambaldi artifacts, resulting in a giant red floating ball (Rambaldi's famed "Mueller Device") appearing over a Russian city, and all its citizens turning into zombie like people as a result. (Like I said, the fourth season was a little sketchy sometimes).
In the end, the entire Spy Family (with the true Sloane) comes to the city to destroy the device and save the world. They succeed, but in the process Nadia gets "infected" by the device and ends up in a coma.
The big season finale twist this time is that a now engaged Sydney and Vaughn are driving along, when Vaughn tells Sydney his real name is not Michael Vaughn… then they get smashed by a truck.
(Note: something Alias has done, better than any other show on TV – is create unbelievable season finales that leave your jaw on the floor all summer long.)
SEASON FIVE

We learn that Vaughn's real name is Andre Michaux and his father was a mathematician involved with a top-secret project called "Prophet Five." "Vaughn" learned all this info seven years ago from a woman named Renee Rienne and has been working with her since.
We also learn that Sydney is now pregnant with Vaughn's baby.
They meet James Lehman, a friend of Vaughn's father. Lehman explains that brilliant scientists and linguists were recruited for Prophet Five in the 70's and were asked to break the code of a 500 year-old document on advanced genetics. After this group succeeded, its members were systematically murdered. As precaution, Vaughn's father changed his identity, as did Lehman. He warns that the murderers are relentless. While talking with Lehman, a new character, Gordon Dean appears and murders both of them.
Two new characters are introduced - Thomas Grace (experienced loose cannon)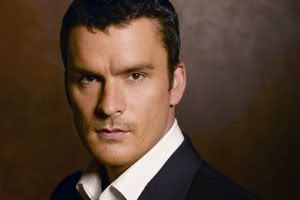 and Rachel Gibson (new girl who is just like Sydney, unknowingly worked for Gordon Dean for years thinking he was a good guy. Once she learns the truth, she joins APO).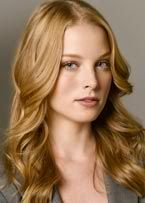 Sydney and APO are attempting to discover whom Gordon Dean is working for and what their end game is. But meanwhile, Sloane (now back inside APO – will they never learn?!) is being blackmailed by Gordon Dean, who promises he has a cure for Nadia. Sydney and APO attempt to discover whom Gordon Dean is working for and what their end game is.
In the last episode we have seen, Sydney is kidnapped by someone who has an obscure interest in her unborn child –
her mother.
Okay. Hopefully that wasn't absurdedly hard to follow. Really, you owe it to yourself to check out the DVDs of Season 1 and 2 (at least) to appreciate how good this show is. Honestly, week to week it's better than 95% of action movies I've ever seen. It makes me really excited for Mission Impossible III even though I know I should hate it since Tom Cruise is in it. But if JJ could do this much with Alias on a TV budget, I can't imagine what he can do with a big movie budget…
But I digress. With that behind us, here are the big questions I think we, as viewers, not only need but
deserve
after all these years (note: if you have never seen Alias, I might lose you here. It would be like never seeing Lost and then reading my Blog – your mind just might explode):
RAMBALDI.
The biggest question of all. The question that has been bouncing around my head for the better part of the past five years. Like I said, it would be like Lost ending without explaining the purpose of the Island or who the Others really are. You just can't do it. Unless you want me rioting outside your house the next morning.
Here's the tricky thing – we've seen the Rambaldi hint at three separate, very different things over the years:
Rambaldi foreseeing Sydney / Nadia / Irina somehow being involved in an apocalypse-type battle that might bring about the end of the world.
Rambaldi learning the key to eternal life, and hiding the secrets through all his artifacts.
Rambaldi creating a weapon of unbelievable destruction that could be used to "cleanse" the world.
Of the three, I think the first two are the most intriguing. I've just seen the "big weapon that will destroy the world" storyline done a few times too many to make it seem important enough to be the underlying purpose of the entire series. Rule it out.

However, one of the second two seem more likely if you look at it logically. Why would you hide clues and pieces of the puzzle all over the world if your purpose was to warn people about the danger of Sydney / Nadia / Irina? Wouldn't you want to have the information easily accessible to as many people as possible? I know I would. Rule it out.

Which leaves us with number two – eternal life. In all honesty, when I first heard about Rambaldi in Season 1, this is what I was hoping for. It really seems like the only "mystery" that is important enough to have hidden all the pieces of the puzzle in the way he did.

If I was writing the show, I'd have a big finale where Sydney finally meets Rambaldi. That's right. Remember that clock maker a few seasons back who seemed to be as old as Rambaldi? If he was alive (until getting strewn with bullets), I'm thinking Rambaldi is alive as well. Also - clearly Rambaldi has something against Sydney if he has prophecies about her bringing about the end of the world. But what if these are all lies?

Let's hypothesize that Rambaldi figures out a way to live forever, but he's not "invincible". Let's say he also has the power to somehow see into the future. He could have foreseen that Sydney would be the one to finally kill him (perhaps accidentally?), and therefore he makes up numerous fake prophecies about her in hopes that it will cause someone else to kill her before she can kill him.

That would be pretty cool and tie things together nicely, don't you think?

The one thing that worries me is that in a recent interview with JJ Abrams, he mentions that "originally we wanted to get much deeper into the Rambaldi stuff with the finale, but ABC was against it. They were always against the Rambaldi stuff." Blast you ABC. If you even rob me of a Rambaldi-filled finale, I will never forgive you…


VAUGHN.

The prominent storyline this season. Is he alive? Is he dead? Was he a double-agent all along? Is he good? Is he evil? The writers completely turned this character on his head in the first episode of the season, then killed him off before we could get any real answers.

It's pretty clear that whoever he is, he loves Sydney. However, would Sydney love him back if she found out he was working for the bad guys all along?

The story looks to be leading towards a "Vaughn is following in his father's footsteps" storyline, with him working for Prophet 5 (which sure sounds close to a group of Rambaldi followers, doesn't it?), faking his death as his "extraction" from the CIA, and now working behind the scenes to unravel the mystery.

His father also seems to have some connection to Nadia (and presumably then to Sydney). Again, if I was writing the show, I'd have it all tie together with Vaughn's dad being obsessed with Rambaldi, saving Nadia for the purpose of having her murder Sydney some day (remember the prophecy about one sister killing the other?). But when this all falls apart, Vaughn is called on to eliminate Sydney. He has to choose between his love and his "faith" in Rambaldi. That would be pretty intense!

(Note the similarities between Jack and Irina and Sydney and Vaughn!)


BABY.

Remember a few seasons back when Sydney was abducted and then had a scar around her hip? I said "I wonder if they were stealing her eggs to make a Rambaldi baby someday". Well, it doesn't look like that was the case, but I think the whole baby storyline would be way cooler if it was. Is the baby just a regular baby? Or does it somehow fit into the prophecies? Irina seems to have a keen interest in it, and we all know she can't be trusted.


ALLEGIENCES.

So let me see if I can get this straight. Sloane went from being bad (SD-6) to good (CIA) to bad (stealing Rambaldi artifacts) to good (APO) to bad (helping Gordon Dean). So what is it? This is probably a case of someone not being truly good or truly evil – but has everything he's done been driven by his obsession with Rambaldi, or is it really for love of his daughter (Nadia) or Sydney? And what's up with him and Jack? They still seem to have some secrets they're not telling everyone. Is Jack on the up and up? And what about Irina? She's the biggest wild card of them all. Who is she working for? Has she been using Sydney all along, or is she really a good mother who cares about her children?

I suppose it's fitting on a show entitled "Alias" that there are so many questions about the true identity and allegiances of so many characters, but some firm answers would be nice.




So that's all for my Alias recap and looking towards the future. In the end, even though Alias has had its ups and downs, I'm sad to see it go. It's one of a handful of shows that I would call truly "great", and that I absolutely loved. I'm glad it has a chance to go out on top, knowing that it only has a few episodes left to get their story told (as opposed to some shows which get blindsided by their cancellation, leaving storylines hanging – I'm talking about you, "Alf"!)

I'll try and include some Alias talk on the Blog each week in addition to my Lost posts. The show deserves it.