It turns out I was somewhat serious when I said "I might not even need an analysis after all that" During my "Instant Reactions". Going back to do the complete analysis, I found very little to expound upon, outside of fleshing out some of my instant reaction thoughts. So, without further ado, I present my "Half-Assed Eggtown Analysis"…
Cards
. I'm not sure where all the debate came from concerning Faraday, Charlotte, and their game of cards. It seemed pretty blatantly obvious to me that Faraday was struggling to remember the three cards (after a given period of time), and was visibly frustrated when he couldn't recall them – despite Charlotte's encouragement that he was getting "better".
I saw nothing in this scene that would indicate that Faraday was predicting the cards that he had never actually seen. Why would Charlotte make him wait a certain amount of time before doing this? Why would Faraday be upset about only being able to predict two of three cards? Wouldn't that be pretty fantastical, not something to be disappointed about? It doesn't add up.
So, assuming that Faraday is struggling to remember something as simple as three playing cards, there are two scenarios that could be at play:
Since arriving on the Island, Faraday is losing his memory.
Faraday has always had a bad memory.
In my initial reactions, I went with the former, getting caught up in the "Island has magical powers and affects people differently" train of thought. After all, arriving on the Island gave Locke the ability to walk, gave Jin the ability to make babies, and cured Rose's cancer. What if these were all "good people", so the Island "cured them", whereas the Freightors are "bad people" and the Island is instead taking away their talents. For Faraday, his biggest talent is most certainly his brain, so it makes sense his memory would start to slip.

But I forgot one important point – during Faraday's flashback earlier this season, he's seen crying when viewing the footage of Oceanic Flight 815. When asked about why he is crying, he responds that he doesn't know. This could mean that Faraday had prior knowledge of the staged crash, or was even involved in the creation of the hoax during his work with the Freightors. Deep down inside, he thought about the dead people (who were those dead people anyways?), the trickery, and his hand in it all… and he wept, but couldn't remember why.

Or, even if you don't want to go conspiracy theory with it, at the very least this scene seems to hint at a history of short term memory loss for Daniel. This seems to be confirmed by Charlotte's interaction (it seemed as though the two had performed these tests in the past), as well as the way that Frank almost treated Dan like a child when giving him his satellite phone. Perhaps, Faraday agreed to travel to the Island and perform his experiments out of hope that the Island would help cure this short term memory loss issue. Naomi called him a "head case", but based on everything we've seen so far, he's looking more like some type of "idiot savant" – a genius when it comes to complex physics stuff, but not as smart as the average person when it comes to simple things. Based on this, he would be the most likely candidate for the Survivors to target if they are attempting to get the truth out of the Freightors, since he would seemingly be the easiest to trick… but would he even remember enough to tell them?
Lies
. Back when Lost started, I always envisioned the show ending with our Survivors finding a way off the Island and "defeating" the Others only to learn that it was actually a terrible mistake and they were actually the "bad guys", making the Others the "good guys". As time has gone on, this theory has seemed to come more and more true – but this week took it to a whole new level.
It was a bit shocking and appalling to watch Jack's calm confidence in telling blatant lies to a courtroom after being sworn under oath to tell the truth. He seemed to show no remorse for the act afterwards, and seemed to delight in tricking everyone when meeting with Kate. It also became clear that this wasn't the first, and most certainly wouldn't be the last, time that he told these same lies.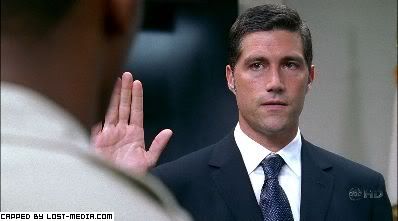 So to recap the post-Island lives of the Oceanic Four thus far, we have…
Jack
– seems to be enjoying the fame and notoriety of post-Island life, willing to lie to stick to a story… and is making sure that the others Oceanic Six do the same - but eventually becomes "sick of lying", tries to kill himself, and is an absolute train wreck.
Kate
– seems solely focused on raising Aaron and leading a quiet post-Island life, with no desire to return to the Island or ever leave California.
Hurley
– so haunted by images of the Island that he takes solace in returning to a mental institution.
Sayid
– becomes an assassin for Ben, helplessly following his orders to atone for some terrible situation in the past where he thought with his heart instead of his head and working to protect "his friends".
Aaron
- maybe not an official member of the Oceanic Six, but his real mom is probably dead, his fake mom is a murderous criminal, he looks kinda funny, and has creepy robot pictures on his bedroom wall.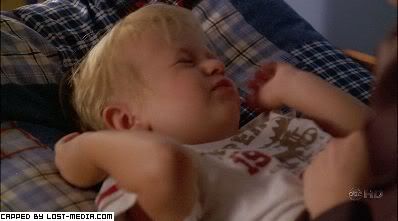 Not exactly a cheery future. Is getting off the Island really worth lying about the fate of over twenty other individuals to the rest of the world? Did Jack really sell out for fame and fortune in exchange for keeping the Island secret no matter the cost? Or is there something more at play here, where my original theory is wrong and Jack truly is lying for the greater good of the rest of the Survivors?
I cannot wait for the next Jack flashforward to fill in the gaps in his post-Island life in particular. He seemed to go from the "leader" in the web of lies to being the one most torn up about leaving the Island in the first place, willing to do anything to "go back". What happened?
Time
. More importantly, when did it happen? According to Lostpedia (which is basically gospel when it comes to the Lost timeline in my book), this week's flashforward takes place between November 3, 2006, and November 1, 2007, because Aaron was born on November 2, 2004. The credits credit him as a 2-year-old boy. It can also be assumed it took place before Jack goes crazy and grows a beard, so really between November 4, 2006, and about March 2007, taking into consideration the time it took Jack to grow the beard.
Since there must have been some time post-rescue, pre-trial for Kate to become famous, buy a sweet house, and hire a nanny for Aaron, that would seem to put their rescue anytime in 2005 or early 2006. Right now, on-Island time just passed Christmas 2004 (where were the trees, Lost Grinches?) – so that means the rescue could be anywhere from a few weeks to a few months away. Based on the passage of time during episodes so far (generally two to three days each episode), with 44 episodes of Lost left, it seems logical that the rescue must happen in the next few months. Even if they save the departure from the Island for the series finale, that would put us right around April 2005.
(Note: this assumes that there isn't any "funky time", and our Survivors don't leave the Island in January 2005 and suddenly end up in January 2007 outside the Island's protective time Bubble… but it's looking like we'll finally get some firm answers on this front during this week's Desmond-centric outing!)
Outside of that, I think everything has been covered in the always excellent comments section, so I think that's all I have to add.
Worst analysis ever! I told you this was an easy episode!
http://facethewoods.com/lost/index.php?topic=263.0