This week was one of those rare occasions where I actually had to go back and re-watch the most recent episode of Lost before I started blogging. It's probably hard to believe given how much I blab about each episode, but most of the time I just watch each episode once, with whoever is in the Delta House at the time, and then rely on the screen shots I pull from Lost-Media to remind me about what happened in each episode.
But not this week.
There were a few moments that were had such potentially huge implications on both the episode and the series that I wanted to make sure I got them in my head just right before I started writing. So, with two viewings of "The Economist" under my belt, I think I'm as ready as I'm ever going to be to start analyzing.
Let's do it.
Jacob
. But before we get to the really heady stuff, just like last week let's start off with the relatively easy topic of Jacob again – more specifically, with his cabin. Locke's inability to find the cabin seems to indicate that it really isn't some physical object that just anyone can stumble upon. Ironically, this fits perfectly with what Ben told us from the very start. To paraphrase:
"No one speaks to Jacob but me."
"No one knows where Jacob is but me."
"Jacob is not someone that you visit, Jacob summons you."
However, we've since seen that Jacob actually talked to Locke as well, but maybe he's still not too keen on unannounced visitors, especially when they are with a handful of other "less worthy" individuals, as Locke was this week. I still think that Locke is Jacob's "chosen one", the one that will "help him" – but that he wasn't willing to reveal himself to a group of people… especially when someone in that group happens to be a Freightor.
But – the big thing that this showed was that the circle of volcanic ash around the cabin from last season's "The Man Behind the Curtain" really isn't acting as a prison for Jacob like we all assumed. It now appears that Jacob is able to pick up his cabin and leave the circle when necessary – which means that Ben probably doesn't really have any power over Jacob at all.
The other weird thing is that everything we've seen over the last season and a half seemed to indicate that Ben had fallen out of favor with the Island – everything from him having the tumor on his spine (when Others allegedly don't get sick) to Jacob speaking to Locke in the cabin rather than to Ben. However, as we saw this episode, Future Ben (we should probably call him "Present Ben", but that would make everything on Island be "Past Ben" and that's just too confusing) is still 100% fighting for the Island – which would seem that he's on the same side as Jacob in the end. After all, they both want the same thing – to destroy the Freightors and protect the Island.
Maybe Jacob saw this battle coming and knew that it would be a multi-front battle. He's using Locke to fight the enemy on the Island, and Ben to fight the enemy off the Island. Or maybe Jacob and Ben kiss and makeup sometime over the course of the next season – but it's looking like in the flashforwardy future, Ben and the Island are still partners in the same battle.
Ben
. That brings us to the crazy revelation at the end of this episode – Benjamin Linus is alive and well in the future… and totally off the Island. Actually, this shouldn't have come as that big of a surprise given the super-revealing details of the secret room inside his house. Clearly, the fact that Ben has large sums of currency from across the world, a host of different passports, and a full collection of super-boring wardrobe indicates that Richard Alpert isn't the only one who has been making trips off the Island over the years.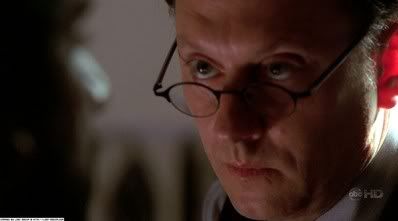 As we mentioned last week, this gives a much more literal meaning to Ben's quote from last season of "most of the people you see? I brought them here"… and probably confirms that the picture Miles had of Ben was snapped during on of his off-Island recruiting missions. So it makes sense that if things get really crazy on the Island, and the Freightors start to win the battle, that Ben would leave the Island in an effort to take them out at the source, back in the real world.
But there are still a few points that don't make sense. First and foremost, why didn't Ben leave the Island to have his spinal surgery performed by some neutral surgeon, rather than having Jack do it and just hope that he didn't kill him on the operating table? My previous best explanation for why Ben was so adamant about using Jack was that he refused to leave the Island – but we now see that this isn't the case. Was this an example of Ben simply needing Jack to perform the surgery as a way to prove he still had a strong connection to the Island / Jacob, and it would "take care of him" without needing real world intervention? Or was it simply a plot device to move the third season along?
The other, much more difficult question concerns the huge stash of money found in Ben's secret desk. Clearly, this money had to come from somewhere. While we've already established the wealth and power of Hanso / Dharma – it also seems logical that all ties to these groups would have been severed when Ben went all purgey on the Dharmites.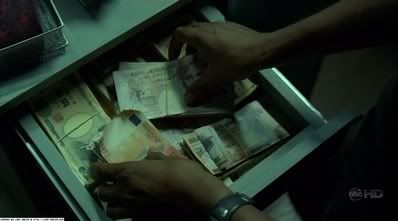 There are a few somewhat logical explanations for the money still flowing, with the easiest being that it was included in the periodic ration drops that apparently were paid for well-in-advance and are being carried about by some independent Dharma third party. The other would be that Ben, during his recruiting missions, sucked in some investors – possibly promising them access to the magic power of the Island, living forever, etc. The third (which I'll do my best to disprove shortly) is that due to the Funky Time on the Island, Ben was able to gamble on sporting events that he already knew the outcome.
The important thing here is that Ben seemed to have kept all of this secret from the majority of the Others. He needed to keep up the image that the Island would provide everything that you needed, that there was no need to ever leave, or even that there was no possible way to leave the Island (at least after the Hatch Implosion). It all feeds back to the central theme of Ben controlling the lives and being the puppeteer for everyone on the Island… our Survivors included.
Sayid
. Before we start discussing Sayid, keep this in mind – he's probably the smartest, most level-headed and logical of any of our Survivors. Even though he's seen killing people in the flashforward and working for Ben, there is no way Sayid would be doing any of this unless there was an extremely good reason for it. After all, he said that the day he even believed Ben would be the day he sells his soul. But we see that he is not only believing Ben – but working for him, and risking his life for him.
The other weird thing is that Sayid seems to be the only member of the Oceanic Six who is engaged in these Alias-esque spy-assassination games. Jack, Kate, and Hurley may have their own post-Island issues going on, but it doesn't seem like anyone is attempting to kill them – and they aren't attempting to kill anyone else. So what happened with Sayid?
If you go back and read the conversation between Ben and Sayid at the conclusion of "The Economist", it gives a few hints:
Ben: "These people don't deserve our sympathies. Need I remind you what they did the last time you fought with your heart instead of your gun?"Sayid: "You used it to recruit me to kill him for you." Ben: "Do you want to protect your friends or not, Sayid? I have another name for you."Sayid: "But they know I'm after them." Ben: "Good."
First, it looks like there was some event that drove Sayid to begin working for Ben. Given the absence of Nadia in this episode, smart money would be on Sayid returning as a member of the Oceanic Six, reuniting with his former lady-friend, and having her killed by Freightors (fun twist – it's actually Ben that kills her, but he convinces Sayid it was the Freightors as a way to get him to work for him!).
Second, Ben mentions that Sayid is doing all this killing in an effort to protect his friends. Sayid's "friends" could either be referring to the other members of the Oceanic Six (who again, seem somewhat oblivious to any potential danger), or to the Survivors left behind on the Island. This would again tie in to the theory that our Oceanic Six left everyone behind on the Island in the middle of a bad situation, and Sayid is working with Ben to try and eliminate the enemy in the real world to indirectly help the Survivors fight off the Freightors on-Island.
Lastly, it seems as though Ben has a list (again with the lists – man, the Others are just like my future wife!), this time containing the names of everyone associated with "The Economist". Sayid is working through the list to eliminate people and gain information about the Economist – who seems to be the head of the group that poses such a danger to the Island and "every living person on it". Sayid had previously been working covertly – but now his cover is blown. Why is this a good thing?
Much like Hurley in this week's episode, the key to any good trap is bait. Now that the Economist knows the true intentions of Sayid, there's a chance he'll start sending his own henchmen after him – which could help Ben track down the Economist through these henchmen. Sure, it's probably putting Sayid's life in much greater danger – but for Ben, that's a small price to pay for a chance to eliminate the Economist.
The Economist
. I suppose with all this talk about the Economist, we should probably analyze who this person really is. There were only a few clues throughout the episode – but we'll see what information can be garnered from them.
First, Elsa carries around an oversized, Zack-Morris-Cell-Phone-style pager, which indicates that the Economist is more of an old-fashioned person. If you wanted to get really crazy, you could say that he "hates technology", which would put him in the same category as Jacob. What if the Economist is Jacob, and this whole Jacob vs. Ben battle for the Island is what spilled over into the real world? Not likely – let's just call the Economist a traditionalist for now.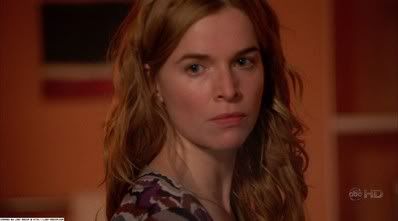 Second, Elsa said her employer specialized in "emerging markets". You could see how the potential applications of all the crazy properties of the Island might make it a very lucrative place for someone who was interested in "emerging markets" – which would help our earlier argument that the Freightors are working for some rival company of Dharma / Hanso (perhaps Widmore?)
Lastly, we see that he has a bracelet fetish (at least for his ladies), since both Elsa and Naomi were seen sporting basically the same jewelry. Although we haven't seen it on any of the Freightors, that probably makes sense since Frank mentioned that they weren't in the same class as Naomi – and probably were hired specifically for this Island task, rather than being card-carrying members of the Economist's team.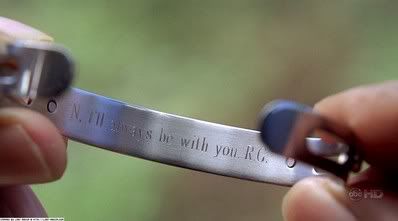 Minkowski
. Speaking of the Economist's team, the Minkowski character is still a puzzle to me. Remember, Minkowski was the person that Jack and Kate talked to on the satellite phone last season and at the beginning of this season. He was also the one that told Faraday to take him off speaker phone, but later was "unable to come to the phone." Now, we've got Frank telling Faraday that if Minkowski picks up the phone, to hang up. Looking at all these details, there's definitely some mixed signals.
If Minkowski was Ben's mole (and a traitor), why would he care if he was on speakerphone? If Minkowski is a trustworthy member of the Freightors, why wouldn't Frank want Faraday to talk to him? And where was he when he couldn't come to the phone? Something tells me that Minkowski is currently on his way to the Island, is a volatile person (even Frank is afraid of him), and someone to be avoided.
Funky Time
. I saved the most complex for last. When I first watched this episode, it seemed pretty clear that there was some "funky time" on the Island. After all, there have been plenty of clues in the past that seemed to point to something being a little "off" in the way time moves on the Island, and the show's creators have gone out of their way to drop quotes that made you question the concept of time on Lost. We finally seemed to get some confirmation of the "funky time" with Faraday's stopwatch test with the payload… or did we?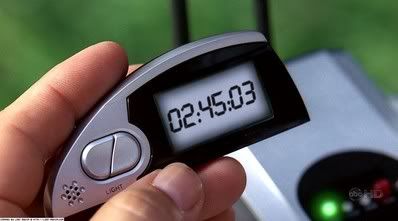 Let's review some of the "evidence" of funky time over the years (courtesy of Lostpedia):
Ana-Lucia tells Goodwin: "This knife's probably 20 years old. You don't see these anymore, yet here it is, on this island. Weird, huh?"
Referring to a source of a radio transmission that consists of a Big Band recording from the 1940's, Sayid says, "It could be coming from anywhere." Hurley responds, "Or any time."
Jack looked for a clock to announce the time of death for Colleen, but he couldn't find one.
Dr. Alpert showed Juliet a scan that according to her seems to be the womb lining of a 70 year old but is in fact a 20 year old.
The message "Only fools are enslaved by time and space" was playing in the Rave Room.
Desmond relives events that have happened in his past in his "Déjà vu" after being knocked out, and has a number of issues with time continuity until he is knocked out again.
Richard Alpert tells Juliet, "You're gonna be amazed at how time flies once you're there", referring to the Island.
Richard Alpert doesn't seem to age. Ben asks him if he even remembers what a birthday is.
Damon Lindelof said "It's interesting that you should ask about time because… you know… you're making a basic assumption that they've been there, y'know, as long as they think they've been there."
The payload arrived at Daniel's position 31 minutes after Regina said it reached the target. Daniel confirmed this by comparing the time on the clock inside the rocket with the time clock he had on the island.
All this seems to point that there is something weird going on with the time, most likely that time on the Island moves slower than it does in the rest of the world. Pretty straight forward right? Not so fast, my friend (I miss you College Gameday).

Although there are a number of verbal clues and "suggestions" about the funky time above, the closest thing we have to something factual is Faraday's payload experiment. On the other hand, we've got a few very concrete statements and events that seem to confirm that the Island is in sync with the rest of the world.

First, Ben told Jack what happened off-the-island during the given timeline: "Your flight crashed on September 22nd, 2004. Today is November 29th. That means you've been on our island for 69 days. Yes, we do have contact with the outside world, Jack. That's how we know that during those 69 days your fellow Americans re-elected George W. Bush; Christopher Reeve has passed away; the Boston Red Sox won the World Series."

The key there is that Ben refers to "today" as a date that corresponds with a date on the outside world. Later, we see Juliet give the exact length of her stay on the island: 3 years, 2 months and 28 days – which again seems to correspond with the date of the outside world seen by Alpert's newspaper when visiting Juliet's sister.

But lastly, and most importantly, we have this – Desmond's printout of the system failure from the Hatch, which brought Oceanic Flight 815 to the Island in the first place… dated September 22, 2004 at 4:16 – the same date and time of the crash for the rest of the world.

If time on the Island were really moving slower, those dates would not match up.

But aside from all the potential red herrings listed above, how do you explain the payload time difference? The most logical explanation seems to be what I will call the "Bubble Theory".

(Note: since magnetism and electricity were always the last chapters in my science books growing up, I don't think we ever got them over the course of my entire education – so I really have no idea what I'm talking about or if any of this is possible)
I'm picturing the Island as sitting inside some sort of giant electromagnetic bubble. There's only one safe way in or out of this bubble. If you attempt to enter or exit anywhere other than this one opening, you bounce off it, have your electric systems go wacky, or burst into flames (just kidding on the last one). If the payload didn't hit the opening in the bubble, it would continue bouncing around inside the electromagnetic field until eventually it found a way through – it's during this bouncing where the time is "lost" compared to the Island or the rest of the world (where time is still continuing as normal).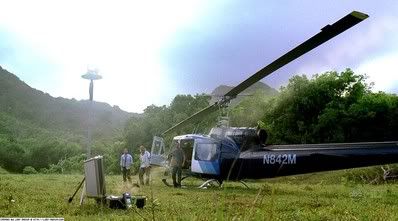 This would match up nicely with a lot of evidence over the years – Ben telling Michael he has to follow bearing 325 to get off the Island, Faraday warning Frank to leave the Island the exact same way that they came in, and even the old time radio station that Hurley and Sayid heard on the beach. Once the radio signal found its way inside the bubble, it would just keep bouncing around forever, unless it found a way out the same way it came in.
An intriguing variation of this theory would be if there were a number of ways to come into the Island, but you simply had to exit the same way that you came in, or else you suffer some sort of weird side effect of the electromagnetic field. If this were true, although Frank is going to be totally fine leaving the Island, Sayid and Desmond might be in trouble since they probably arrived on a different bearing.
You could even take it a step further and try to use the Bubble Theory to explain the "funky space" that we've seen – if you can somehow break through the Bubble in a place other than the designated hole, it acts as a sort of worm hole, sending you to another place in the world (see: Dharma polar bear in Africa, Africa plane on Island).
This also means that the apparent eternal life of the Others isn't tied to "funky time" on Island at all… which actually should have been apparent to me a long time ago. After all, Ben (and the Dharmites) have lived there for many years and aged – if it was something intrinsic to the funky time of the Island that caused the Others to look so ageless, one would assume it would have had the same effect on Ben. We've also seen both Ben (who ages) and Alpert (who doesn't age) leave the Island on various missions, so clearly it isn't tied to never leaving the Island either. It seems as though Alpert's lack of aging is tied to some other mystery altogether – or just a fun byproduct of being "one with the Island" or BFF with Jacob.
So after all that information overload, where do we stand? Surprisingly, not far from where we started before the episode. We learned that the "battle for the Island" spills over into the real world, that the "funky time" might be nothing more than time lost passing through the electromagnetic field to get to or from the Island, that Ben is seemingly always going to be two steps ahead of everyone else on or off the Island, and that Sayid becomes an Iraqi James Bond with the smoothest looking hair you've ever seen once he gets off the Island. It all seemed pretty overwhelming and puzzling upon first viewing, but now I'm feeling okay with "The Economist".
Bring on next week!
http://facethewoods.com/lost/index.php?topic=254.0