Did you miss me? After nearly two and a half straight weeks of traveling, I'm finally back to the Delta House and ready to talk Lost. Although most of you have already discussed and forgotten last week's episode, I'll go ahead and rehash it before we get to this week's episode...
One Word Review for "A Tale of Two Cities":
UNDERWHELMED.
I know a lot of people loved this episode, but it didn't connect with me the way the Season One or Two premieres did. I thought the opening was great (giving nice parallels between Desmond starting the day in Season Two) and giving us a "where in the world are we?!" moment (just like Season Two), but after that we didn't get much.
There were hints that some bad times were coming up for Kate and Sawyer, there was the mystery about how Juliet knew so much about Jack, but the storyline didn't really move anywhere.
I guess I was disappointed that we didn't get any insight into the Others' intentions with our Survivors. I also would have liked to at least get a scene or two back at camp to confirm the fates of Locke, Desmond, and Eko instead of solely focusing on Kate, Jack, and Sawyer. In the end, I guess it boiled down to the fact that nothing in the episode really surprised me.
But enough complaining. It was still a very solid episode. Ben (the artist formerly known as HGI) still can scare the hell out of you just by looking at the screen. The character of Juliet is introduced and delivers a great multi-layered performance (more on her later). After a four month hiatus, any Lost is a good Lost.
Let's get analyzing…
Book Club
. So it turns out that the Others actually seem to be living in a Wisteria-Lane-esque village in the central part of the Island.
From our brief glimpse into their lifestyle, we can interpret a lot about the Others:
They are not worried about "survival". Unlike our Survivors, who have had to contend with finding food, water, and shelter, in addition to fending off wild boars, Smoke Monsters, and Crazy French Ladies, the Others seem to be living a pretty mundane existence (see: Book Club).
They have access to the outside world. Even with all the Dharma supplies and facilities we've seen on the Island (including the ration drop last season), the Others had multiple copies of the Stephen King book "Carrie". If they're having a book club, reading different books each week / month, clearly they have a way to get these books to the Island. Also, the dossier on Jack? They must have pulled that information from somewhere (Internet?).
They are not worried about getting off the Island. If the Others were truly "stuck" on the Island, they wouldn't be living in the center of the Island – they'd be living on the coast, where you're more likely to be seen by a passing airplane / ship. They want to be there.
They are normal. After Ethan's seeming super-human strength in Season One, and Ben's (it still feels really weird to write that instead of HGI) ability to withstand torture in Season Two, you might start to think that these Others are a race of superhuman soldiers trained for battle. But one of the first things we saw was Juliet burning herself with the oven. If you prick an Other, they bleed.
They knew nothing about our Survivors. They didn't cause Flight 815 to crash. They didn't orchestrate getting specific individuals on the plane. When they looked up and saw the plane coming apart in the sky, the first thing Ben requested was that Goodwin and Ethan go "listen, learn, and don't get involved." They weren't sure if there were any survivors or not, let alone who these survivors were.
So who are they? I think I'm finally ready to drop my "Rebel Dharmite" theory for a new one, which I'll term "Former Dharmites".


Former Dharmites. When Jack asked Juliet about Dharma, she said "That was a long time ago." From the Lost Experience Game over the summer, we learned a lot about Dharma. They thought the world was about to come to an end. They thought they could prevent this from happening through the experiments being carried out on the Island. They also failed.

The question becomes – if this is all true, why are they still on the Island? Do they think the outside world is gone? That the end of the world came and went and they're the only ones left? Not likely, since we've already established that they have access to the outside world and supplies. Maybe they were just sick and tired of rush hour traffic, and decided permanently living on an Island paradise was a better idea? If that was the case, why not just move to Wyoming?

Well, what if the end of the world they were working to prevent wasn't like in the movies (nuclear bombs and alien attacks), but the proliferation of some sort of virus around the human race (which might eventually lead to the end of the world)?

We've now established that Ethan / Tom are part of the Others. Both have been involved in actions involving injecting the 4-8-15-16-23-42 medicine into Claire / Aaron. When they saw Flight 815 crash, their reaction wasn't "Wow! There's a plane – the outside world must still exist!" It was more of an "Uh-oh – this plane is crashing our party, there might be survivors, we need to deal with them."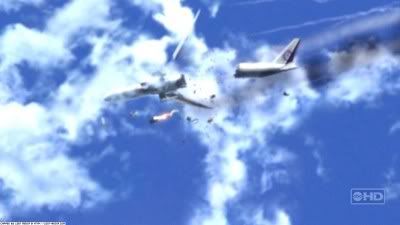 However, they didn't just kill the potential cootie carriers off immediately. They approached them cautiously and learned about them. Perhaps the virus isn't contagious, so as long as the Others are still getting their 4-8-15-16-23-42 medicine, I don't know. The Others are still scientists, carrying out some sort of freaky experiments on the Island (see: Walt). But perhaps their goals changed once "Dharma failed". Maybe they're no longer concerned about saving the world, but in saving themselves. I'm not sure.

Some of the details are still a little fuzzy, and I welcome your input here, but this "Former Dharmite" theory is my best guess at this point. The thing that saddens me about this theory is that the "Rebel Dharmite vs. Dharma vs. Survivors" storyline was much more intriguing to me – but it seems that we're down to just two groups of the Island: The Others and The Survivors.

But I digress, back to the details of the life of the Others…



Carrie. If I were a betting man, and you told me that in a Lost episode titled "A Tale of Two Cities" there would be a Book Club, I would bet the house on the fact that the book they would read in said Book Club would be "A Tale of Two Cities". But Lost is tricky! Instead, we find they're reading Stephen King's "Carrie".

For those of you unfamiliar with the book or movie, Carrie is basically about a high school girl (named Carrie, who would have guessed?!) who is tortured by mean kids at school and her uber-religious mother at home. Lucky for her, she finds out she has telekinetic powers that let her get supernatural payback on those who have wronged her.

Where's the connection to Lost?

Well, besides the obvious telekinetic connection to Walt, what about Juliet? She seemed awfully sad at the episode's start, as if she was about to cry. There's some obvious tension / conflict between her and Ben. Could it be that she is also being tormented by the Others as a sort of "outcast" among them? It was pretty obvious that they were at odds with some of her decisions, saying things like "Ben would never have picked this book", but I think it could go farther.

Remember her line right before the plane crash? "Free Will still exists on this Island!" Maybe there are Rebel Dharmites after all, even if it's just Juliet (and maybe that guy in the cage next to Sawyer). It's clear that Ben is running the show, and everyone is pretty much everyone following him without question. But remember Ben's line in the Hatch last season, referring to a "Him" who was clearly more powerful and higher ranking than he was? I'm more intrigued than ever to find out who that might be…


Music. One more quick thing about Juliet / the intro before we move on. The song played in the beginning was "Downtown" by Petula Clark. The first part of the song clearly seems to be speaking to Juliet's current state of mind…

"When you're alone and life is making you lonely, you can always go downtown."

Some have hinted that Juliet and Ben used to have a relationship, which is the cause of their current tension, but I didn't get that feeling. However, this song would seem to strengthen that argument. I'm still sticking with Juliet being a "Rebel" for now. Anyways, the other part of the song that is intriguing is this line:

"And you may find somebody kind to help and understand you,
Someone who is just like you and needs a gentle hand to
Guide them along."

I could very easily see this tying Juliet to Jack. Maybe it's all an act on her part, but she does seem genuinely concerned with his well being. Assuming she is sick and tired of the Former Dharmite life, I'd look for her to be the one to help Jack and Co. escape (and serve as a future love interest, perchance?).


Blood. Which brings us to Kate, Jack, and Sawyer. Like I said, we got very little information about why the Others chose these three Survivors, but there are a few nuggets of information we picked up last episode.

For instance, they made a point of showing each of them ripping off a bandage from the inside of their arms. Although Juliet made reference of administering Jack a sedative, this bandage is more likely indicative of drawing blood from each of them. But why? Are they testing their blood to see if they are "infected" with whatever the 4-8-15-16-23-42 juice cures? Are they looking for "test subjects", who fit some criteria that would make them useful for their experiments?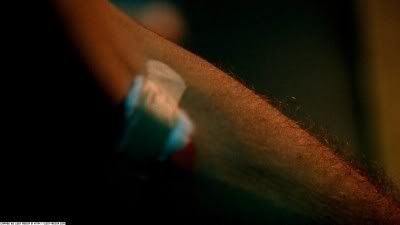 I'm inclined to think that they found something they liked in Jack – which is why he seems to be getting treated quite differently than Kate and Sawyer thus far. Then again, maybe we'll soon see that they have the life stories of Kate and Sawyer as well, although they seem destined to two weeks of unpleasantness that Jack somehow avoided.

As for what those two weeks will entail is anyone's guess. If it was going to be manual labor, why choose Kate and not Jack? Why put Kate in a pretty dress? I'm leaning towards it being two weeks of intense scientific testing (using them as guinea pigs) or "detox" to get the infection out of their bodies. Then again, maybe it's just a fraternity initiation to allow Kate and Sawyer to join the Others in their happy neighborhood. I wonder if this will have any influence on which McBoy Kate will choose? The one she's locked up, going through a miserable two weeks with? Or the one who potentially could come in and save the day in some kind of escape? Hmmm…


Flashback. Speaking of our boy Jack, his flashback served to add another layer of self-blame and loathing to the onion that is Jack's life. Not only did his workaholic nature drive his wife away, but his freaky obsession over finding out who Sarah was cheating on him with may have caused his father to start drinking again, which eventually led to his death. Heavy.

For those wondering, no – Jack's dad was not sleeping with his wife. That's icky and this is ABC, not HBO. Jack's dad may have been cheating on his mom with some lovely lady in Australia, but the way the episode was filmed, hinting at an affair between Sarah and Jack's dad, was intended to be showing things from Jack's perspective, as he was getting crazier and crazier about it.

Lastly, did you note the parallelism at the end? In the flashback, Jack was obsessed with finding out the name of the man Sarah was cheating on him with. He incessantly shouted "What's his name?!", whereas on the Island, he was obsessed with finding out where Kate and Sawyer were, asking little other than "Where are my friends?!" Nice to see the character continuity!


And with that, let's take a look at this week's episode:

Episode Title: "The Glass Ballerina"

Brian's Deeper Meaning Guess: Initially I thought this must be the title of some movie / song / famous location. But no matter how hard I googled, all that I could find when I searched for "Glass Ballerina" was this thing: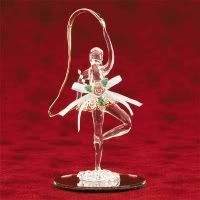 Lame. So I guess we'll keep it simple this week. The flashback this week is Sun (although I bet Jin is in there a lot too, if their past flashbacks are any indication), and she is admittedly the most glass ballerina-like of the Survivors. I'm not going to lie, I'm a little worried this is going to be a lame flashback about how Sun wanted to be a ballerina in her former life.

The "glass" part of the title would refer to her being fragile, which is clearly how Jin views her. Remember how hell-bent he was on not letting her come with he and Sayid on the boat last season? To Jin, Sun is his "glass ballerina". Awwww…

And that's all I got – worst deeper meaning guess ever. Give me something to work with, Lost episode title creators!

(Note: Although the preview of the episode seemed to show Sun getting shot, I'll tell you right now that there is no way that they would do this and basically copy the "Sawyer getting shot by the Others on a boat" storyline from last season. If anything, the fall she takes off the boat might cause her to lose her baby or something along those lines – or at least make Jin go crazy and whoop some Other ass.)


TV.com Description: Sun and Jin's lives are put into danger when Sayid decides to locate Jack. Meanwhile, Henry (i.e. Ben) gives Jack an offer that is very tempting. Lastly, Kate and Sawyer work and adjust to harsh conditions that they are being forced under by "The Others."

TV.com Breakdown: So here's how I expect this episode to go down:

Sayid concludes that Jack's plan has failed, and they have been captured by the Others. Since they're already on the other side of the Island, he decides to launch a rescue mission with Sun and Jin. (Thus putting their lives in danger – check). Expect to see Jin oppose this plan and try to keep Sun on the boat (thinking this will keep her safe). The problem of course is that the Others learn that our Survivors have a boat and set off to get it. This puts Sun in the most dangerous position of the three of them.

Meanwhile, Ben gives Jack an offer that is very tempting. This could be anything from setting him free if he gives up information to offering him a way off the Island. The catch is going to be that Kate and Sawyer (along with everyone else) are not invited. Jack, ever the hero, respectfully declines.

Lastly, we begin to learn about what these "harsh conditions" Ben warned Kate were coming up are all about. Busting rocks? Diggin a ditch? Calculus tests? It's anyone's guess at this point, but as soon as we find out, I think we'll have a much better insight as to why the Others took them in the first place.

So here are my big hopes for the episode – I want to get some hints as to what the Others are all about – their goals, hopes, and dreams. I want to have some scenes from back at the base camp revealing the fate of Locke, Eko, and Desmond. I want to see the base camp freaking out that Jack, Kate, Sawyer, Sayid, Sun, and Jin are all gone and they're on their own. I want to see Jack, Kate, and Sawyer asking some questions, and strategizing their escapes. I want Kate to be forced to shower again. Is that so much to ask?

But here's my hunch: if you look back to the first two seasons of Lost, the third episode has been the big reveal episode. In the first season, this was the "Walkabout" episode, where we learned Locke was in a wheelchair before crashing on the Island. In the second season, it was the "Orientation" episode where we learned all about Dharma and the 108 Numbers. Why would this season be any different?

Happy Lost-ing!