Episode Title
: "Every Man for Himself"
Brian's Deeper Meaning Guess
: Quite fittingly, this is a Sawyer episode. If anyone on the Island has embodied the spirit of "every man for himself", it's James Ford. Since Season One, Sawyer has always been the one Survivor hoarding supplies, bartering goods for his own advantage, and showing little concern for the well-being of anyone but himself. Although he sometimes will flash hints of heroism and altruism (taking a bullet trying to protect Walt, for example), it seems that just when you think he's coming around and has learned to be a team player, he goes and does something that totally casts him back as the selfish loner (such as stealing all the guns last season).
But this loner behavior isn't limited to his time on the Island. Even in his flashbacks, we've seen a seeming "Sawyer Finds Love" story turn out to be nothing more than a "Long Con". So what gives with this guy? Well, think about his past - he lost both of his parents very violently at an early age, leaving him somewhat all alone in the world. Even worse, he doesn't know exactly who is responsible for the death of his parents - only that his name was "Sawyer", making everyone in the world the potential person who indirectly led to the death of his parents. With that sort of rough start, it's understandable that he doesn't trust anyone but himself, and he's only looking out for himself.
Therefore, with a title like "Every Man for Himself", you have to wonder if Sawyer, presented with the same offer that Jack received a few weeks back ("Help us and we'll send you home"), if he wouldn't jump at the opportunity – leaving Kate and Jack, along with the other Survivors to fend for themselves, he's on the slow boat back to America.
Or would he?
Being imprisoned with Kate, there's some quality bonding going on between the two of them. Based on the smooching between the two of them two weeks back, you might think that if Sawyer were to escape his cage, his first plan of action would be to free Kate. I mean, how could he abandon Freckles after all that they've been through together? Well, based on the episode title and the history between the two of them, maybe it isn't so unrealistic.
Think back to the past two seasons, all the twists and turns of the "love triangle" on the Island between Jack, Kate, and Sawyer. Very little of it has made much sense? How realistic is it to have Sawyer, Mr. Loner, Mr. "Every Man for Himself" intertwined in it? Is Kate hot enough to make Sawyer change his ways? Does Sawyer just want to prove that he's better than Jack and win the girl, even though he doesn't want her? It's hard to say.
If you remember last season, Kate seemed to "pick" Sawyer as her dreamboat. She cut his hair, he gave her guns, it was a storybook romance. Yet it seemed to end as soon as it began. Sawyer quickly ruined any potential chance he had with her with his Long Con, duping all the Survivors (including Kate) in stealing the guns from the Hatch. If he really cared getting down and dirty with Freckles, he probably would have resisted the urge to horde the guns… or getting horizontal with Ana-Lucia – but that's a whole other story.
In fact, when you look back to the history of the love triangle, it's really been all over the board. We've had documented instances of Kate flirting with Jack, Jack flirting with Kate, Sawyer flirting with Kate, Kate flirting with Sawyer, and Jack flirting with Sawyer (oh wait) - but it seems as soon as the slightest bit of romance builds up, it's quickly dismissed and the characters distance themselves again.
Why do I bring all of this up? Because I'm a sucker for Dawson's Creek style romance? Well yes, but - in an episode titled "Every Man for Himself", it sure does seem that the Others are pretty curious about the relationships between the three of these characters. Remember Ben's comments to Kate about why she asked about Sawyer before Jack? The satisfaction he showed when Jack stopped incessantly asking "Where are my friends" and actually talked to him? The Others care about these relationships for some reason.
In fact, the preview would lead you to believe that they go so far as to torture Sawyer to force some sort of profession of love out of Kate…
Pretty intense, right?
Are the Others trying to learn about "love", like some crazy robots that can't love and thus can't understand it? Probably not. My bet is that this torture scene / forced love confession is all tied to breaking down our boy Jack. As we've documented, up until this point, Jack seems to be the one they care about – Kate and Sawyer seem to be accessories. What would tear him apart more than anything? Seeing his honeybun saying that she loves Sawyer, perhaps? It's as logical a reason as any I can think of as to why the Others took Sawyer and Kate along (I refuse to believe it's just to do manual labor). Or perhaps this forced confession is one to see how serious Sawyer is about their offer – would he go along with the Others even if he knew that Kate loved him? It's all very confusing, and I'm hoping this episode clears some of these questions up.
In past episodes, we've seen Sawyer seemingly take the high road and do the right thing, only to have the twist in the end be that he's still a jerkface working towards his best interests alone. So be on the lookout – no matter what Sawyer does this episode, remember that he's still living life with the motto of "Every Man for Himself".
(Note: Or maybe once again the American previews are misleading us, and we should turn to our more trustworthy neighbors to the north for a more accurate episode preview, where the torture scene is more downplayed, and the focus is more on Ben and his offer to Sawyer – probably more representative of what this episode will actually be about…)
TV.com Description
: The Others prevent Sawyer and Kate from escaping, leaving Sawyer perplexed by the extent of the measures taken to keep them imprisoned. Jack is asked to use his medical training to save the life of one of the Others. At the beach, Desmond's strange behavior attracts attention. He begins to construct a mysterious device.
TV.com Breakdown
: After the episode description last week teased a sex scene we never saw, I'm cautiously approaching the episode preview this week. Be on the lookout for sentences of this preview magically disappearing during the actual episode – maybe appearing later in the season, maybe being saved for "extended episodes" down the road. Who knows – anyways, let's get breaking down…
Based on the previews above, it looks like Sawyer and Kate make another attempt to escape their oversized Other cages, but are unsuccessful. Sawyer is perplexed by these extreme measures – why would the Others spend so much time and energy watching and guarding he and Kate, when putting these resources towards the manual labor that they are doing there would be far more effective? If they had this army of Others moving rocks, all the rocks would already be moved. This is going to get the wheels turning in Sawyer's head that there is something bigger going on here, which will make him more curious than ever, and more focused on escaping and figuring out what is going on with these "Others" – which is a good thing because it's about time someone started asking questions rather than half-heartedly going along with the Others actions (Kate) or just stubbornly ignoring everything they do (Jack). Sawyer's our man to ask some questions and (hopefully) get some answers.
Elsewhere in Otherland, Jack is asked to put his medical knowledge to good use and help save an Other. Is this Colleen, who was shot by Sun two episodes ago? Someone different? How will Jack react? On the one hand, he's a doctor, and their Hippocratic oath binds them to help someone in need regardless of who it is. On the other hand, he's finally got a bit of an upper hand with his captors, and could use this as a bargaining chip to escape / rescue Kate and Sawyer. It'll be interesting to see the internal conflict on this one. You also wonder, as I mentioned in an earlier post, if Ben somehow knew this was coming, and this was precisely the "favor" he was talking about with Jack two episodes back. This also confirms our suspicion that the Others lack a doctor, which might explain why they kidnapped him in a ridiculously simple sort of way.
They took Jack because he's a doctor. They took Kate and Sawyer because they could be used as psychological pawns to affect Jack and get him to do what the Others want. The Others are just looking for a family physician to move to Othersville!
Back at our Survivors' camp, we return (thankfully) to the most intriguing storyline of the season thus far – Desmond. What happened to this guy? Can he read minds? Can he see the future? Did he have a mind-meld with Locke and Eko in the Hatch? No idea. I'm guessing the "strange behavior" that people start to notice is more Desmond referencing things that haven't happened yet, or possibly using this knowledge to prevent things from happening (accidents, injuries, etc.)
Also, he's constructing a mysterious "device". It's interesting that they use the term "device", which seems to describe something that has a purpose – a function. It's not like when Eko started building his church or Michael built the raft. You wouldn't describe either of those as "devices". The term "device" hints at something complicated, mechanical, and built for one reason.
So what could this possibly be? Well, if we assume that Desmond can pseudo see the future, maybe he knows that something is coming or something is about to happen, and he's getting prepared for it. The device could be a weapon of sorts, but I think the more likely option is that the device ends up being something to help the Survivors get found – a flare gun, a spotlight, something like that – something like that, using the materials available.
Why?
Because Penny's coming – and Desmond wants to be sure that she finds him. I know we haven't seen or had any mention of her yet this season, but mark it right now, the big Episode Six cliffhanger will be Penny Widmore showing up on the Island. They can't let that storyline dangle for much longer without everyone totally forgetting about it, can they?
(…or this could be the Red Herring in the Episode preview, and Desmond won't be building anything at all.)
Previously on Lost…
There were lots of mixed emotions on the last episode of Lost. Some loved it, some hated it, some were Switzerlandic in their indifference. Let's discuss…
The Good.
I think everyone can agree that Locke's trippy dream sequence was the highlight of the episode, giving us a glimpse into each character's current state and place on the Island. Here's the breakdown…
Claire / Charlie / Aaron
– "They're fine… for a while" – Sounds like the only action for the happy family for a while will be relationship based. Boring. These are two characters sorely in need of a good storyline! Look how happy they all look – that doesn't make for good TV!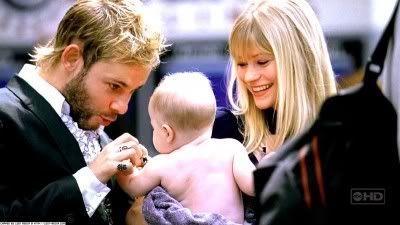 Sayid / Sun / Jin
– "I think Sayid's got it" – Sounds like the three will survive the long march back to the Survivors' camp, led by Sayid's navigation and survival skills.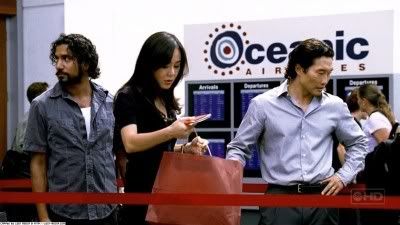 Hurley
– "Not Hurley" – I like that they show Hurley at a computer, typing in the Numbers. With the destruction of the Hatch, everyone else is through with the Numbers, but they still haunt Hurley and his life.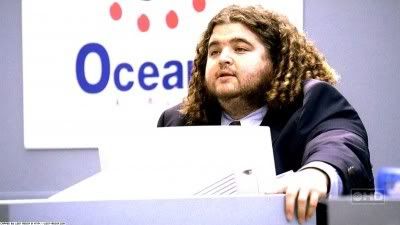 Desmond
– "Forget it, he's helping himself" – First, the wording of that is hilarious since Desmond is with three girls (who might be triplets?), but it also strengthens the theme that Desmond is still somewhat separate from the other Survivors. He's taking care of himself, figuring out what happened to him in the Hatch, and doing his best Jesus impression.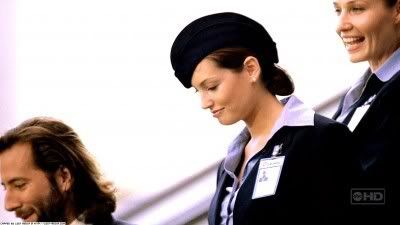 Kate / Sawyer / Jack / Ben
– "There's nothing you can do for them, not yet" – All kinds of symbolism here. Aside from Kate looking all kinds of hot, which represents the heat of the Island… and that Kate is an attractive female, we have Kate and Sawyer getting all flirty with each other (showing that she "chooses" Sawyer over Jack?), Jack separate from the other two (Every Man for Himself?), and Ben checking Jack through security (acting as the "guard"). Also love that the metal detector makes the same beep as the 108 Numbers. Nice touch!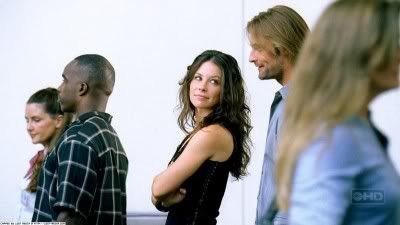 The curious part is that it ends with Boone saying "Clean it up John – they've got him. You don't have much time." To me, "they" doesn't mean "the polar bear"… it would reference the Others or the Rejects or something like that. Odd. Although the dream was clearly meant to get Locke to save Eko, I wonder if there was more than meets the eye to the Polar Bear attack (such as setup by the Others)? I'm probably reaching there, but anything would be better than it just being a Polar Bear attack, right?
The Bad.
How awkward was the introduction of Nikki and Paulo (the ones who were supposed to be having sex in Jack's tent)? Here are two characters who came out of nowhere and freaked out upon hearing that Jack was captured. Did they even know Jack? Were they all buddies off camera? It just all seemed very out of place.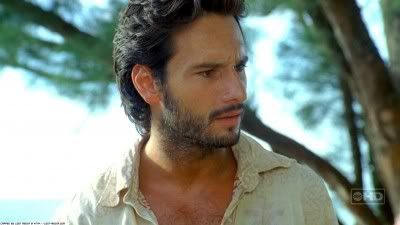 If the editors decided to cut the sex scene, where we could get a proper introduction to these characters, they should have also removed them from the scene where Hurley tells everyone about Jack, Kate, and Sawyer. My understanding is that these guys are going to be series regulars, so I hope they get a proper introduction in the next episode or two (like, I don't know – giving the audience their names and relationship with each other – if any?)
The Ugly
. The Polar Bear. Seriously, terrible, terrible CGI. I'm pretty sure Lost is making enough money to pay some computer nerd to do something better than this:
Heck, they could probably just pay some Lost-obsessed computer nerd with information about what is coming up on the show in return for their services. It looks like a hybrid Polar Bear / Werewolf. Unless that was the point, and Dharma was doing freaky animal experiments, maybe they should have went back to the guy in the Polar Bear suit from last season…
Once again, I'm the bearer of bad news. I'm heading up to Maine for work this week, which explains this lamely short Blog post and the potential for no Instant Reaction post Wednesday night / Thursday morning. Stupid work getting in the way of the more important things in life, like Blogging! But I'll be back this weekend, and definitely get an update up then. The good news is, after this I'm back in the Delta House for the remaining episodes of Lost before it goes on winter break – so there will be plenty of timely and complete updates.
Until then, happy Lost-ing!