Another year, another fairly puzzling round of nominations from the Emmy voters. Sigh.
It just really makes me ask the question, "Who is really off-base here? Me or them?" Because clearly we have very different views on what the definition of the word "Outstanding" means. To me, it means something that stands out for being excellent, not something that stands out for having high ratings or being simple to understand. I guess part of the problem is with the whole nomination process, which just shows that Emmy Voters don't actually watch TV. Instead, each show must submit one episode that the voters (allegedly) watch, and base their voting off of that. Clearly, this skews votes to favor simpler shows with "standalone" episodes over more complex shows with season-long story arcs. I suppose it's impossible for someone to watch every episode of every show (which would be the most fair way to determine the nominees – can't we train robots to do this?), but it just seems like there is something fundamentally wrong with the whole process.
But I digress. Looking at the nominees, there are a number in each category that I can get behind, as well as some that leave me scratching my head. Without further ado, here is my annual Emmy rant...
Outstanding Comedy Series
Entourage
The Office
30 Rock
Two And A Half Men
Ugly Betty
Rant: Truth be told, television comedies are in a sad state. Entourage has its moments, but is also starting to feel a little stale. Ugly Betty is more of a "dramedy", which makes it feel out of place here the same way that Desperate Housewives always felt out of place in this category.

Thank God for NBC's Thursday night lineup, which in my mind contains the only comedies worth watching on major network TV. It's good to see The Office and 30 Rock nominated, but disappointing to not see My Name is Earl, which had an outstanding season that delivered more consistent laughs than any other comedy this year. I probably would have also thrown in The Sarah Silverman Program, which was undeniably different, and at times absolutely hilarious.

Pick: The Office. While 30 Rock had some great episodes later in the season, it also started out very slow – and to me, this should award overall greatness for a season. The Office is the gold standard for comedy right now – a critical darling with a cult following that provides numerous quote-worthy scenes each episode.




Outstanding Drama Series
Boston Legal
Grey's Anatomy
Heroes
House
The Sopranos

Rant: Here's the category I have the biggest problem with, and not just because of my obvious Lost-bias. Is it a coincidence that the highest rated dramas on NBC, ABC, and Fox are all nominated? Seems a little fishy to me, especially when the two best dramas of the past year – Lost and Friday Night Lights – were not nominated. Instead, we get Grey's Anatomy, which took a major step backwards from its second season, and House, which is nothing more than a vehicle for Hugh Laurie to deliver his one-dimensional Dr. Cox impression.

As for Heroes, I truly enjoyed this show this season and anxiously await its return to TV. Having said that, there is no way I would have even dreamt of nominating it for Outstanding Drama. It's an entertaining show, but I don't think anything about it stretches any of the actors. Heroes is a real-life comic book, with accompanying cheesy dialogue and cliffhanger endings each week – but it's a little like nominating a summer box-office action movie for Best Picture… it just doesn't feel right.

Pick: The Sopranos. Simply because no other show has any chance. Hollywood is still enamored with this show (Brian's opinion? Fantastic acting and great directing, but David Chase is a terrible storyteller), and with a field of competitors like these, it's the only one worthy of a statue.




Outstanding Lead Actor In A Comedy Series
Ricky Gervais as Andy Millman, "Extras"
Tony Shalhoub as Adrian Monk, "Monk"
Steve Carell as Michael Scott, "The Office"
Alec Baldwin as Jack Donaghy, "30 Rock"
Charlie Sheen as Charlie Harper, "Two And A Half Men"
Rant: Surprisingly none, other than this – if Tony Shalhoub wins again over fantastic comedians like Gervais, Carell, and Baldwin, I'm going to go crazy.

Pick: Alec Baldwin is awfully tempting, but I have to come down on the side of Carell for this simple point. Baldwin overacts, Carell underacts. Both achieve great results, but I think the latter is much more difficult to pull off, and deserves more credit.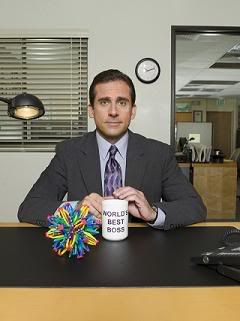 Outstanding Lead Actor In A Drama Series
James Spader as Alan Shore, "Boston Legal"
Hugh Laurie as Dr. Gregory House, "House"
Denis Leary as Tommy Gavin, "Rescue Me"
James Gandolfini as Tony Soprano, "The Sopranos"
Kiefer Sutherland as Jack Bauer, "24"
Rant: My feelings about Laurie have been made abundantly clear over the years, so I'll spare you a re-hash. I'd also question Kiefer Sutherland being nominated for 24. To me, if you're someone who just got back from months of torture in China – and you go back to being normal action-hero Jack Bauer within four episodes (hours) – it's either a product of bad writing or bad acting. As embarrassing as this season of 24 was, it doesn't deserve any nominations.

Also – I would like to see ANY of these actors exhibit the range of emotions that Matthew Fox showed during "Through the Looking Glass". Apparently the Emmy Voters are only looking for one-trick ponies. Go back and look through the nominees and tell me if any other than Leary ever deliver anything more than their standard "shtick" for their characters. Spader is a smart ass, Laurie is a cocky bastard, Sutherland is a tough guy. They all do it well, but once you've got it down – how hard is it to keep doing it each episode?

Pick: I would love to see Denis Leary pull this one out, but he's competing against the juggernaut of James Gandolfini as Tony Soprano, one of the iconic characters of this generation. I would be shocked to see anyone other than Gandolfini walk away with this one – but I'm okay with that. He delivers a nuanced, powerful performance each episode and carries the show.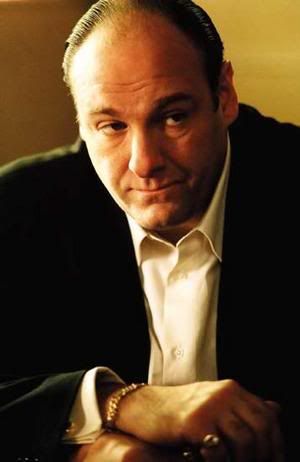 Outstanding Lead Actress In A Comedy Series
Felicity Huffman as Lynette Scavo, "Desperate Housewives"
Julia Louis-Dreyfus as Christine Campbell, "The New Adventures Of Old Christine"
Tina Fey as Liz Lemon, "30 Rock"
America Ferrera as Betty Suarez, "Ugly Betty"
Mary-Louise Parker as Nancy Botwin, "Weeds"
Rant: Want proof of the sad state of comedy on TV today? Look at these nominees. Does anyone actually laugh at Desperate Housewives? Huffman's a great actress and all, but is she comedic? I don't think so.

Pick: There are really only two choices here – Tina Fey and America Ferrera. If you vote based off of generating the most laughs (which would seem logical, given it's a comedy category), Fey gets the win. If you vote based off of which makes you feel warm and fuzzy inside, Ferrera gets the win for her ugly-duck, fish-out-of-water performance on Ugly Betty. Not surprisingly, I go with Fey.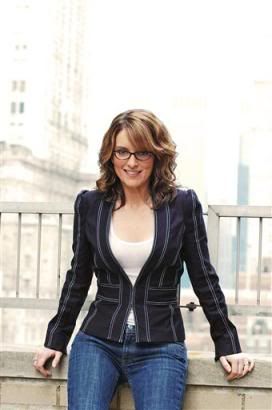 Outstanding Lead Actress In A Drama Series
Sally Field as Nora Walker, "Brothers & Sisters"
Kyra Sedgwick as Dep. Chief Brenda Leigh Johnson "The Closer"
Mariska Hargitay as Detective Olivia Benson, "Law & Order: Special Victims Unit"
Patricia Arquette as Allison Dubois, "Medium"
Minnie Driver as Dahlia Malloy, "The Riches"
Edie Falco as Carmela Soprano, "The Sopranos"
Rant: The only show I've actually seen here is The Sopranos, so I suppose any rants on my part would be out of place.

Pick: Edie Falco. It's true – the Sopranos are going to absolutely dominate the Emmys this year.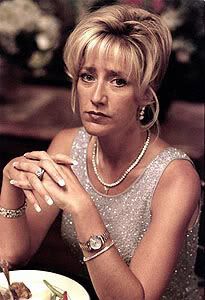 Outstanding Supporting Actor In A Comedy Series
Kevin Dillon as Johnny Drama, "Entourage"
Jeremy Piven as Ari Gold, "Entourage"
Neil Patrick Harris as Barney Stinson, "How I Met Your Mother"
Rainn Wilson as Dwight Schrute, "The Office"
Jon Cryer as Alan Harper, "Two and a Half Men"
Rant: I totally support these nominees. Good job, voters!

Pick: This is a tough one. Piven and Wilson are the fan favorites – but Patrick Harris is equally fantastic. Since the Office is the funniest of all these shows, I suppose I'll go with Dwight Schrute – if for nothing else, than for his performance when impersonating Jim this season. That was the funniest scene on television this past season.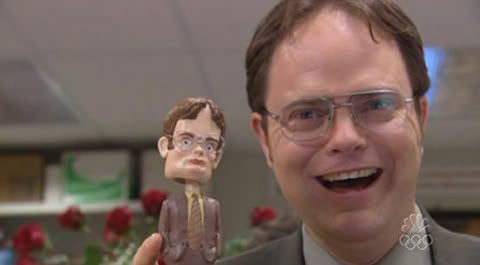 Outstanding Supporting Actor In A Drama Series
William Shatner as Denny Crane, "Boston Legal"
T.R. Knight as George, "Grey's Anatomy"
Masi Oka as Hiro Nakamura, "Heroes"
Michael Emerson as Ben, "Lost"
Terry O'Quinn as John Locke, "Lost"
Michael Imperioli as Christopher Moltisanti, "The Sopranos"

Rant: T.R. Knight, you don't belong. Did the voters pity you because of the whole Isaiah Washington feud? Masi Oka, you're damn likeable, but the "Ya-sa!" was getting a little tired by the end of the season. Shatner, I feel like you win this every year, and every year I am shocked (also, you seem drunk during your acceptance speeches).
On the other hand, I love the nomination of Michael Emerson – if you remember, this is something I was pitching pretty hard last season, and this year's nomination is a welcome sight.

Pick: Emerson. He's one of the most complex characters on television, elevates the scenes of any other actors he's with, and can scare the hell out of you with one simple look into the camera. O'Quinn and Imperioli are both great – but neither quite matches the powerhouse of Benjamin Linus.



Outstanding Supporting Actress In A Comedy Series
Jaime Pressly as Joy Turner, "My Name Is Earl"
Jenna Fischer as Pam Beesly, "The Office"
Holland Taylor as Evelyn Harper, "Two and a Half Men"
Conchata Ferrell as Berta, "Two and a Half Men"
Vanessa Williams as Wilhelmina Slater, "Ugly Betty"
Elizabeth Perkins as Celia Hodes, "Weeds"
Rant: Some pretty predictable nominations here – but are there really two "supporting actresses" on Two and a Half Men? I feel like Sheen / Cryer / Fat Little Kid are the only characters in 75% of the scenes.

Pick: Jenna Fischer. It's long overdue. I remember reading in Entertainment Weekly about her audition for the show. She was supposed to deliver some sort of dialogue, but instead just gave one of her signature "stare at the camera and convey more of a message than a five minute monologue could" moves, and won the producers over. This is why she deserves the Emmy. I don't know how you learn to do these looks – but she and Krasinski have it down to an art form.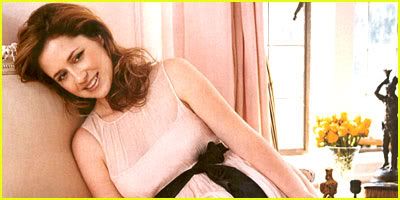 Outstanding Supporting Actress In A Drama Series
Rachel Griffiths as Sarah Whedon, "Brothers & Sisters"
Katherine Heigl as Isobel "Izzie" Stevens, "Grey's Anatomy"
Chandra Wilson as Dr. Bailey, "Grey's Anatomy"
Sandra Oh as Cristina Yang, "Grey's Anatomy"
Aida Turturro as Janice Soprano, "The Sopranos"
Lorraine Bracco as Dr. Jennifer Melfi, "The Sopranos"
Rant: Yuck. Three Grey's Anatomy nominations for what was the worst season of the show's three year run? It's nutrageous. Aida Turturro is one of the characters on TV that I hate the most – but I don't know if that means she's doing a great job or a terrible job. She gets me to react, so I suppose that's a good thing. Bracco is nominated as part of the Sopranos love-fest this year, but hasn't really had anything interesting performances since the rape storyline a few seasons back (which was conveniently never resolved, thank you David Chase).

Pick: I would be okay with Wilson or Turturro, but I'm not in love with either performance. Since I've never seen Brothers and Sisters (since I'm a heterosexual male), I can't comment on Griffiths either way. Can I pick Connie Britton for Friday Night Lights instead? Or would she be considered a "lead actress"? Either way, can we just give one to her?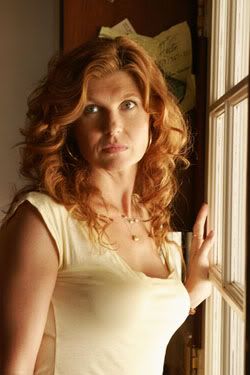 Outstanding Individual Performance In A Variety Or Music Program
79th Annual Academy Awards, Ellen Degeneres, Host
The Colbert Report, Stephen Colbert, Host
The Daily Show With Jon Stewart, Jon Stewart, Host
Late Show With David Letterman, David Letterman, Host
Tony Bennett: An American Classic, Tony Bennett, Performer
Rant: If Stephen Colbert loses this year to Bennett (like he lost to Barry Manilow last year), there will be riots across the Colbert Nation.

Pick: Stephen Colbert really deserves some sort of acting nomination (Outstanding Actor in a Comedy?) because unlike all the other nominees, he's not just being himself. He's playing a character – an absolutely hilarious character – that makes me laugh as much as any traditional comedy on TV. If he wins, expect his acceptance speech to go down as one of the all-time greats.



Outstanding Variety, Music Or Comedy Series
The Colbert Report
The Daily Show With Jon Stewart
Late Night With Conan O'Brien
Late Show With David Letterman
Real Time With Bill Maher
Rant: None. For the question, "What are the five best variety, musical, or comedy series on TV?", these are the answers.

Pick: Liberal Hollywood will probably pick The Daily Show again, while the rest of America would probably prefer Conan or Colbert. Like any true American, I side with Colbert.


Outstanding Reality-Competition Program
The Amazing Race
American Idol
Dancing With The Stars
Project Runway
Top Chef
Rant: No rant here. I only included this category to serve as an excuse for me to write about how much I love Top Chef… which I'll now do.

Pick: Top Chef. It's honestly one of my favorite shows on TV, and seems to only be getting better with each successive season. It lacks all the awful things about most reality shows (unnecessarily mean judges, unnecessarily mean competitors, unnecessarily long "results shows") and instead packs each hour-long episode with pure cooking entertainment. Compared to other cooking shows on TV, it clearly attracts the best chef talent, and I am continually impressed with the amazing dishes they put forth with little to no preparation time.

I wish that Tom Colicchio was my boss at work. Unlike most reality show judges, he is more like a coach, honestly pulling for each contesting and wanting them to improve. He's fair, funny, and I someday hope to eat inside one of his restaurants.

Top Chef is fun, entertaining, and educational (to some degree – although most dishes are about two miles over my head). It's the best reason for anyone to watch Bravo.




…and there you have it. It feels good to get all that anger out of my system! Hopefully now I can return to my normal level of easy-going happiness… that is, until Emmy Night, when I'll probably again be cursing, throwing things, and vowing to never watch the Emmys again… until next year.