Episode Review: If I had to pick one episode to sum up what this crazy show called "Lost" is all about, this would be it. This is the episode that made Lost. It's a tight story, gorgeously shot (the scene of Locke wiggling his toes post-crash is absolutely perfect), and took Lost beyond being about "an Island full of dinosaurs".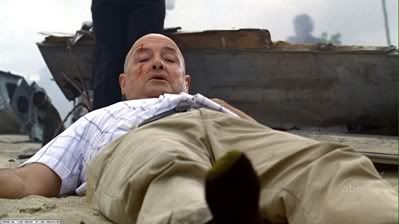 The fantastic thing about "Walkabout" isn't just the surprise ending – but the fact that upon re-watching the episode, there are numerous clues absolutely smacking the viewer in the face, hinting at the big reveal – and yet I don't know a soul who predicted the ending during their first viewing just shows what a fine piece of storytelling it was. But aside from the ending, this episode gave us the first true indication that there were much bigger mysteries to the Island than the "Monster"… there was something almost magical about it – and it gave each future episode the potential for revealing more of this magic. There was something fantastic about the Island.

I think a lot of people look back so fondly upon this episode because it was one of the few episodes of the first season that hinted at something greater going on, other than our Survivors trying to get off the Island. There was clearly some sort of Island mythology at play, and that hooked a lot of viewers. While some point to Charlie's line at the end of the Pilot ("Guys… where are we?") as being the signature line of the series, it wasn't until Walkabout that we truly realized what that line meant.


Deeper Meaning Explanation: Pretty simple and straightforward, but packed with meaning. Locke was attempting to go on a "walkabout" in his flashback, a spiritual journey in the Australian wilderness – but was denied (ironically) due to his inability to walk. Instead, he ended up on the Island, where he gained the ability to "walk about", and go on an even deeper spiritual journey than he intended – one where he could find meaning in his life and a greater purpose for his existence.


Original Thoughts: Shockingly, there were none. But this episode was really the one that showed me that there might be something worth thinking about on Lost, aside from just guessing what the Monster could be. It showed that there was a more complex storyline at play – one that might deserve a closer examination… or thousands of words written about it each week. Don't worry, we're only two episodes away from my hilariously sucky original Lost thoughts starting, and being inserted in this place. Get ready to laugh.


New Thoughts: Personally, I'm pretty shocked at the lack of inconsistencies we've found in the first four episodes. These writers really must have known what they were doing from the start! Here's what stuck out to me during "Walkabout"…

Time. For the better part of three seasons, I was pretty sold on the "Funky Time" theory, and it's little things like this that helped sell me: In Walkabout, we see everyone on Lost continuing to wear watches post-crash. EVERYONE. It's almost ridiculous. We also have Charlie making his statement about "Last time I checked, we're positively made of time". Now that we had our flashforward, the "Funky Time" theory kinda takes a backseat (simply because I don't think it's needed), but it's been interesting to see all the "clues" that led me down the path.

Radio Tower. This episode reminded me of something interesting. Sayid makes the comment that wherever the radio tower is, there must be a power source from it. We've seen blueprints that would seem to indicate there are underground power lines running between the different Dharma Stations, so I guess we can assume that they're going to the radio tower as well, right? Is the entire Island basically wired?

Kate. For being a character who probably has the least motivation to actually get off the Island, Kate sure does seem to be going above and beyond to help get them rescued – from going with Jack to get the Transceiver to trying to triangulate a signal for Sayid, she's gung-ho about escaping in these first few episodes, even though it would likely lead to her going straight to jail. Stange.

Randy. Locke's boss at the box factory is the same as Hurley's boss at Mr. Cluck's – Randy Nations. That always struck me as weird, but apparently in a Podcast the creators said that once the meteorite hit Mr. Cluck's, Hurley felt sorry for Randy and gave him a job as a manager at the box factory… so I guess it does all make sense in the end!

Jack. This episode once again exhibited the excellent foreshadowing for characters. We see Jack refusing to be a part of the eulogy for the dead, which seems weird – but makes total sense after next week's episode, when we learn that he wasn't yet over the loss of his father. The other curious thing about Jack this week was that Rose commented on how Jack "has a nice way about him", yet we later learn that Jack absolutely sucked at bedside manner. I guess even Jack was using the crash as an opportunity to "start fresh".

Monster. I agree with some of the comments people have made to previous Rewinds – the sound of the Monster has definitely changed over the years. It's gone from being more mechanical to being more "chattery". The other thing that has changed is the way it moves through the jungle. We see it now either gracefully moving between trees, or totally uprooting them – but in these early episodes, it's knocking down trees, as if it's walking through them and bumping into them.

I still want to know what Locke saw when he encountered the Monster. Last season showed us that Locke isn't some all-knowing person on the Island, who had all the answers revealed to him during the encounter, since he's still looking for answers. But the Monster must have showed him something to give him such faith in the Island. I wonder if it somehow reminded him that he was no longer in a wheelchair, and that was enough for Locke to make the assumption that he had a greater purpose.

Okay – that's what I saw. How about you?

Message Board it here.

Comment below!